A couple of weeks ago, I had my MacBook plugged in and open, but idle for a while, so it parked the hard drive. When I came back and hit a key to wake it, it started saying, "ting wssh wssh wssh." This is not the kind of language I like my computers to use. The hard drive hasn't spun up since.
Cort had told me of his impressive performance boosts after upgrading his MacBook to a solid-state drive (SSD) and I'd been interested anyway, so I took advantage of his research and ordered a 115G Other World Computing Mercury Extreme Pro for $230.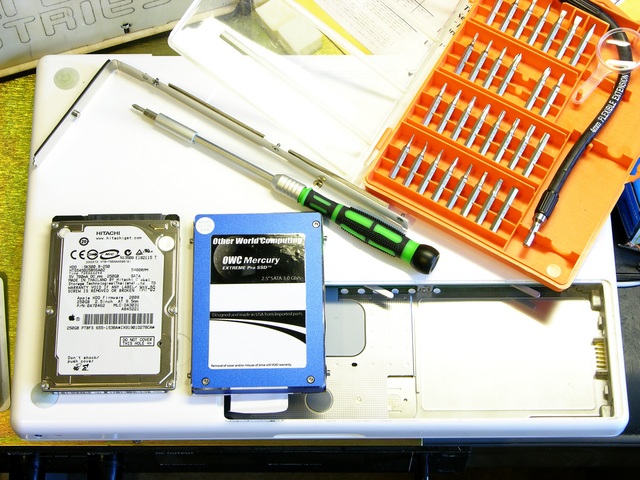 It shipped promptly and I swapped drives that weekend. The rubber shock rails in the MacBook had come loose, so I wasn't able to slide the old drive out and the new one in through the battery compartment and ended up dismantling the entire MacBook case bottom to make the switch.
I had to reinstall the OS and all of my applications; but fortunately I keep a personal wiki with the download links and installation instructions for all the software I run and instructions to duplicate every configuration change I make to every built-in and third-party application, so reinstallation was a breeze. Also fortunately, I had a synchronized copy of most of my work, so I lost very little data.
The new SSD is just unbelievably fast. Installing apps now happens in the blink of an eye rather than the drag of a progress bar. The boot sequence is still perceptible but the login screen pops up before I'm even quite ready for it. OpenOffice launches so quickly I hardly have time to take a bit of a sandwich, much less go make one.