As I discovered a couple of weeks ago, Glastherm HT is not a good enough insulator to protect the acrylic mounting plate under my MakerBot CupCake heated build platform. Last night I tried it with glass standoffs between the hotplate and the Glastherm.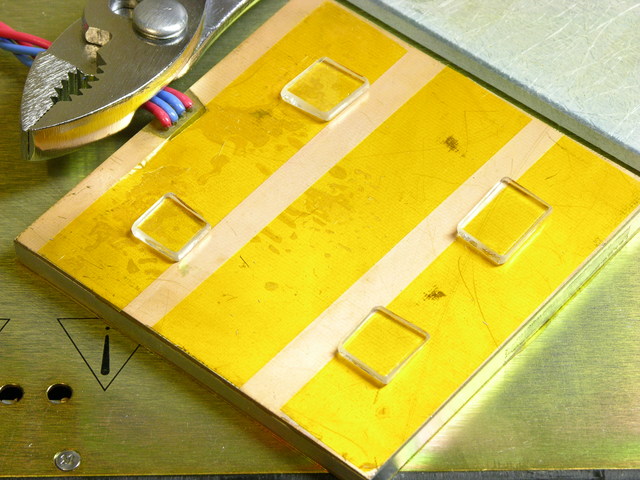 I had some leftover glass from having a window cut recently. I bought a glass cutter and cut a half-inch strip off the end of one of the pieces, then cut that into smaller tiles. I smoothed the sharp edges on a diamond file, then pried apart the hotplate sandwich and stuck the glass tiles onto the leftover kapton tape.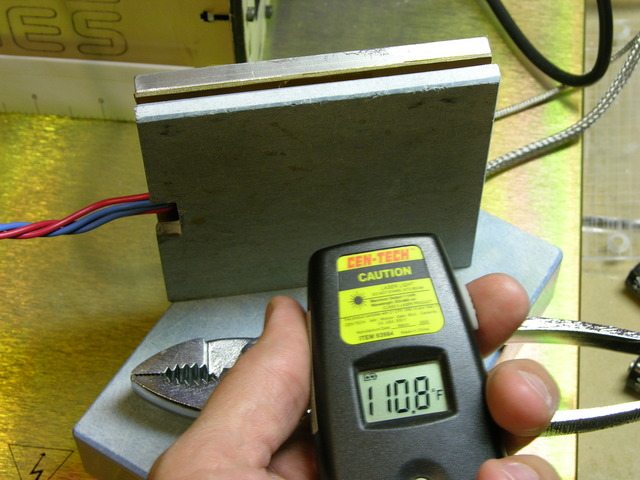 I repeated my earlier test, standing the sandwich on edge on another piece of insulating material and running the heated build platform up to (and past) operating temperature. (Sorry no laser dot in the picture — I'm not quite coordinated enough to hold the thermometer's capture button, point it the right direction, hold my hand still, and take a picture all at the same time.)
Plate Temp
Back Max Temp
Back Min Temp
120°F
85°F
145°F
95°F
175°F
120°F
105°F
Approximate CupCake target temperature
220°F
155°F
135°F
310°F
200°F
The air gap did a considerably better job of insulating than the Glastherm alone. Also when I remembered to measure the temperature separately under the glass feet, the spots were 15-20°F hotter than the rest of the Glastherm, suggesting that smaller glass dots could provide a significant further reduction in heat transfer.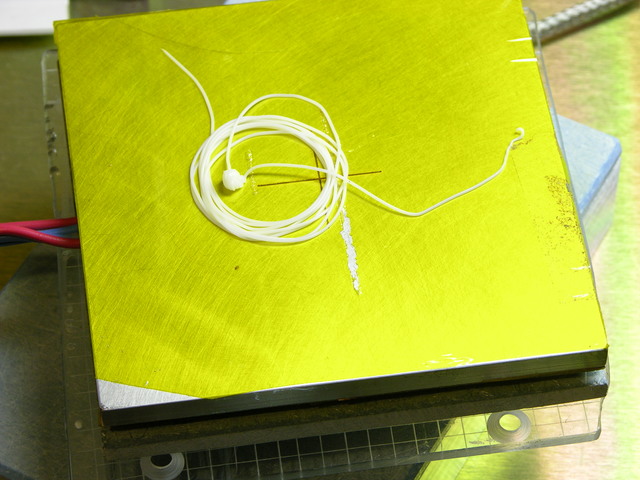 135°F on the back side is pretty manageable; 200°F is a bit warm to be in contact with plastic. However, as Leon pointed out last time, it's not just about how hot the back side gets, but about how rapidly the heat is transferred into the backing material.
I set the heated platform onto a spare piece of plexiglass and also dropped some scrap filament onto the top of the platform. Already above operating temperatures, the filament softened nicely and the plexiglass stayed cool to the touch and didn't warp. Leaving the setup unattended for a while and letting the platform drift up to 340°F, the plexi got a little soft.
I think this is usable for the CupCake, but I'll need to exercise a little care managing the plate temperature (and I'm overdue hooking up the thermistor for closed-loop temperature control). I think this may not yet be enough insulation to tape my SMT hotplate directly on top of a plastic enclosure and run 290°C (~550°F) soldering temperatures.