Ultimately I want to have a soft but sturdy cream-colored carpet in the bus — and yes, I'm well aware of the challenge of keeping a light-colored carpet clean in an RV. That's actually part of what I'm interested in about it — I don't want the bus, in spite of its humble origins, to be shabby inside. I want it to be nice inside, and I want to treat it as though it's more like a great hotel room than a tent.
But the bus isn't ready for great carpet until it has furniture and a bathroom and a kitchen; and I want to be using it already before all that's done permanently; and I had some industrial carpet from a former job that (if I remember correctly) had been in service for something like a month between a roof leak that destroyed the old carpet and a planned redecoration. It's not a great carpet; it's better than not having carpet; it's in reasonably good condition other than having been stored in dusty locales for a decade; and I can't think of a better use for it than serving temporarily in the bus.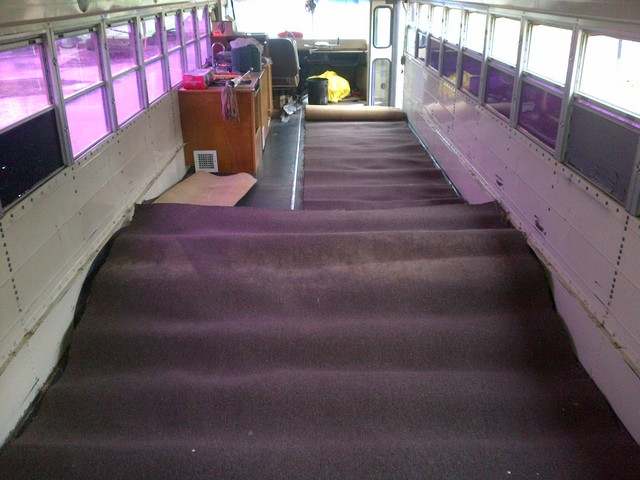 Over spring break I fetched the carpet and unrolled it inside the bus to start to relax out the curves from being rolled. One piece is just barely narrower than the bus and fits from the back up to the wheel wells. Another piece is almost as wide as from the starboard wall to the port side of the aisle — but I think I'll actually splice this so I can have the whole floor covered.
It's not really purple, nor dark mauve. It's brown. The window tint is purple. GAHH.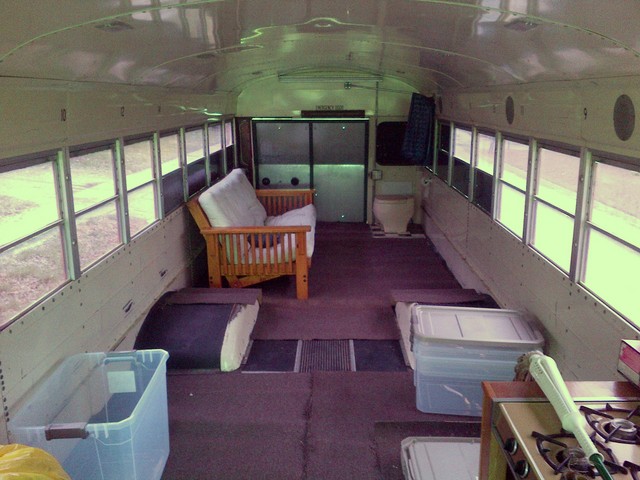 Looking back a day later, after rough-cutting to fit the wheel wells and carrying the futon back in (prematurely, as it's way heavier than I remember and makes it very awkward to adjust the carpet position), you can see how the seams may come together (though without the gap between the wheel wells). And I learn that my brother has a seaming iron and some leftover tape, which is great! I can practice on this free, cheap carpet before doing the real thing.
I will need to clean the carpet — it's a bit tacky. My best plan is to get it seamed together so it's a little more rigid, then rent a carpet cleaner. I'm open to suggestions from anyone with experience, though.
Also open to suggestions on how to "tack" down the carpet at the edges and ends of the bus. With this one, at least, I don't intend to go as far as using a carpet stretcher and tack strips. But I should do something at the front and back to cover the cut edges and anchor them a bit, and I haven't yet figured out how to go about that.