Maeve had several of these battery-operated, white LED accent lights, and let me borrow one until the next visit.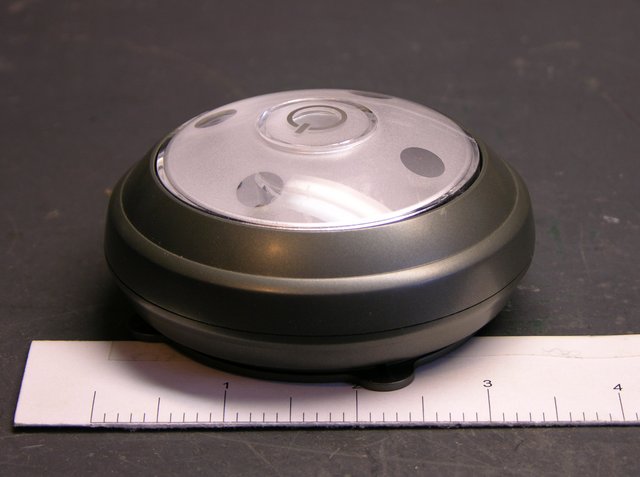 It was a good opportunity to test a few ideas about the LED puck. If a commercial product was already on the market, albeit for a different target audience, maybe it'd be good enough and I wouldn't need to design my own. More likely, I could identify and clarify design differences between their product and my own ideas, which is what turned out to be the case.
First, the LEDs in the commercial puck are pretty directional. When placed on a nightstand pointing at the ceiling, it illuminates about a 2′ diameter area. I'd like the puck to be much more omnidirectional, casting light as evenly as possible throughout a hemispherical area.
Second, it's not bright enough. Used like a flashlight and pointed directly at a book, it provides more than enough light to read; but pointed upward, the diffusely reflected light isn't quite enough to read by. I specifically want to be able to read by the light of the puck, and I'd need several more LEDs and somewhat more power to be able to do that.
Third, it's too bulky, specifically, too thick. I could never carry it in a pocket. I have been carrying it back and forth to work in my laptop satchel, but I realize I'd like the puck (or one version of it) to be small enough to carry with me in a pocket all the time. What's the point of having cool toys if they're never with you when you need them?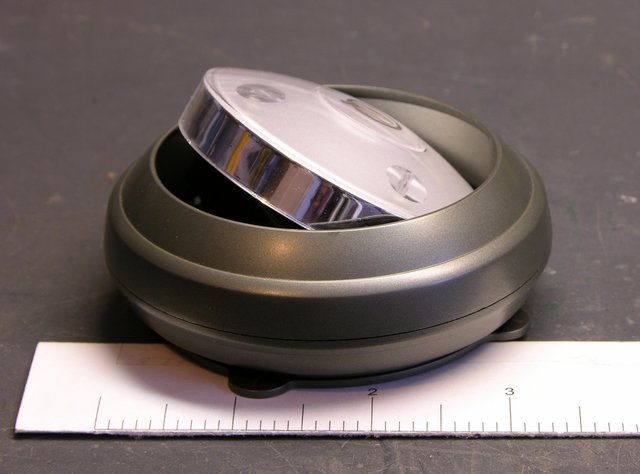 The light portion of the commercial puck tilts so it can be aimed, and the light portion is actually plenty small to carry around in a pocket. The whole enclosure is larger both to accommodate the tilting action, and because it houses three AAA cells.
The space needed to accommodate a power source concerns me. I'd like to find a flatpack LiPo battery, skinny like a cell phone battery; but I fear that power may be the driving constraint on overall puck size.
Homework Assignment
For anyone reading who'd like to build their own puck, or anyone amused enough by the idea to humor me, I have a homework assignment for you.
Find something round, (*) about the size that you envision the puck being, and carry it with you for a few days. Post a comment about what you used, its dimensions, where on your person you carried it, how comfortable/convenient it was, and whether you'd carry something that size with you all the time.
* (I envision the puck having a rounded profile like a drop of liquid sitting on a horizontal surface, rather than being an untrimmed cylinder. Rounding off the top would slightly improve the comfort of carrying it in a pocket, but cylinders that I'm able to find are good enough for a first test.)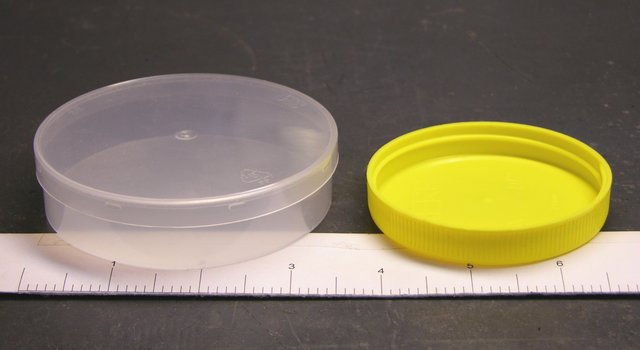 I'll start:
I've been carrying the commercial LED light in my laptop bag for a week. It's 3 1/2″ d and just over 1 1/2″ thick. It's way too thick to fit into a pants pocket; it fits fine in my laptop bag, but then so would a hardback book. I would always have it nearby, although never on my person.
My first inspiration for the physical form factor of the puck was the empty container from a roll of 3M electrical tape. It's also 3 1/2″ d but only .9″ thick. It's still the size that I think would look best for a puck, but it's uncomfortably large to carry in a pocket, and I haven't even tried. I would definitely carry it with me in my bag.
The peanut butter jar lid is 3″ d and 1/2″ thick. I've been carrying it in my back jeans pocket since last night, and I hardly notice it's there; I'd notice it even a little less if the top edge were rounded. This would be a great size for carrying with me all the time — but there's no way to fit both battery and outward-angled 5mm LEDs into that thickness.
Maybe two puck sizes will be needed — the original puck, in the electrical tape container size, and the porta-puck, in the jar lid size.