The Baldwin electronic organ I was trying to help repair has been demolished. Lawrence's family was offered and retrieved another, more recent, in full working condition; and Jake dismantled the first one. By the time I learned of it, it was literally reduced to firewood and a pile of metal chassis, which he let me pick through.
I came home with some sheet metal, some interesting resistors that I'll photograph later, and a box of spare vacuum tubes to give away.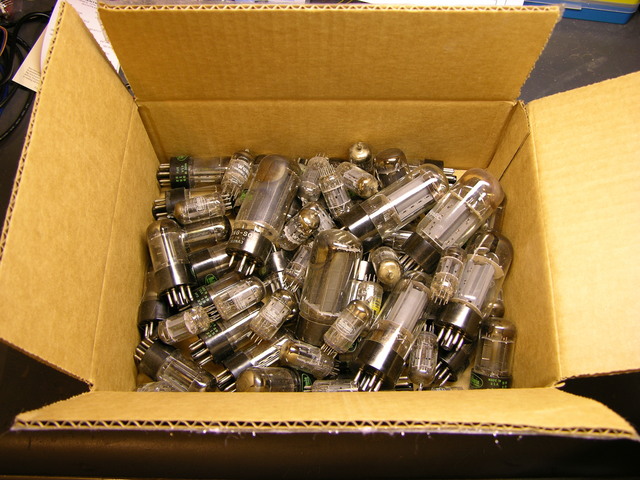 The box has been sitting in my garage waiting for me to have enough time to look through it, which I really don't, but don't want to put it off any longer. Here's what's in it: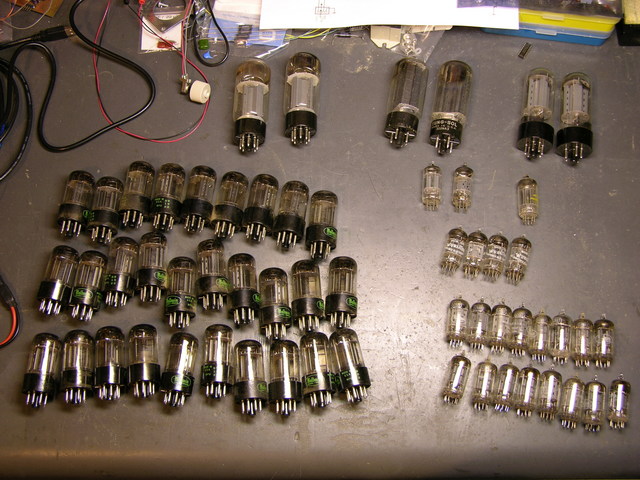 Crazy Keith's Vacuum Tube Giveaway!!!
By my count, that's:
| Qty | Remaining | Tube |
| --- | --- | --- |
| 2 | 2 | 7027A |
| 2 | 2 | 322NA3 |
| 2 | 2 | unknown |
| 29 | 29 | Baldwin brand 6SN7 GTB |
| 16 | 16 | Bandwin brand 12AX7 |
| 4 | 4 | Wurlitzer brand 12AX7 |
| 3 | 3 | different, unknown brands 12AX7 |
I have no use for them, and I'd like to give them away to someone who does. If you have interest in them, please post a comment below indicating:
How many of which tubes you want
What you want them for
How I can contact you
I've set my blog not to auto-post your comments, so your information will be seen only by me.
I think there will be very little demand, so I expect I'll be delighted to send them all to the first person who asks. But I'm going to be gone for two weeks; and to play fair, will evaluate all requests when I get back. If there's more demand than I expect, I'll lean toward charitable organizations like churches and museums, generally followed by anyone else on a first-come basis.
US shipments only, please; or you'd better have a pretty good story about how easy and hassle-free it's going to be for me to ship out of the country.
I can't find my tube tester, so I can't tell you the condition of any of them. But the organ was working before it didn't, so I suspect most of them are as good as one could expect them to be.
Or Maybe Not Giving Them Away (Or Maybe So)
13-Oct-2007
A reader advised that I should check prices on eBay, and I find that the tubes might actually bring some real money. I'm going to have to give this some thought — giving them away to a lot of different people versus putting money in Jake's college fund. It's not a foregone conclusion, and I'll probably end up doing some kind of mix, so keep the requests coming.
29-Apr-2008
I haven't got 'round to checking eBay yet; but all of the tubes are now spoken for if I do give them away, so I'm no longer accepting requests. Thank you all for your interest!