In the sewn-product industry, product development can have a rapid-iteration phase that would be familiar to anyone in hardware or software development. Whether it's testing the fit and strength of a new backpack or checking the fit and appearance of a garment on the fit model, a single prototype at a time may be made and revised weekly, daily, or even more often.
In the garment industry, "made to measure" refers to clothing whose pattern is made from measurements of the individual wearer and then either drafted algorithmically or pieced together from library parts for each possible value of each collected measurement.
In product development and in made-to-measure production, a number of factors of fabric cutting are different than in mass production:
The manufacturer or producer may be making a single quantity, certainly only a small quantity.
The manufacturer or producer is unlikely to be making multiple sizes at the same time.
The above factors rule out the long markers used in mass production.
The above factors rule out lay-ups of many plies of fabric.
The manufacturer or producer may not even have a marker — pattern pieces might be hand-drafted and on separate pieces of paper or oaktag (card stock).
I can't speak definitely about every possible cutting scenario in product development and made-to-measure production, but I can cover common cases.
Even for a single item (product development or made-to-measure order), the patternmaker may still make a marker with all of the pieces in their desired position and orientation for cutting out of the fabric, particularly if the pattern is being developed in patternmaking CAD software. If a marker is used, the marker for one item will of course be much shorter than the marker for multiple iterations of multiple sizes of the item.
Or if the pattern was drafted or altered by hand, or for a variety of other reasons, it may be in individual pieces on regular or heavy paper. In that case, the pattern pieces will be laid out on the fabric and traced in chalk, china marker, or something else that shows up on whatever color fabric is being used.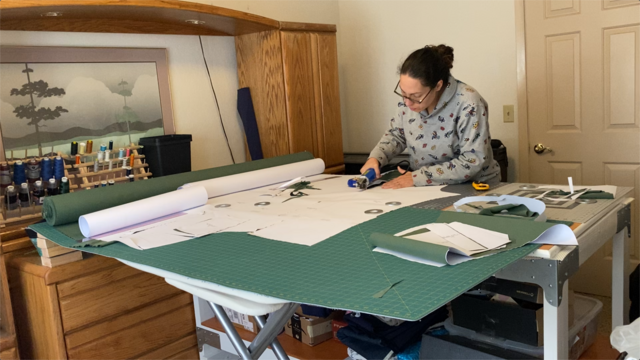 Photograph by Raquel Vélez; used with permission
Then in either case, the pieces are likely to be cut out by hand. That might be done with shears or it might be done with a smaller electric cutter, like the one that my friend Raquel is using to cut hiking pants samples for her fledgling business.
Both hand-operated shears and small rotary or scissor-action electric cutters can cut a few layers of fabric; so they could be used to cut, for example, four plies at a time for an order of four dress shirts.