Last fall when I was looking for ways to drive a reciprocating fabric cutter, Ed Nisley suggested that I look at hobby brushless DC motors as possible sources of enough of both speed and torque. Not knowing anything about their care and feeding (and after a significant delay), I did my homework and learned how to lash one together well enough to make it spin.
After which I inevitably put together a completely unusable cutterhead prototype.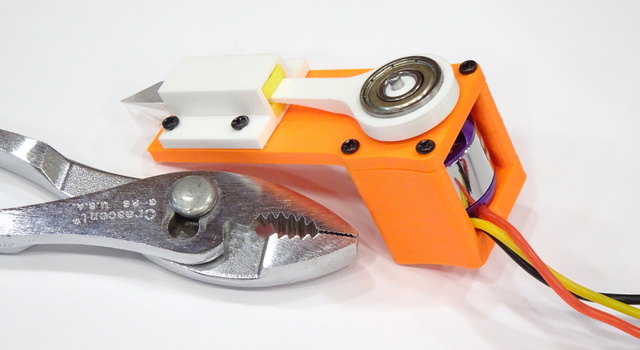 My intent all along was to use the same tattoo gun brass cam as on the tiny motors, but last weekend I couldn't find a tiny hex key for the set screw to remove it from the previous prototype and affix it to the BLDC motor. It being a very short drive from Missingtherighttoolville to neighboring Badideatown, I printed a plastic cam and new connecting rod to fit a standard skate bearing. Let me tell you, turning on that cutter was like holding a powerful vibrating thing with a razor-sharp blade in your hand.
It didn't cut the fabric particularly well, either. It had plenty of torque but lacked either sufficient speed or travel to cut unclamped fabric; it just shoved it out of the way. (It cut just fine when the fabric was held in tension, but that's not the objective.) The eccentric mass of that heavy skate bearing did not motivate me to turn it up faster, particularly when I already had the other cam in mind.