Not electronics; but it's chic these days to dis on eBay, and hey, it's my blog.
Just won an auction last night for another SAE A502 amp for $200 + $40 shipping (and that shipping cost is legit — every A502 I've bought has cost the same amount to ship), so it seemed like a perfect time to use my 10% off + free shipping coupon.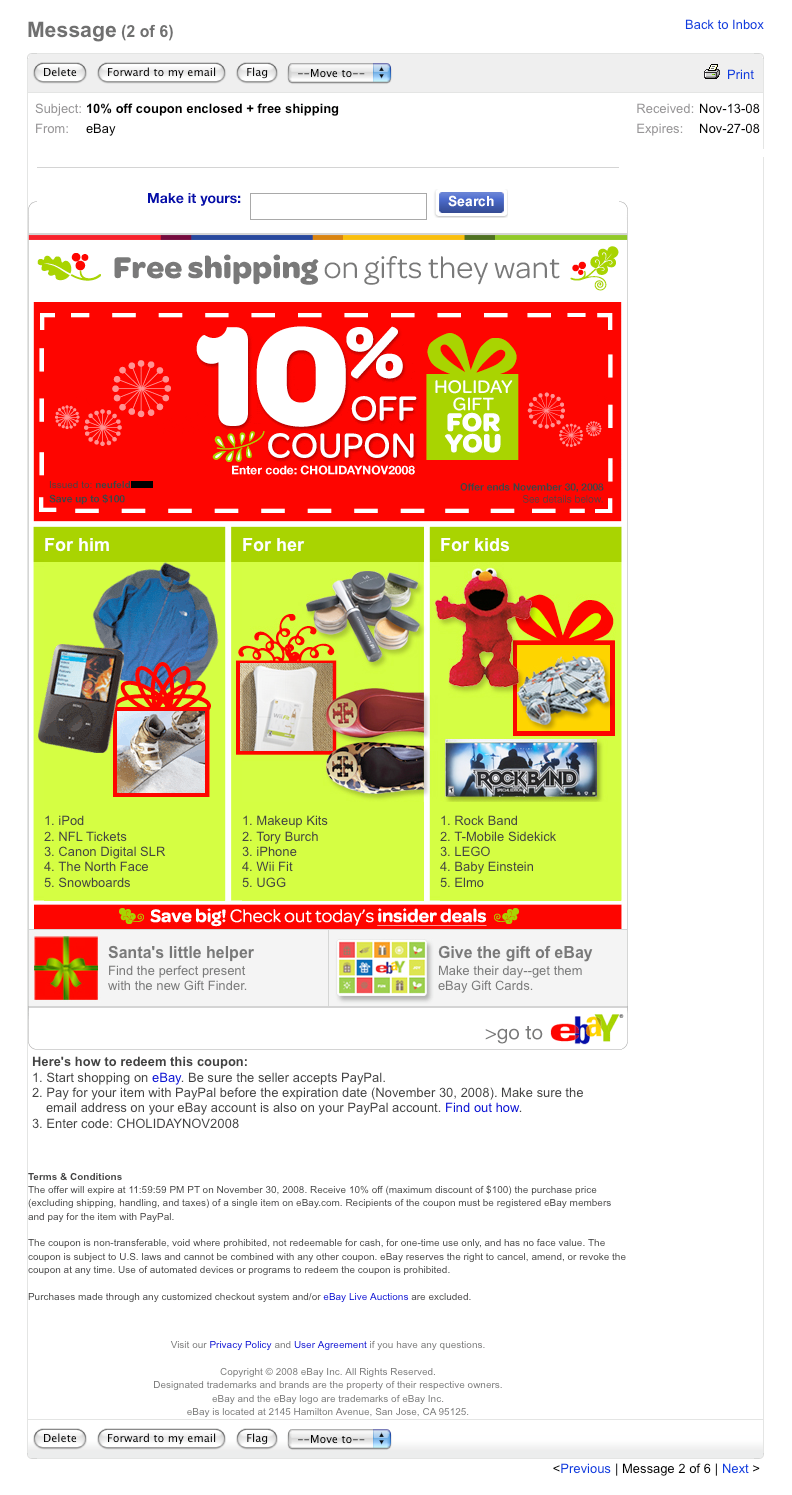 Except when I entered the coupon code on the checkout page, it didn't take off the shipping. A close examination of the fine print shows that it doesn't say anything about free shipping — but there it is in big letters at the top of the page!
Hm.
Transcript of my live eBay chat:
System
Initial Question/Comment: Other

08:52:47 SystemSystem
Thank you for contacting eBay Live Help!

08:52:47 SystemSystem
Please hold for the next available Live Help Agent.

08:53:32 SystemSystem
Mark L. has joined this session!

08:53:32 SystemSystem
Connected with Mark L.

08:53:32 AgentMark L.
Hello, thanks for waiting and welcome to eBay Live Help! My name is Mark. How may I help you?

08:54:24 Customerneufeld****
Hi! I got a message in my inbox that says "10% off coupon enclosed + free shipping." I tried using the coupon last night to pay for an item I won, and it took 10% off the purchase price, but it didn't adjust for free shipping. Could you clarify how that's supposed to work?

08:54:42 AgentMark L.
Sure, I will help you with that.

08:55:32 AgentMark L.
Are you referring to the coupon that states 10% off on shipping from the purchase price?

08:56:30 Customerneufeld****
Well, I'm not sure how to describe it, other than to type in everything that's on the coupon and in the text below. Is there any way you can look at what's in my inbox?

08:57:18 Customerneufeld****
The graphical part of the coupon says "Free shipping on gifts they want," then down below it says 10% off the purchase price of a single item. The coupon code is CHOLIDAYNOV2008.

08:57:48 AgentMark L.
I am sorry but that it was a mis-print on the coupon. We will be sending a new message to you that will state that the coupon had a mis-print and there was no discount on the shipping.

08:58:49 Customerneufeld****
That sounds an awful lot like false advertising to me — you can retroactively change something like that and not get in trouble?

08:59:07 AgentMark L.
I do understand that this can be upsetting.

08:59:42 Customerneufeld****
I'm just curious.

09:00:13 AgentMark L.
Have you already paid for the item?

09:00:17 Customerneufeld****
I mean, eBay is the 800-lb gorilla of online sales, and I recognize that I alone can't change what you decided to do. But I'm honestly curious if that doesn't fall under false advertising law.

09:00:43 Customerneufeld****
Haven't paid yet — I contacted the seller and said I had a question about how to use a coupon, and I'd be back in touch with him today. He said no problem.

09:00:57 AgentMark L.
I am very sorry that you have to go through this.

09:01:13 AgentMark L.
However, the coupon will not be applied to get the free shipping on the item.

neufeld****
Well, that's what I needed to know.

09:02:00 AgentMark L.
There is no need to worry about. We send several coupons on a random basis and I am confident that you will receive anther one so that you can enjoy the benefits of the coupon for your next purchase.
Obviously if eBay makes up it's mind that it's going to do something — legal or not — it takes more than one person to get them to change their mind. But at least I can have a little fun with the agent along the way.