Friday evening I left off with the extruder working again. Saturday I focused on the heated build platform.
I've always had astoundingly good luck with kapton tape since nophead's serendipitous discovery, probably because I (still) prefer to print in ABS. When the build platform is warm, my prints stick to it absolutely with no raft or mouse ears and once it has cooled, they release easily. That's a pretty compelling combination.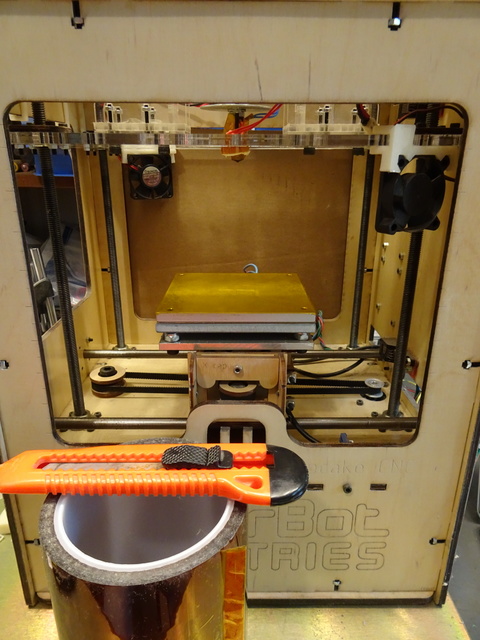 So my first step was replacing the scraped-up kapton that I gouged the last time the printer was on. I bought a 4″ roll way back when and I keep a strip of unsticky tucked under the end so I don't have to peel it up with fingernails and get fingerprints on the stickum.
In the past I've always replaced the tape by sticking down the end and using a credit card to "squeegee" it onto the surface, and it can be tough to avoid getting bubbles. Yesterday I unrolled enough tape to cover the platform and when I had it stretched out, it was easy to align the front edge of the tape with the front edge of the platform, at which point I squeegeed it down with my thumb with no bubbles at all. Huh, well, I guess I'll remember that.