An isolation transformer, as used in electronics testing and repair, is a line-powered transformer with 1:1 windings (e.g. in the US, ~110VAC in, ~110VAC out). It's used to isolate a circuit under test from line power for two main reasons (that I know of):
With line-powered equipment, if you were to touch a hot part of the AC side of the circuit while it was plugged straight into wall power, you could become a return path to ground and get electrocuted.

The transformer isolates it from the rest of the world, so your risk is reduced to becoming a return path within the circuit, and you're not at risk of conducting from any single point to ground. This doesn't eliminate the need for care, but it reduces the hazard.

Some line-powered circuits use a local ground that is something other than earth. (The mixer power supply I repaired recently uses a local ground on its primary side that's at about -85VDC with respect to earth.)

If you want to use test equipment (oscilloscope, line-powered meter, etc.) to probe the circuit, you need to connect the equipment's ground to the circuit's ground. If they're both line-powered and the circuit uses something other than earth as ground and you connect the equipment's real-earth-ground to the circuit's specifically-non-earth-"ground," you'll create a short circuit fatal to one or both pieces of equipment.

The isolation transformer "floats" the circuit so its local ground is safe to connect to your test equipment's ground. Of course, this potentially reintroduces the shock-to-earth hazard mentioned above, during the time you have the grounds connected for testing.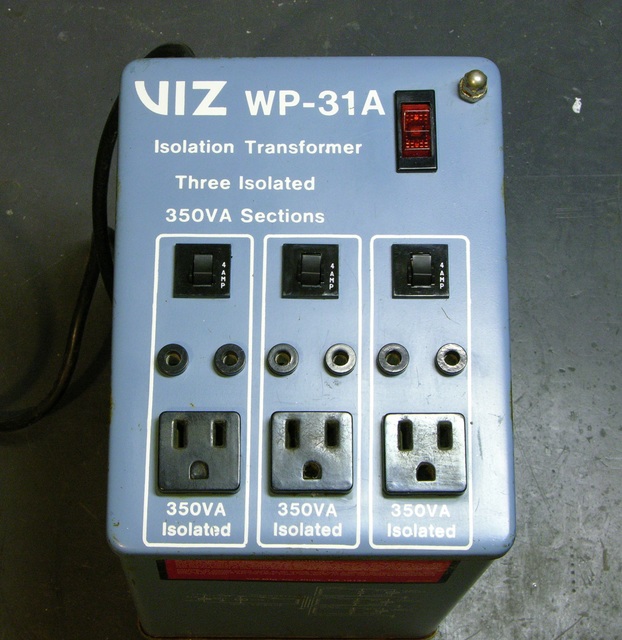 While repairing the aforementioned power supply, I dug my isolation transformer out of the basement. I had acquired it grungy and broken (and this is odd, but I don't remember whether I got it from Slim or purchased it at Lloyd's) and it had been through a basement flood, so it needed rework before I could use it. I've just polished off the last of the repairs.