---
11-Nov-2008
Welcome, Make and Gizmodo readers! I didn't expect this kind of attention; but you mention light sabers, I guess geeks like us are bound to get excited.

This was meant to be a crude, quick proof-of-concept prototype, and at that it succeeded. I now have 500 white SMT LEDs on the way from Hong Kong; and when they arrive, they'll each — grain of rice sized — get glued to the end of a piece of plexi, where they'll be nearly invisible when off. It's up to Lisa whether the connecting wires will be visible or minimal; and bless her heart, she says she wants to incorporate visible wires into this piece, so I don't have to mess with 1000 hair-thin, enamel-coated wires.
Finally, this is only good for artistic purposes or accent lighting. As you may have noticed when shopping for LED light-bulb replacements, there's very little out there even close to the brightness of incandescents. If you want to light a hallway as you walk through, I'd suggest Piranha (bright) or Luxeon (brighter) LEDs in the baseboards and an ultrasonic rangefinder at the end of the hallway to determine your position.
---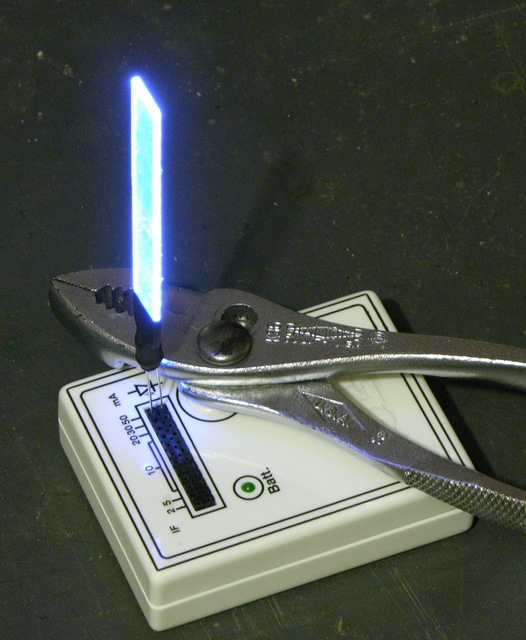 I have the privilege of working with Lisa Rundstrom on an art installation for a show at the end of November. Lisa does amazing work with plastic (especially acrylic) and light (really, go look at her site), and we're planning a cloud of 200+ hanging acrylic pieces, edge-lit with white LEDs, interacting with audience members.
If I don't descend into gibbering madness from the impending deadline, the piece is going to be amazing. (If I do descend into gibbering madness, I expect that'll be amazing too.)
Our art / technology / education collective has been meeting once a week in preparation for the show, and last night I built a little demo to give a rough idea of what controlled LEDs could look like.
A year ago, one of the teams in our art and technology class built a piece with much larger edge-lit plexiglas strips (not a great photo but the best I can find), so I had a pretty good idea what they could look like. I've also played around enough with microcontrollers and LED controllers that I can visualize very easily what kind of things you can do with them; but it was a little more difficult to convey in mere words to Lisa. So I wanted to put together a little something to show lit strips fleeting around in a field.
I cut some plexiglas (an odd-shaped piece I had on hand and a cracked CD cover) down into approximately 1/4″ x 2″ strips, then heatshrinked a white LED onto the end of each. (Thanks to Jonathan for playing around with them and discovering that end-lighting gives the most even illumination of the long edges.)
One of the strips got a little warm during the heatshrink, so I took advantage of it and really heated it up and bent a wavy shape, to test how evenly it would light.
I then made a "table" out of cardboard, arranged the strips in a branching and recombining pattern, drilled holes through, poked all the LED leads down through, soldered on wires, ran the wires under the "table," and terminated them into a breadboard. (Did I mention the part where my mind went blank and I soldered all the wires with the opposite polarity I intended, forcing me to connect the battery to the breadboard "backwards"?)
I grounded (only it became +V) the cathodes (only they were really the anodes) of all the LEDs, and jammed male .1″ headers into the breadboard in parallel with the anodes (only they were really the cathodes). I then connected a wire to the positive (ah, negative — is anyone else getting tired of this?) terminal of an 8.4V NiMH battery so you could run it back and forth along the protruding male headers. It causes the LEDs to light in a deterministic but not visually predictable sequence that moves approximately from one end of the board to the other.
Here are some time-exposure action shots. The digital camera's bloom really overdramatizes the effect — they don't look nearly so much like lightsabers in person, and you can make out the edges more clearly.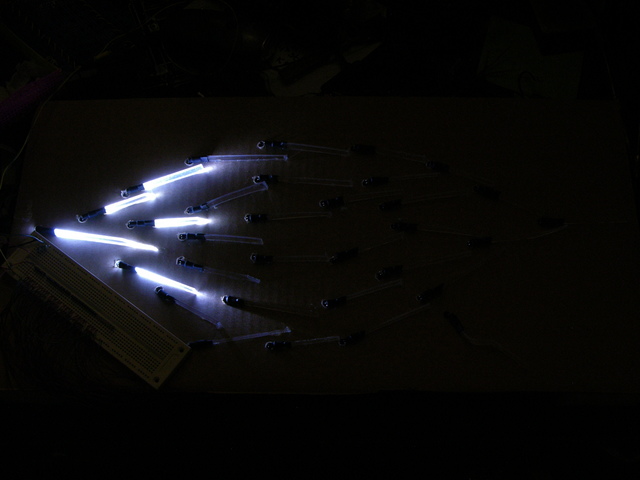 I took the demo along to the meeting tonight, and — crude as it was — Lisa was so excited by it that she asked if she could take it home for a week. Sweet, sweet success.