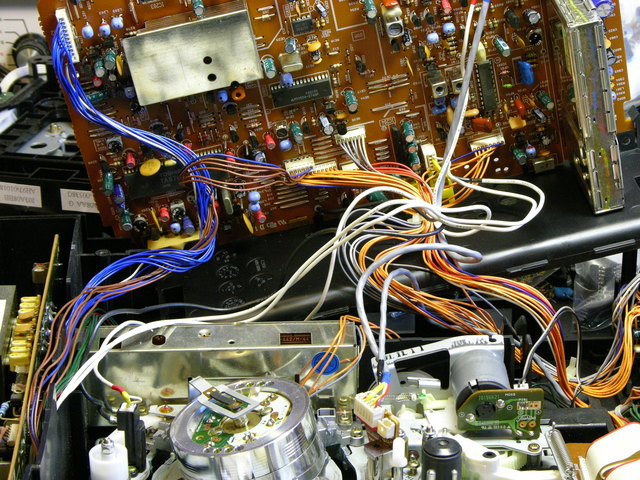 A few weeks ago, I tore into a stack of dead VCRs, salvaging interesting parts, recycling a lot of metal and plastic, and intending to reduce the volume they consumed. Unfortunately, the resulting lesser volume has been mounded up on my workbench instead of neatly stacked in the garage.
The insides of VCRs are familiar to most tinkerers, but some of the bits are more interesting in bulk.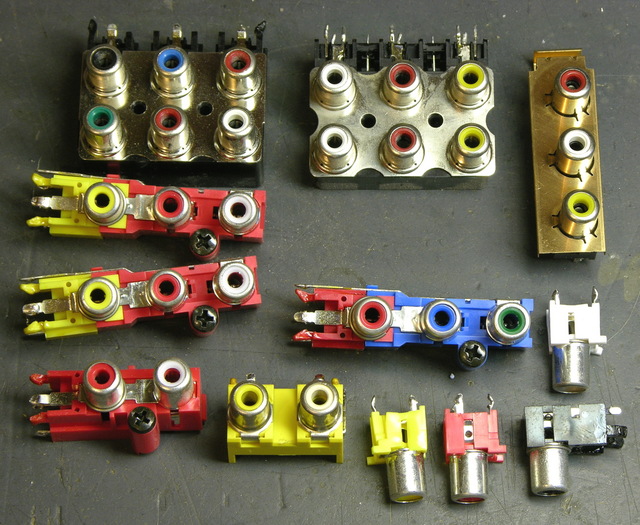 The RCA jacks were what started the whole thing. I had been looking for jacks for some projects I was prototyping, and Ron Tozier gave me the pile of irreparable VCRs to disassemble for jacks. I was delighted by the brightly-colored bodies of several these — they're almost like Legos.
The mechanical parts are nice, too. This isn't even all of them yet, and I've already discarded the gears that have teeth only partway around. What's left I've filed in a parts bin, with hopes that they'll come in handy for random repairs. Jason at work has a crank-to-charge flashlight with a broken gear inside — maybe by now I'll have something with the right pitch teeth to fix it.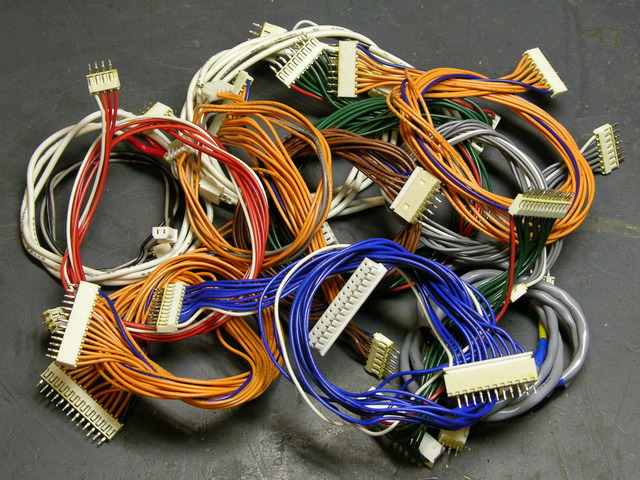 These wiring harnesses, from the VCR in the lead photo, are fun in their bright colors. And I'll need to check, but I think these may assist in bench repair of my SAE A502 amplifiers. They're so tightly packed you can scarcely test them without taking boards out; and their wiring harnesses are so short, you can't safely reconnect the boards once removed.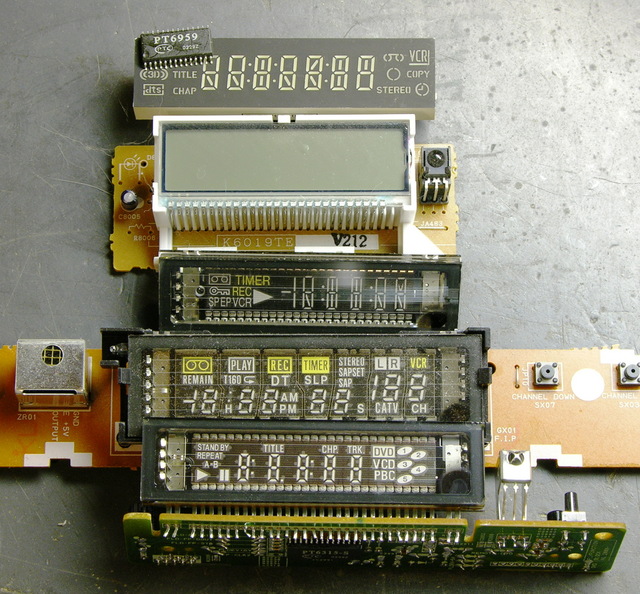 The displays are kind of interesting, and it'd be fun to repurpose them if I had the time to reverse-engineer the fluorescent drive system. The top one is my favorite — it has very bright red/green LEDs, and the PT6959 is a dimmable multi-segment matrix driver.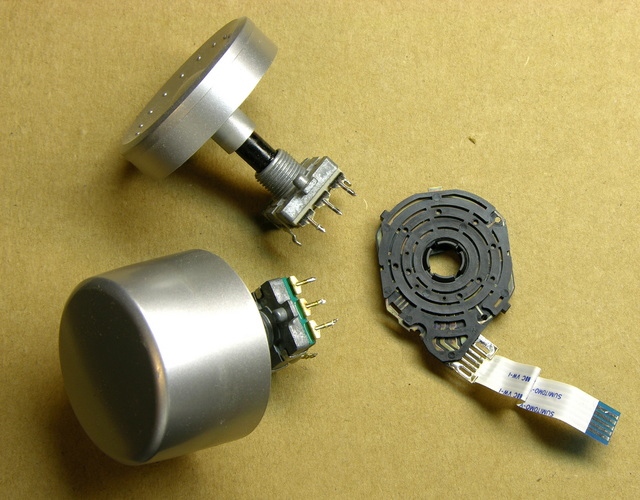 Of course I'm a sucker for rotary encoders. One of the devices from Ron was a portable CD/DVD player / receiver, and it had quadrature encoders for volume and tuner.
The encoder on the right is a very low-friction device that I believe ran the VCR timer / position counter. (There was one in each VCR, although I can't find the others right now.) Seems like it could have interesting uses.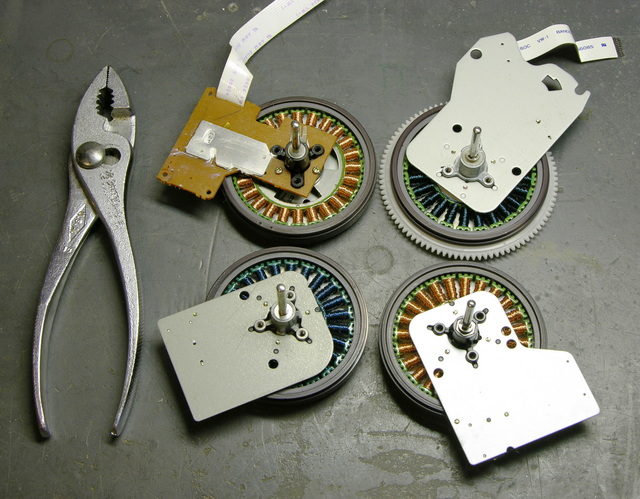 These pancake motors (I think it's appropriate to call them that) are kind of cool, and they're considerably larger than the ones I've seen in CD-ROM drives. The windings are the stator, and the surrounding rotor strip has alternating magnetic polarity around its circumference. My friend Mike Smith in Pittsburg rewound some smaller ones to use in DIY RC aircraft — I wonder whether I could interest him in some of these.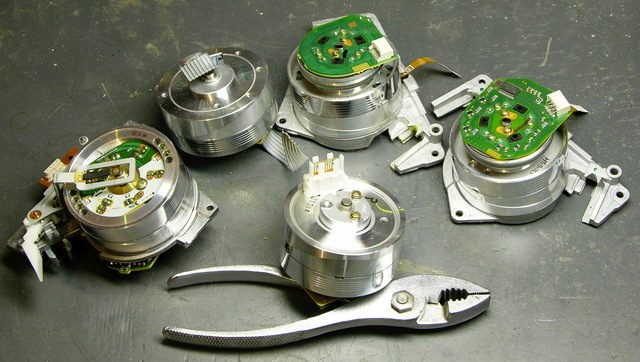 Finally, the read heads are simply beautiful, polished aluminum with very high-quality bearings. They remind me of the "doorknob" that "Yolanda" used to defeat the security system on Bolarafon (sp?) when she and Mal were stealing the Lassiter pistol.
Makes me wonder whether I could reverse-engineer the onboard electronics on one well enough to output a quadrature signal and use it as a rotary encoder for bench prototyping microcontroller circuits.