Wednesday over lunch, my brother sent me to Lustercraft Plastics to pick up a window well cover to replace one that got broken at a customer's house.
And wow, their showroom is droolicious. Lots of sample tiles of different types, transclucencies, colors, and textures of plastic. Plastic dowels so dense they might as well have been cudgels. Flipchart-style collections of crazy bright colors of what felt like UHMW plastics. Really cool stuff. I need to go back and take my camera (with their permission) to get pictures of all the goodies.
Near the counter, they had a few trinkets, including a truncated cube (hm, maybe actually a rhombicuboctahedron) made of a clear plastic that still had a few deep milling gouges but was otherwise very well polished. I was impressed with how well it had shined up after cutting, so I asked what kind of plastic it was — and it turns out it was acrylic, aka plexiglas.
And they have cutoff scraps in the back, sold by the pound.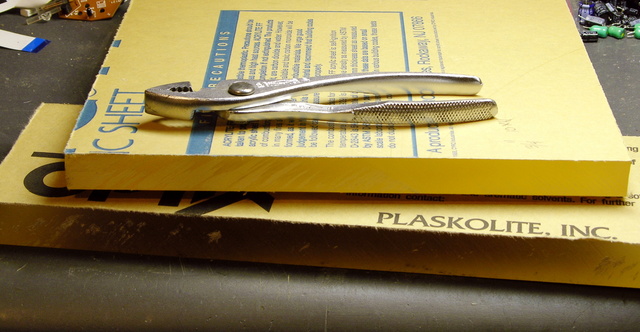 These 18mm and 25mm scraps of clear acrylic (underneath the paper covers) look to be good for milling puck cases, don'tcha think?
The puck project got stalled because I'm fussing over power issues — doing proper USB negotiation for 500mA (everyone assumes you can just grab as much as you want, but it's a violation to take more than 100mA without asking), doing proper Li-Ion charge management (don't want to cause the battery to vent with flame), and doing full-fledged power management (mediating among an external power source, a battery that can source current when needed or sink current when charging, and an LED load that has the potential to sometimes be higher than the 500mA max USB current).
But I have samples of parts for all those things, and the project isn't dead yet. It's just pining for the fjords.