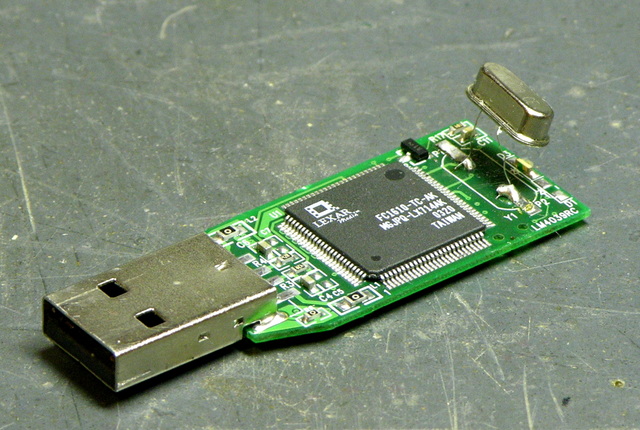 A couple of weeks ago, Matt from the desktop support group at work asked me for soldering advice / demonstration. Someone he supports kept all her data on a USB thumb drive with no backup, and it stopped working. When he opened it, he found the crystal had come off the board, and he wondered whether I could solder wires to it well enough to get the drive working and retrieve the data before discarding the drive.
It turns out the crystal was a through-hole design that had had its legs crimped into flat strips, then bent out sideways to surface-mount. (You can see the pads where it was originally mounted.) But that created stress points at the end of the crimped area where the leads were bent, and the owner treated the drive roughly enough (I think attached to her keychain that she dropped onto the counter every night) that both legs sheared clear off.
Didn't leave me much to solder to, either, but I got it done. Matt's too young to know wire wrap and didn't have any on hand, but I found some stranded wire and used a single strand. It wasn't an elegant job, but it was sturdy enough to survive some handling, and it actually worked. In spite of his professed faith in my abilities, Matt was amazed and delighted when he plugged in the drive and the contents popped right up on his computer.
And I get to keep the repaired drive as my reward. Which naturally means that I've already broken one of the wires.