During the installation of "Organic Energy Cloud", right after one of my fly wires turned bright red and dripped off the breadboard, I stopped being able to upload programs to the Arduino. As it was five minutes before the gallery opening, I didn't want to take the time to replace the Arduino with a spare (that I'd had the foresight to bring along); and the Arduino was still operating with the last program I had loaded, which fortunately was sending a random twinkling pattern to the LEDs.
So I left it be and made a mental note to check it out later. Since the ATmega was still working but I had no communication with the board, I already had a guess that the FTDI FT232RL USB-serial chip was burned out. And I happened to have one on hand that I had ordered for testing LED puck USB control — which has been waiting for a year and can afford to wait a little longer.
Diagnostics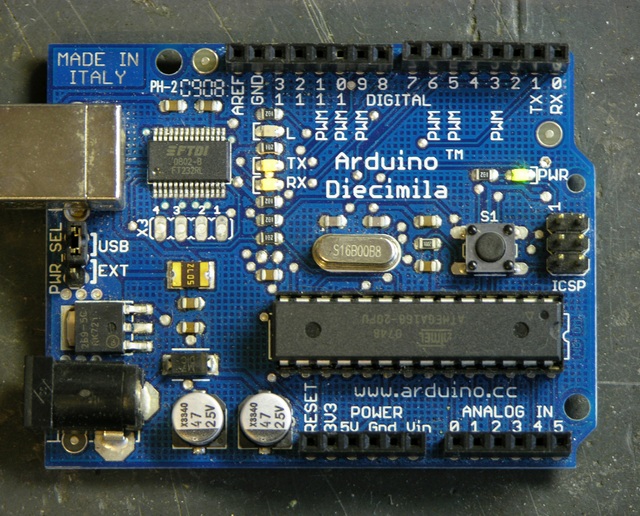 I hooked it up this morning and found that the TX and RX LEDs stay on solid (which my CoolPix doesn't capture well) — not a good sign.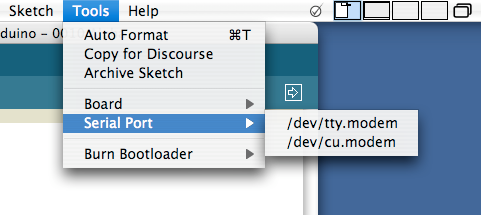 And the IDE's serial port selection menu doesn't list the USB serial connection as an option, further confirmation that the FTDI chip is toasty.
Removal
Removing SMT chips would be a great job for a hot air pencil. Since I don't have one, I blobbed solder across all the leads on one side, then heated the solder mass with the iron while gently prying up that edge of the chip. It came up quickly and with little resistance, and I repeated the trick on the other side, then mopped up the excess solder with solder wick and brushed off the inevitable flux with rubbing alcohol.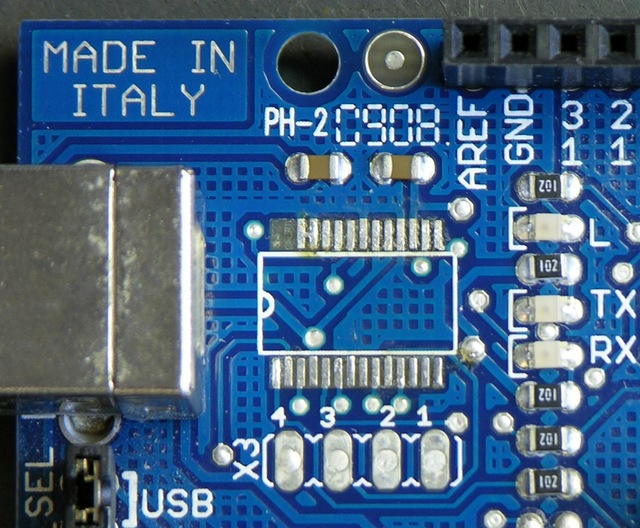 I pulled the pads for pins 27 and 28 completely off the board, but they were unconnected and are for an optional 12MHz external oscillator not used in this design. I also noted the bridge between pads 25 and 26, but it appears to be by design — the pins are both tied to ground anyway, 25 being AGND and 26 being TEST that must be tied to ground for normal operation.
Replacement
I tried using the blob-and-drag method to solder the new chip in place, but ended up using the SparkFun blob-and-wick method instead.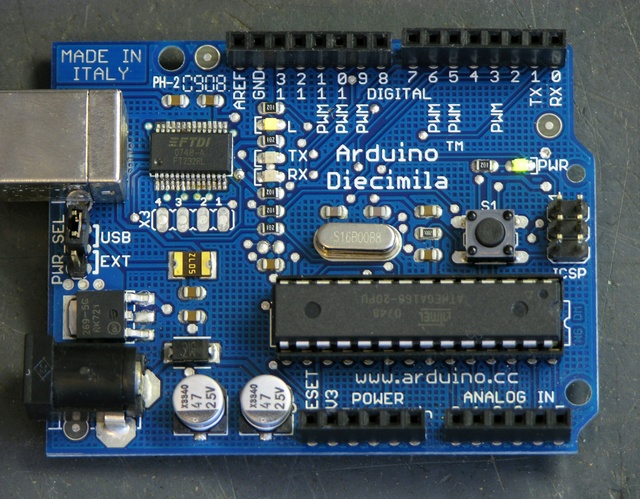 After cleaning the flux again, the resulting board looks pretty reasonable (although I managed to get the chip on crooked, dang it). And the serial lights aren't solid any more,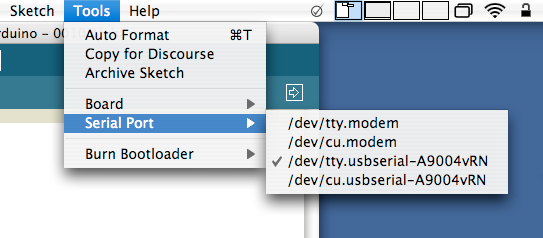 and the board now shows up in the list of connection, and I can download programs to it again. Hoo-rah!