Jeremy and I have been playing with my "new" Akai Headrush E2 looper pedal, which allows you to record an instrument (or whatever) into it; then it plays your mini-recording back for you over and over and over in a loop, and you can play along. You can also overdub, recording more stuff on top of what's already there and building up a more complex mix in the loop — this is how KT Tunstall does solo performances of "Black Horse and the Cherry Tree", which are just amazing to watch.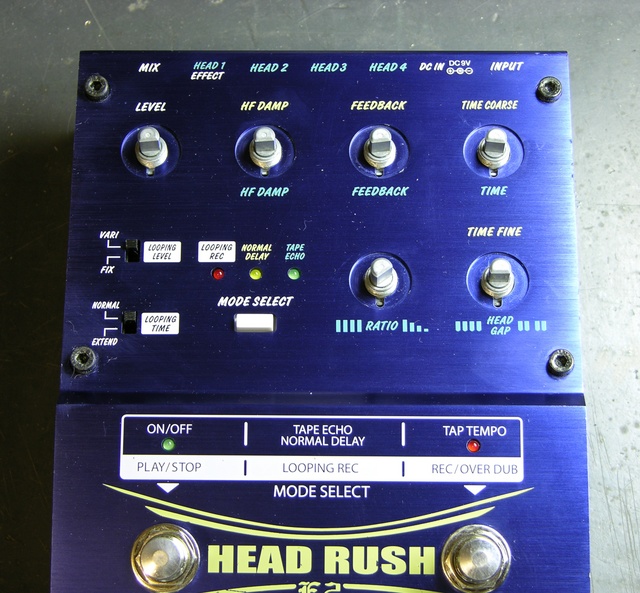 However, Jeremy and I both have some issues with the feature set and the user interface of the Akai, and we're thinking about what it would take to build a better looper — or at least, one more suited to our desires.
Feature Wishlist
Here's what we want:
At least 60 seconds of loop time, which would be enough to play 12-bar blues at a fairly slow tempo. The Akai's 17.8 seconds in low-fi mode is enough for KT to do two measures of rhythm and backing vocals, but not enough to record a full chord sequence.
Tap a Record footswitch to begin recording, tap again to end the recording and start looping. It doesn't absolutely have to be the same switch; but some loopers out there use a potentiometer to set loop duration. We want duration to be determined by the duration of the phrase we played, as it is with the Akai.
Independently-addressable tracks or channels. The Akai lets you discard all of your mix except your very first pass and rebuild from there. We want to have (say) eight tracks/channels in the loop mix, each with a footswitch and red/green LED. Tap Record and the next unused channel winks green and records. Tap any channel's footswitch to put it in (green LED) or out (red LED) of the mix. Not-yet-used channels are dark.
Independently rerecordable channels. To rerecord a channel, tap it out of the mix and immediately tap the Rerecord footswitch (which is separate from Record and a little further back or off to the side). That channel winks green and rerecords. Various loopers have varying levels of undo or redub, but none (that I've found) let you do this.
Ideally have stereo recording so I can loop with the full stereo chorus effect of my analog synths.
There's room to negotiate on the exact UI, but that should convey the feature set we're after.
How to Build It?
John suggested using an AudioPint and Pd, and I think I may prototype this with an Arduino to run the control panel and Pd on a laptop to do the audio. But ultimately I'd like to build at least two of these in nice stage-ready stompable enclosures, and I really don't feel like using a general-purpose OS, for a number of reasons.
It seems to me that this might be a good project for a DSP or an FPGA, but I don't know enough to make a choice. Any suggestions? (I know I don't need the full power of a DSP.)
What I'd love to find in one IC would be:
Dual 16-bit ADC and DAC capable of 44.1kHz
Address and data buses capable of addressing enough external RAM for the audio (say about 1G for stereo * 16 bits * 44100 samples/second * 60 seconds * 8 channels) without my having to worry about DRAM refresh circuitry
A processor that I can program for the very simple, core task of summing/averaging samples from the active channels to feed to the DAC
~32 I/O pins to manage the control panel, and/or I2C or SPI to use offboard I/O chips
Ideally a USB interface for uploading samples to a computer, but this would be an extremely low priority
Does such a thing exist? Is that necessarily an FPGA? Can I get a development environment for < $500 and a chip for < $30?
---
Survey of the Marketplace
Here's my comparison of all the loopers reviewed at Looper's Delight against my feature wishlist.
Very darn close, nice recording time, nice controls, even lets you replace part of an existing track. But unfortunately only lets you take things out of the mix via an Undo stack — LIFO.
Appears to stack samples and doesn't have flexible undo/rerecord capability.
Very pretty rack interface with lots of buttons! 4-second sample time, expandable to 64 (which would be enough if I got one with the expansion already installed; but it was made in 1986 and the expansion RAM is discontinued). Can't find much other detail on how it works.
20 seconds; layers become permanently merged into the sample at the time of recording.
More of a "controllerist" tool with BPM-matching stuff for doing live mixes of prerecorded tunes. Looks kinda interesting, though. Not foot-friendly — definitely a DJ tabletop piece. Oh — and it's a prototype only that's not manufactured.
Apparently no undo feature at all.
Another DJ tool that does tap-tempo for BPM matching; has a maximum of 32-beat sample length.
Very, very pretty family of echo/delay/FX machines. 20 seconds of looping.
16 minutes sampling time!!! But only one layer of undo.
Looper Construction Kit for Kyma
Looks like OS X software, so I'd need to come up with hardware to drive it, and that doesn't suit my embedded notions.
10 seconds.
Maneco Filter Eko, Nanolooper, ManecoLooper Elite, ManecoLooper, MicroLooper
Look like homebrew jobs that I couldn't buy. 32 seconds, 16 seconds, 64 seconds, 32 seconds. Feature set is hard to tell but they definitely don't have enough buttons to do the cut in / cut out that I want in realtime.
Described above, but I'll reiterate for thoroughness: 18 seconds loop time, can only erase everything except first take.
Electro-Harmonix 16 Second Delay Reissue
Only three footswitches (and not included); loop duration is set with slide pots instead of tap to start recording, tap to stop.
23 seconds, doesn't have enough footswitches to cut tracks in and out.
Only two footswitches.
Looks hot! But only has overdub (add to what's already laid down), replace (replace EVERYTHING that's laid down), and one layer of undo/redo.
There are a very few other products mentioned without reviews posted
yet, so I'm not being completely exhaustive.
At John's suggestion, I've also submitted a query to Sweetwater asking whether they know of anything that does what we want.