I've been looking for a lighter-weight alternative to my Hammond — something practical to set up and take down at home for practice, as well as to take to jam sessions and the like. And when I say an alternative, I already had my heart set on a Crumar T2 from way back in 1978. I have several Crumar synths, so I have a soft spot for the company; and I have a T1 organ and knew I was satisfied with the drawbars and Hammond-like sound. I just needed the T2 for the the dual manuals (keyboards).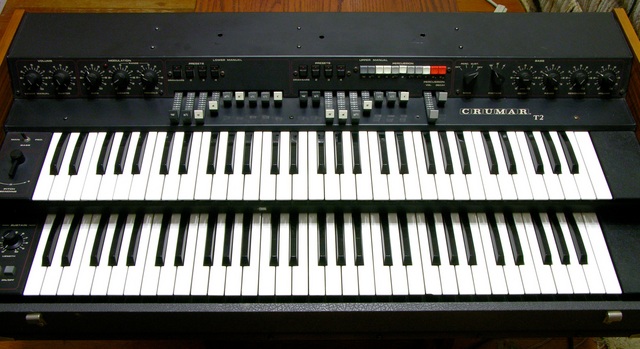 I recently bought this on eBay for $255 purchase plus $185 shipping — at about 100 lbs, I don't think I was overcharged for shipping. It's still only a quarter the size and weight of my Hammond, so it's all good. Like all Crumars, the keyboard is built into the bottom half of a hardcase with a lift-off top and very rugged handles, making transport easy possible.
This is the first of a (hopefully only) three-part set on evaluating what I got and bringing it back up to perfect usable operating condition.
Missing
First, an inventory of what's not here and what I'm going to do about it:
Stand
The Crumar T-series organs originally came with knock-down stands, which weren't included with this organ and which I'll have to fabricate. The lift-off case top has grooved pieces like shelving standards (one removed by me for measurement and experimentation):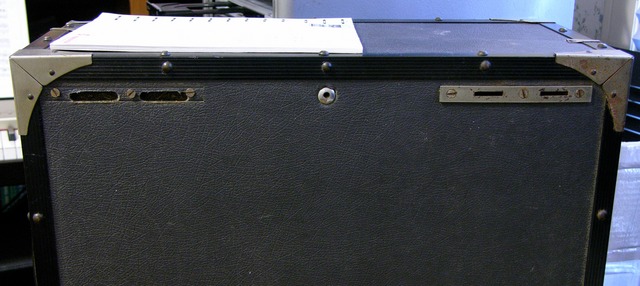 The case top gets held on edge and latched onto mating hooks on the vertical rails of the two I-shaped metal legs, thus becoming the horizontal brace spanning across the legs. The organ body then sits on top of the stands and accepts a bolt at each end to lock it into position.
I have some appropriate I-shaped legs from an old printer stand, I'm experimenting with shelving brackets that I can cut up, and my brother is willing to weld for me. I'll slot the stands and poke the cut-up brackets through to weld a bead on both sides of the rails — I'm not so wildly optimistic as to think that one could weld just the hooks onto the legs.
Pedalboard
The organ would also originally have come with an octave-and-a-half pedalboard, which I don't have. This would be important for playing serious jazz; but since I'm just a hack and have never had organ lessons, I'm probably saving myself from serious embarrassment by not having the pedalboard.
Swell and Sustain Pedals
Crumar used a custom seven-pin connector (dual in-line four-pin with one pin absent as a key) for their combined swell and sustain pedal assembly, so I can't use readily-available third-party pedals with 1/4″ plugs.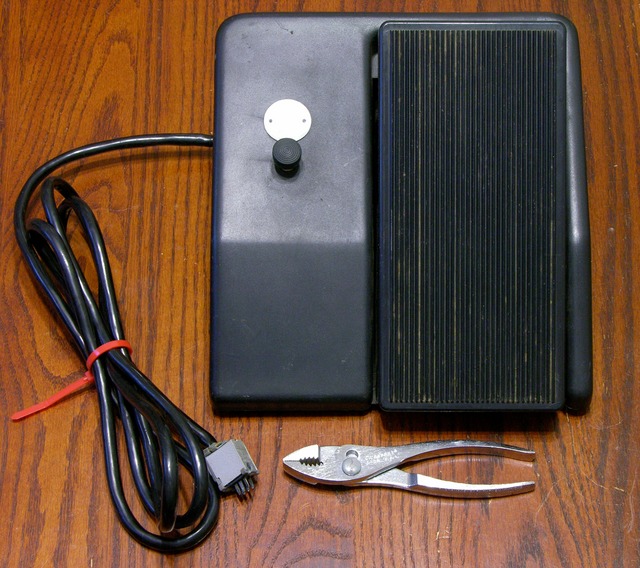 But as luck would have it, I already bought a Crumar pedal assembly on eBay in beautiful cosmetic condition. The swell pedal doubles as a loading ramp for car trailers, by the way.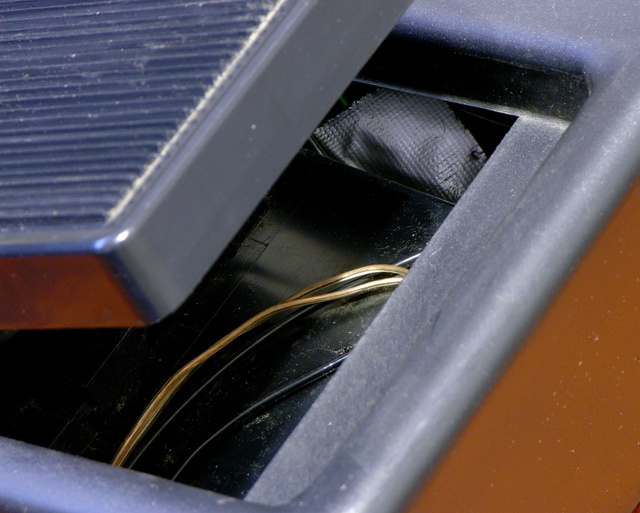 Hm, from a glimpse inside, I see that someone has used … shall we say … non-traditional materials to repair or modify the pedal. Looks like I may want to investigate before hooking this up.
Leslie
I don't have Leslie speakers and the Crumar doesn't include adequate emulation. Oh, it has vibrato and tremolo knobs, but they lack two critical elements — external controls for on/off and low/high rotor speed, and stereo output for the full swirling effect of a true Leslie.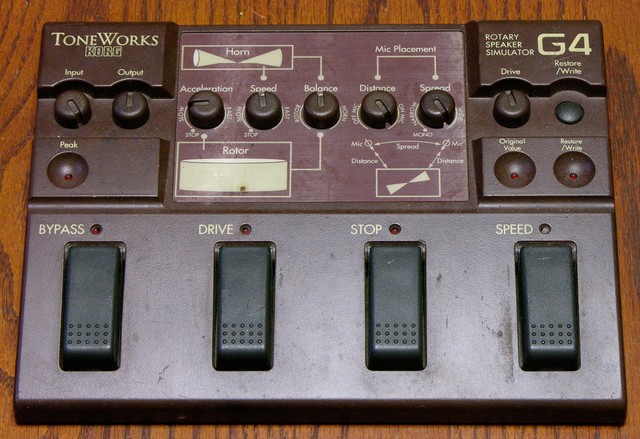 Happily, I have a couple of Leslie emulators, both of which offer external controls and stereo output. My Korg Toneworks G4 rotary speaker simulator is (or was, during its era) widely regarded as the best Leslie emulator out there, but I find its effect to be a bit much, and the depth of effect is unfortunately not adjustable.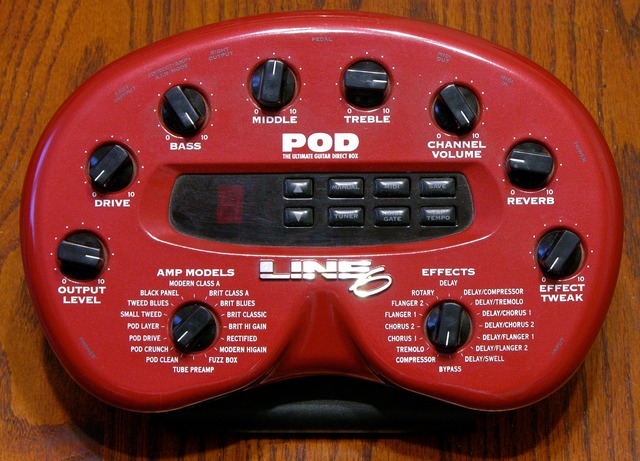 This weekend I also started playing with the rotary emulator on my Line6 POD guitar amp modeler. So far I'm liking it better, and I need to try changing the "A.I.R." mode from "direct" to "amp" to further reduce the amount of simulated amp coloration the POD introduces (when I'm trying to get a clear tone for Boston — the POD is already just about right for an overdriven Deep Purple sound).
Extra Feature I Don't Need
The T2 has a bass synthesizer accessible from the lower manual or the pedalboard, with a typical set of subtractive synthesis controls for envelope, VCF, and resonance. I'm pretty unlikely to use this most of the time — although Jeremy and Mindy are interested in jamming some Grace Potter, and unless Mindy learns bass, it could come in handy there on occasion.
First Assessment
Here's what I knew about the organ's operational condition going in and what I've discovered during a weekend of use:
The seller acknowledged that several of the volume knobs were crackly. This should be easy enough to fix.
The master tuning potentiometer was stuck (and out of tune). Yeah, this is a solid-state analog organ and you have to tune it and hope it doesn't drift while you're playing.
Hm, the seller didn't mention (probably didn't notice) that D# / Eb doesn't work anywhere on the upper manual, except the highest one or two when the 2′ or 1′ drawbars are pulled out. This puts a serious crimp on a lot of things I want to play. Maybe a set of dirty contacts on one of the tone generator boards, or maybe a bad IC.
Several keys near the center of the upper manual seem to have crackly, intermittent connections. I don't notice this when running the organ directly to my small Alesis powered speakers, but only when running through the POD with overdrive cranked up. It could be a POD problem (technological or operator), but it only seems to happen on a few specific keys. Let's see how bad it looks to clean the key contacts and then see what happens.
Finally, I hear a lot of static when playing through the POD with overdrive. As a sanity check, I ran the POD with the same settings but no input and it was dead quiet, so I think it's the organ. Maybe a newer generation of low-noise op-amps would help it out.