The long-languishing linear LED lighter is back in my "get it done" pool. I have the parts sourced, the design refined, and a big bag of utterly failed attempts to print an acceptable case for it on my CupCake. Fine. Forget the case. No case.
The project, to refresh your memory, is a linear driver for three strings of LEDs, up to 40V and 100mA per string. You supply your own power (5-40VDC), LEDs, and wire.
After spending two hours looking through 250 pages of connectors in the Digi-Key online catalog (I am not kidding), I'm distressed to discover that the least expensive connectors I can find are going to cost about $2 per board. Feh! But I want the power and LED connectors to be polarized, and that's more expensive than plain ol' .1″ headers.

Here's a mockup (clickable for the big pic, like all the photos here) of an early prototype PCB with product photos of the connectors I'm leaning toward. On the right, a six-pin header for three LED strings and a representative two-pin plug that's polarized by virtue of the semi-latching bump. On the left, a two-pin header for power and definitely-latching matching plug.
Note that the male connectors are on the board to reduce the opportunity for shorting what's on the ends of the wires while they're unplugged and flailing around.
Questions:
Is it reasonable to expect people to plug three two-pin connectors into the right places in a six-pin header?
Is it worth making the power connector different from the LED connectors, to make it harder to misconnect things?
How many people are going to crimp pins onto the wrong wires and have to start over?
Opinions in the comments, please.
If you think you can find me less-expensive polarized connectors with .1″ spacing (I want to offer the driver with straight male headers for breadboard friendliness) that I can buy from a supplier as reputable as Digi-Key, please provide direct links to at least the header and ideally the plug and crimp pins. Free LED driver if you actually come up with something I like better.
---
Addenda 21-Mar-2010
Thanks for the responses so far! A few additional notes:
Connector Cost
The connectors I show above come to about $2 total per board, not $2 each. That's still a larger fraction of the electronics cost than I'm happy about.
Connector Size and PCB Size
The current iteration of the board layout is much smaller than that shown above: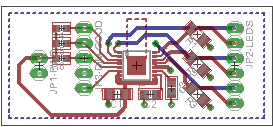 I'm trying to make it as small as possible (A) on principle, (B) to save on board manufacturing cost, and (C) to make it easy to "hide" the driver within whatever you're building. I have a little more optimization to do; but you can see that the board size will very soon be determined by the size of the connectors.
Because of this, I would really rather not leave extra "key" pins in the LED string connector — they'd widen the board. (Arguably I could then shorten it, but I'm not convinced I could really make that happen, given the distance I need to fan traces out from the TSSOP. The TQFN pinout doesn't make things significantly better, either.) I'd also rather not use connectors with "walls" between the two-pin pieces, as they'd increase the PCB width (height?) by at least .2″.
Also if I go with the six-pin connector idea, the female headers need to have thin outer walls so they can fit side-by-side between adjacent pins.
LEDs and 6-Pin Connector
By my read of the MAX16823 datasheet, if you misplug an LED string one pin off, it simply won't light, nondestructive to both the LED and the string. I assume you would then look at the plug and see you had misplugged it and replug it correctly — so this should not be a catastrophic event.
I also intend to indicate the correct divisions of the 6-pin connector in silkscreen.
I know people will still get it wrong occasionally, but since it won't hurt anything — good enough?
---
Addendum Noon 21-Mar-2010
Asmodeus has found the connectors I want to use and pointed out the (obvious) way to space them to meet my board criteria.
If I need further input, I'll mock up another picture with the latest plan and start a new post. Thanks to you all, and comments are now closed!