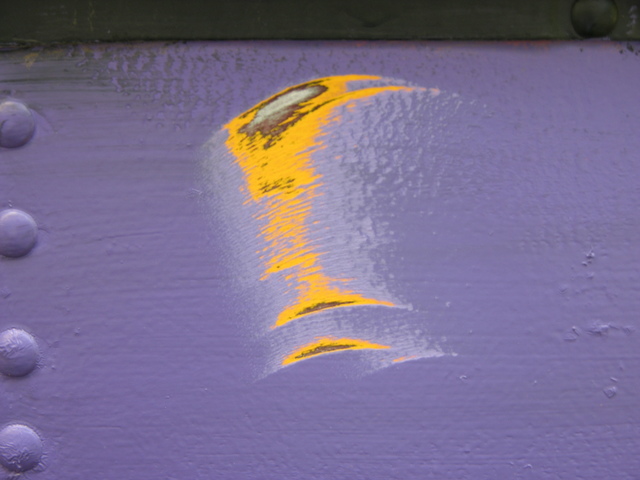 I got a 4″ disc wire brush for my angle grinder, thinking it would strip paint a lot faster than the cordless drill. It did — it stripped down to bare metal when I barely touched it to the bus!
I suspect the original primer is a lot better than anything I can buy, and certainly better applied, so I really don't want to remove it; I want to leave the primer and maybe even yellow paint to cover with my own paint job.
If I did want to strip to bare metal, the brush I was using in the angle grinder would be great. For this job, I'll see if I can find a finer brush for the grinder.
Also I need to find one with a 5/8″ arbor. Drilling a 1/2″ arbor out to 5/8″ causes separation of the metal plates formerly holding the wire pieces together. Careful application of the angle grinder's arbor plates gets the wires held pretty securely — and remarkably concentric on the first try — but that's no way to really do it.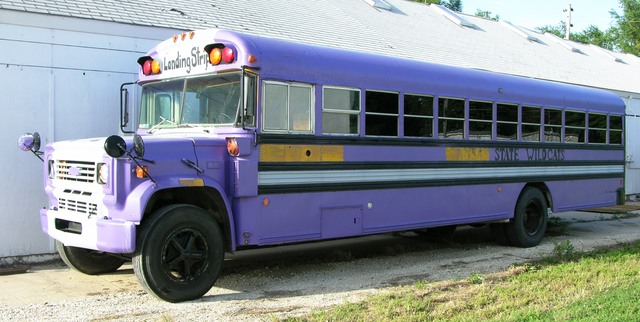 I switched to the "wire brush on a stick" in my corded drill and got a few linear feet of above-the-rail stripped. Took over an hour and it really wasn't worth the effort.
Battery Compartment and AC Wiring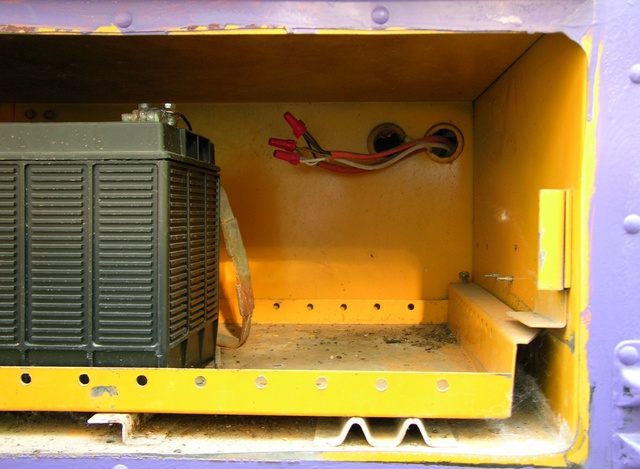 I hadn't leaned down far enough to really look in, so Jonathan was the original discoverer of the AC wiring sticking into the battery compartment. I'm guessing the former owner had an inverter installed in there — which I just read is a bad idea, as the battery acid fumes can eat up the delicate inverter guts. Maybe I'll put mine in a separate compartment.
But What Will the Neighbors Think?
My neighbors saw the bus this afternoon for the first time. The folks next door think it's really cool and a great idea. The man of the house from two doors down came over to say that "The Landing Strip" (painted on the front of the bus) is a bar in Aggieville (Manhattan), which gives a clue as to the provenance and likely former owner of the bus.
The best reaction was from the young couple across the street. As they were halfway across, they were already calling out that their curiosity had got the better of them; and they gushed about how cool the bus is and asked all kinds of questions. They let their four young kids explore the inside of the bus, and didn't mind at all that they were enthralled by the dead baby mice. They're all very enthusiastic about the project and the prospects and think it's great!
This was, of course, before I backed into their mailbox, as one of the part-time police officers I don't know came driving down the street.