For years, I've been enthralled with the idea of buying an old schoolbus, ripping out the seats, and converting it approximately into an RV — a self-contained living space that I can drive down the road. While in college, I thought it should have a B/W darkroom and I should cross the country taking and printing photos; but today film is out of fashion and I'd rather it have an electronics laboratory (that's "la-BOHR-a-tree").
Of course, in order to persuade friends to take weekend trips with me, it should also have good audio and enough room to plug in a few guitars and a keyboard to sit around and jam.
Barring prohibitive circumstances to be described later, my dream appears to be taking shape in reality. Last week I won an auction for a half-converted former schoolbus previously owned by a university athletics fan and used as a tailgate bus. It already has the seats removed, potable and waste water tanks plumbed, and many other interesting "features."
For starters, here are the pics from the auction listing. They're not all interesting, but I'll just be thorough.
First, a walk around the front of the bus: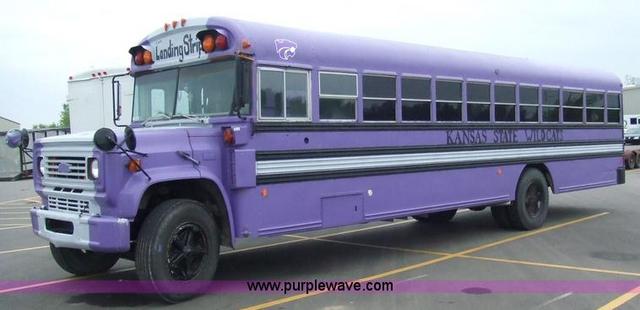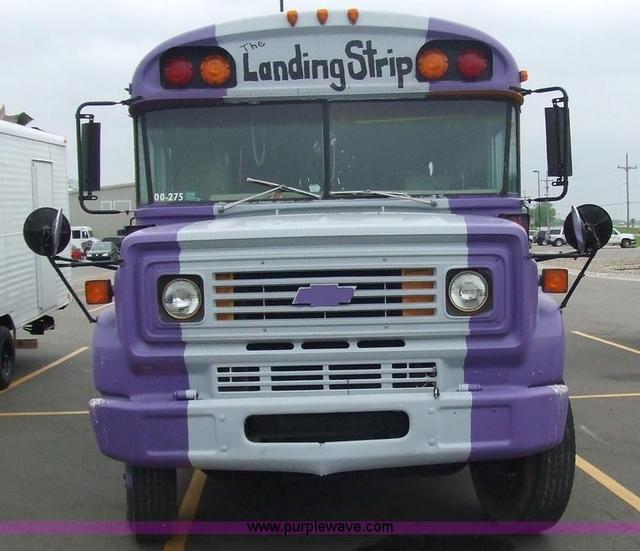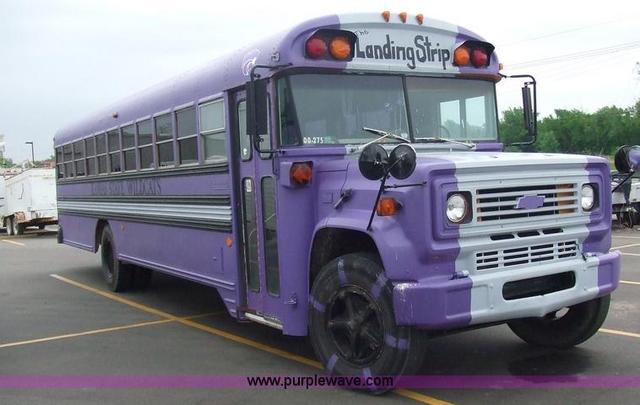 Then working back along the right side: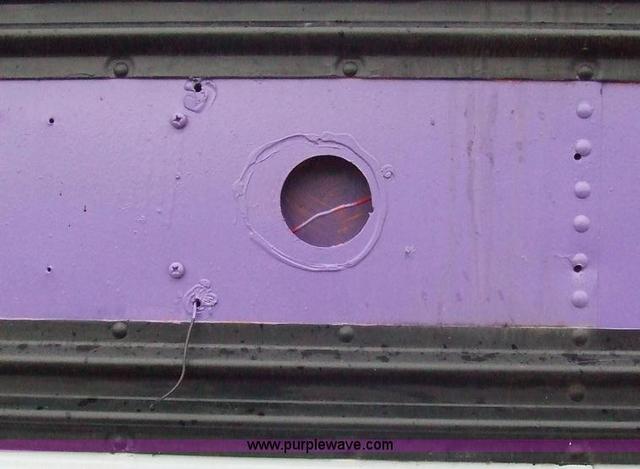 The schoolbus stop sign has been removed.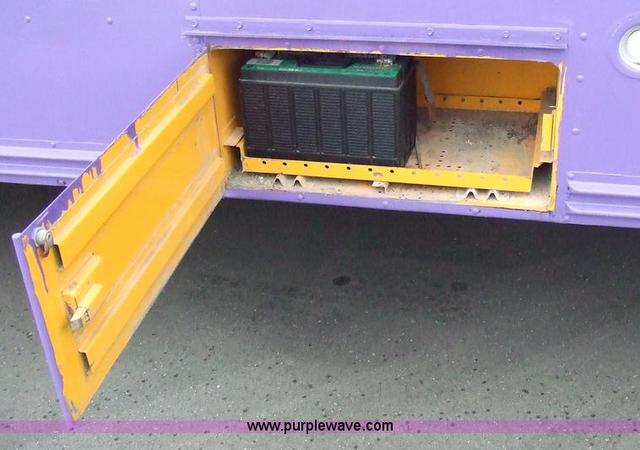 Battery compartment revealing original schoolbus yellow paint. I'm still optimistic that the purple paint will come off easily and I can drive a yellow bus for a while before I repaint.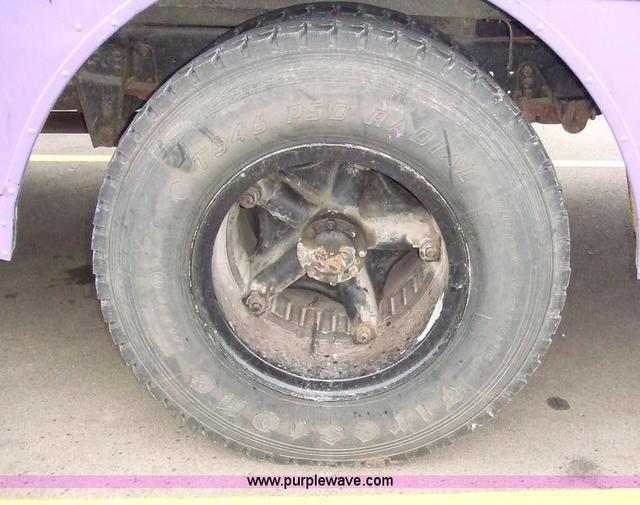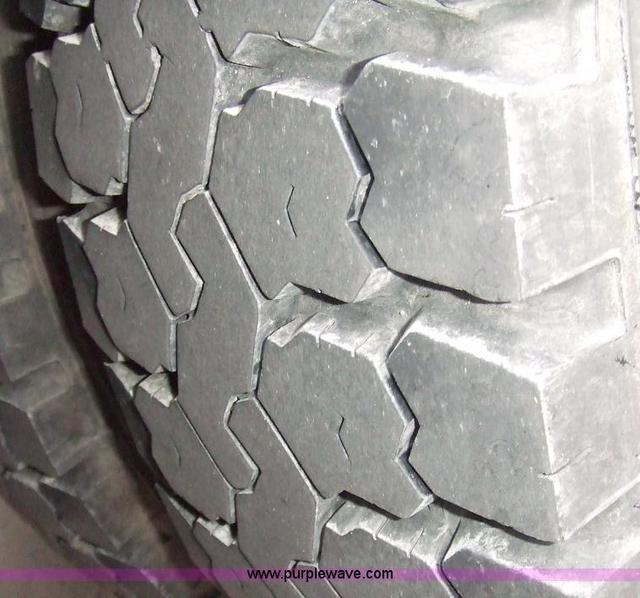 The wheels are dirty but the tire tread is in decent condition.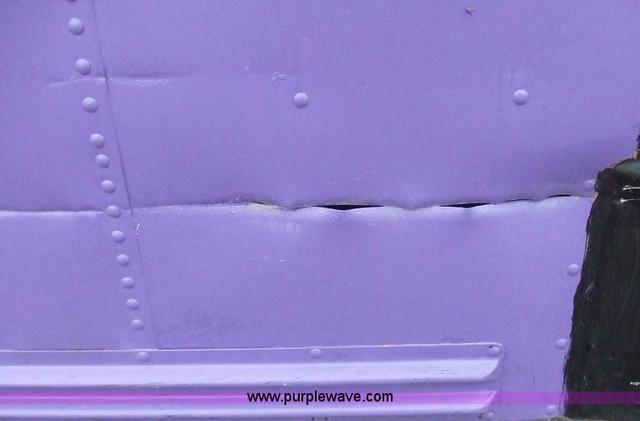 The rear of the bus has numerous scars and dents in the sheet metal, this being the worst. Hopefully I can get someone to, as my brother would say, "put a little weld on that."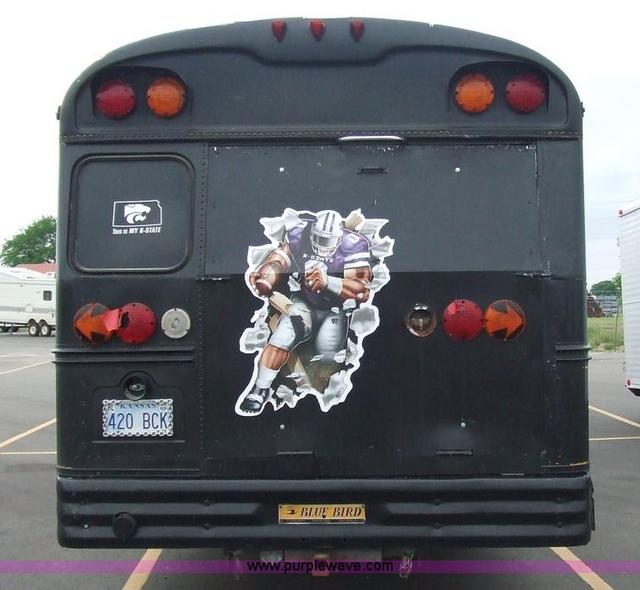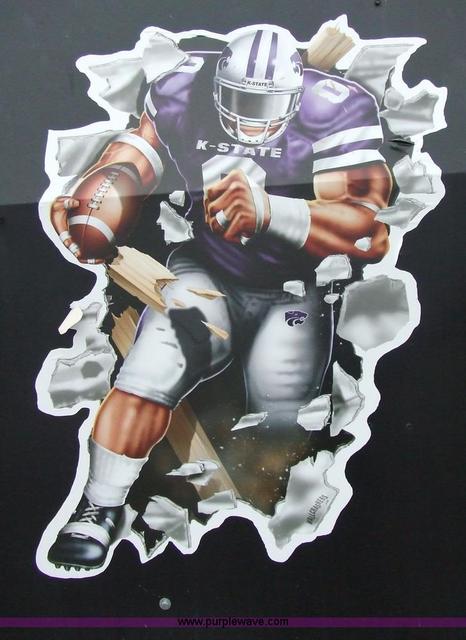 The decal peeled off easily, immediately increasing the value of the bus.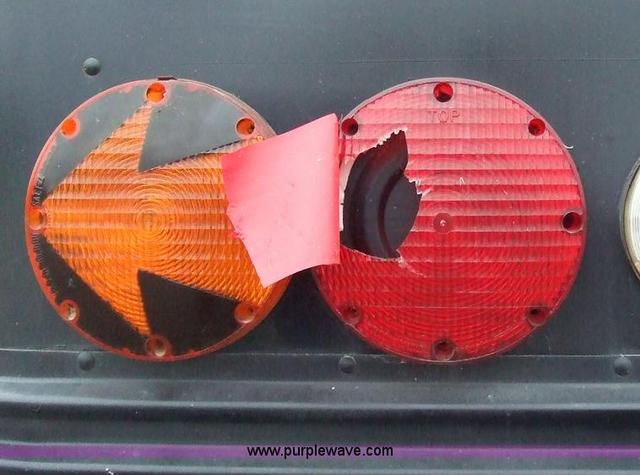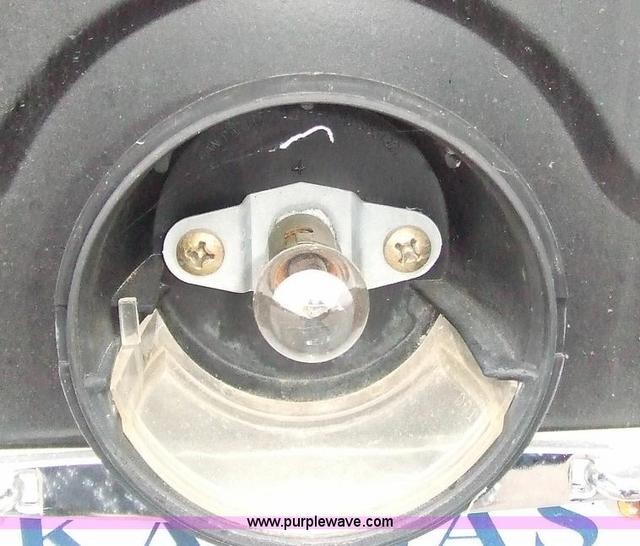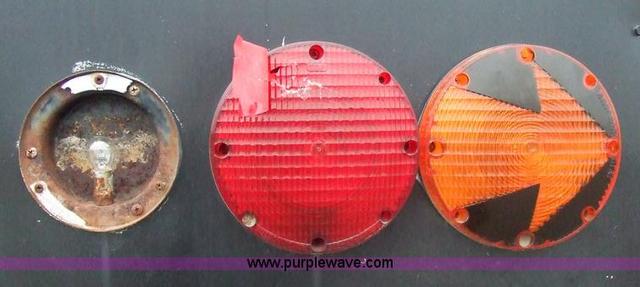 Various damage to taillights. I'd like to replace them all with bright LED signals to help keep my intentions clear and noticeable while driving. Don't know whether the LED lights will come with new lenses or whether I'll get to go salvage-yard hopping.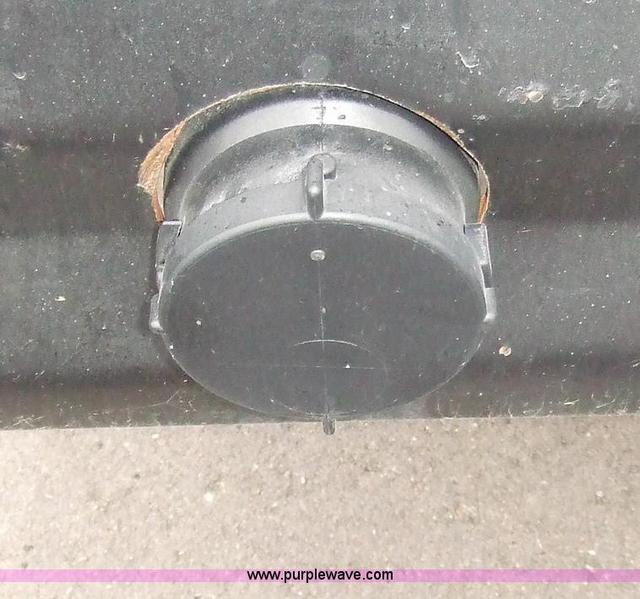 Blackwater dump hookup. There's a "blast gate" (wonder what they're called in this context) under the bumper to open and close the pipe.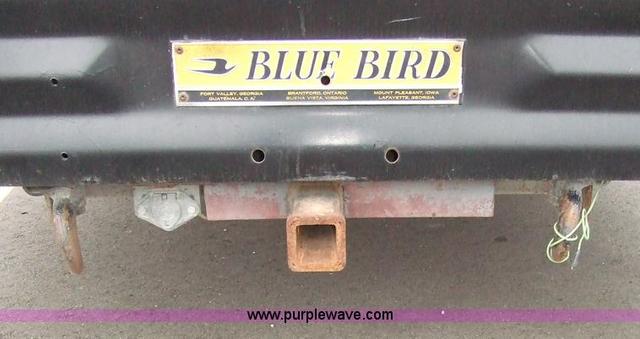 Hitches for towing vehicles and stumps.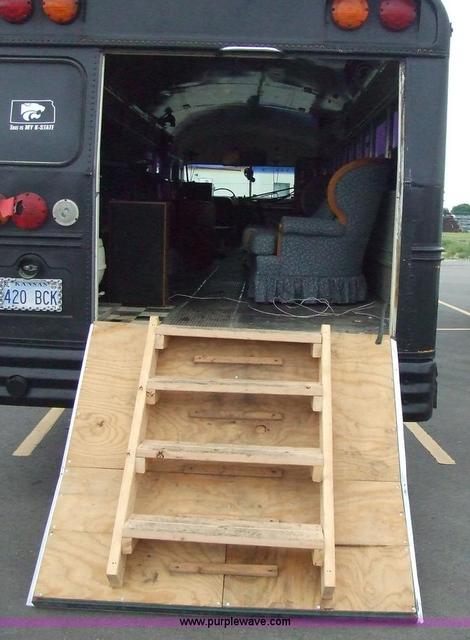 The rear door has been converted to fold down. Unfortunately, it only latches from the outside, it has no way to lock, when latched it has no way to open from the inside for emergency egress, and it's currently the only way to enter the bus when the passenger door is closed. These things will need to be remedied.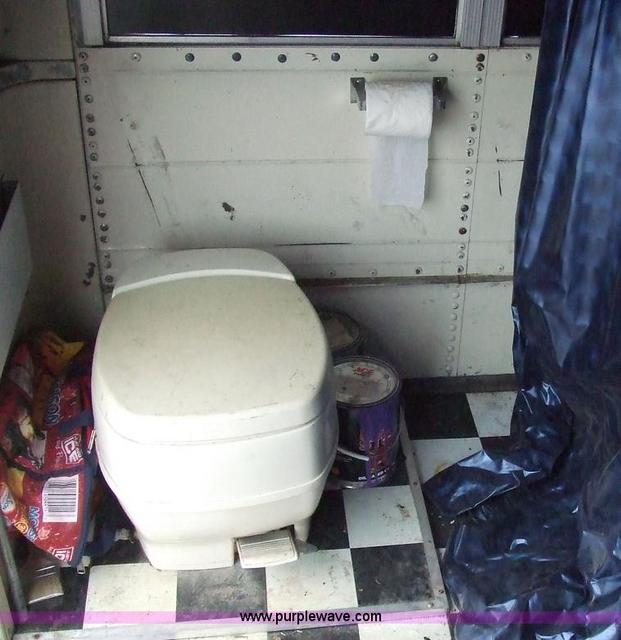 Leftover paint cans, so I can see what was used and figure out what it'll take to strip the purple paint.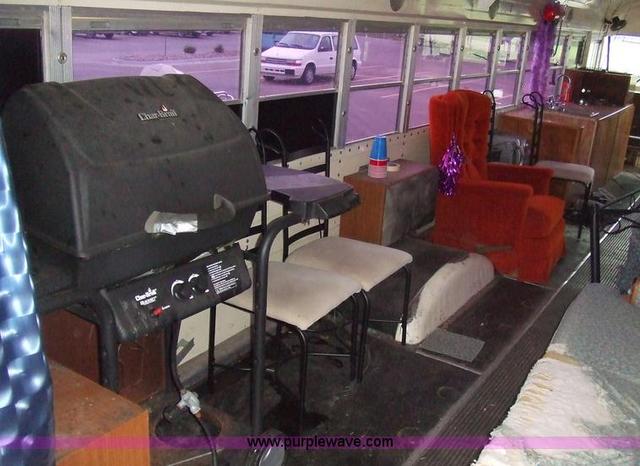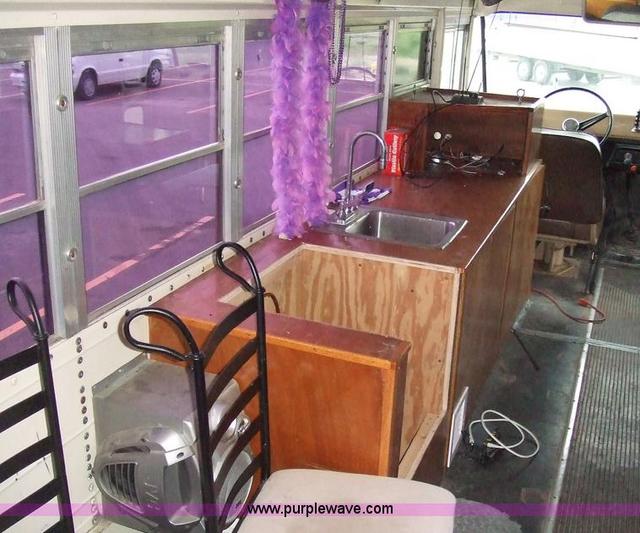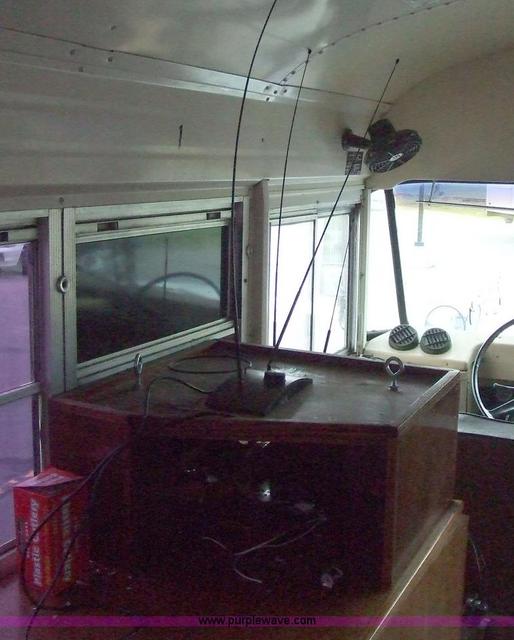 Working up the left side, random dorm furniture, RV cabinetry with sink and cutout for stove, and lots of TV antennas. Also lovely purple window tinting.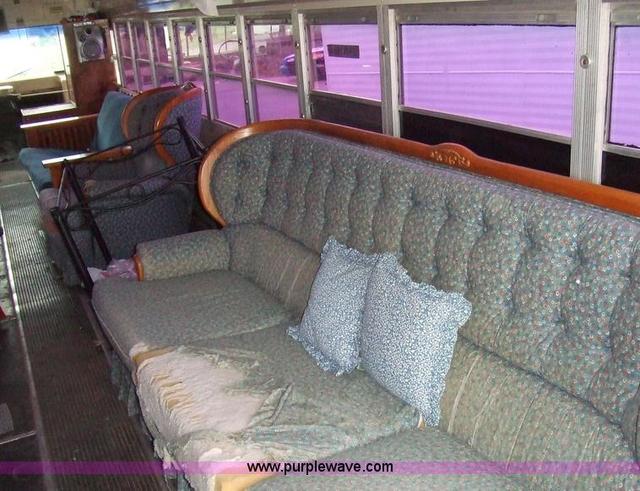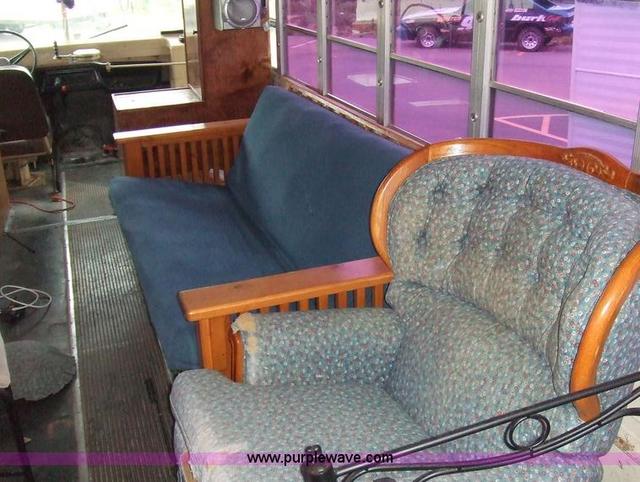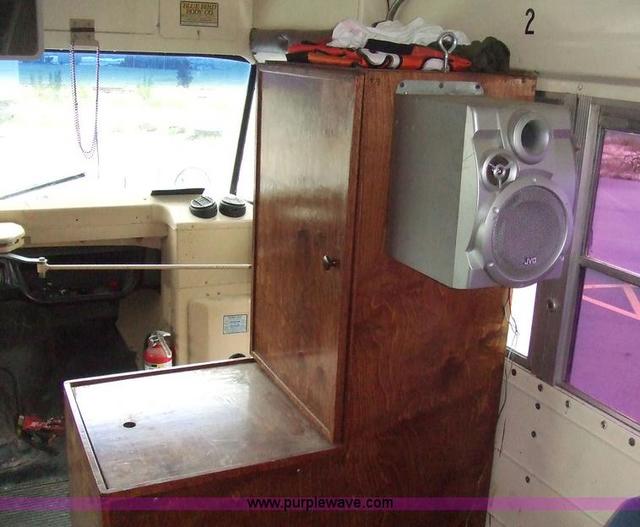 Working up the right side, a couch and chair that need to go ASAP, a futon-like couch that may stay, and more purple window tinting.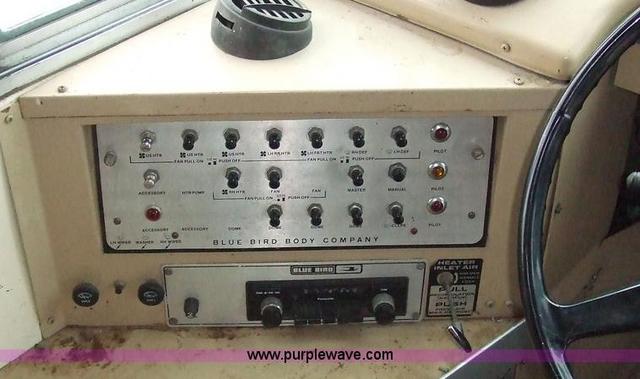 Accessory control panel. Fans and heat but no AC.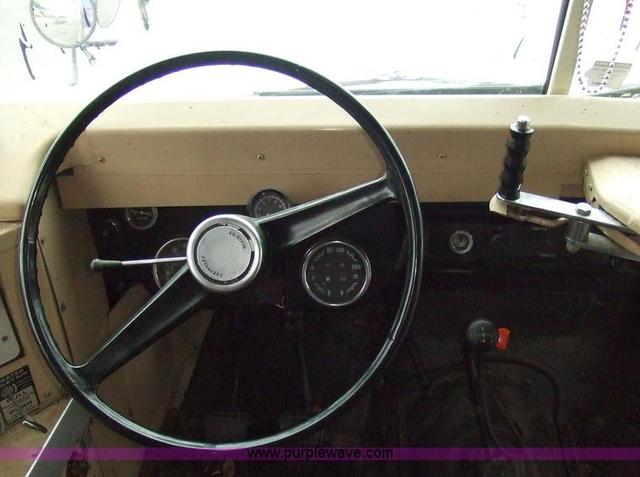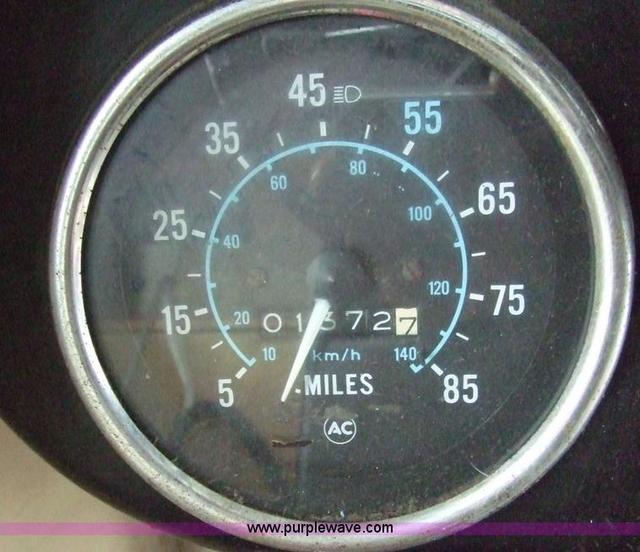 The title lists the mileage on 08/22/2008 when the previous owner purchased the bus as "0101627." I wonder whether
it was at 101,627 miles a year ago and they've put on 99,745 miles in the last year, bringing it to 201,372.7
it was really at 10,162.7 miles a year ago and they've put on 91,210 miles, bringing it to 101,372.7 (or 110,162.7 → 201,372.7)
"0101627″ is a complete fabrication, like the title's "empty weight" entry of 3500 lbs
And for completeness, the pre-sale disclosure statement: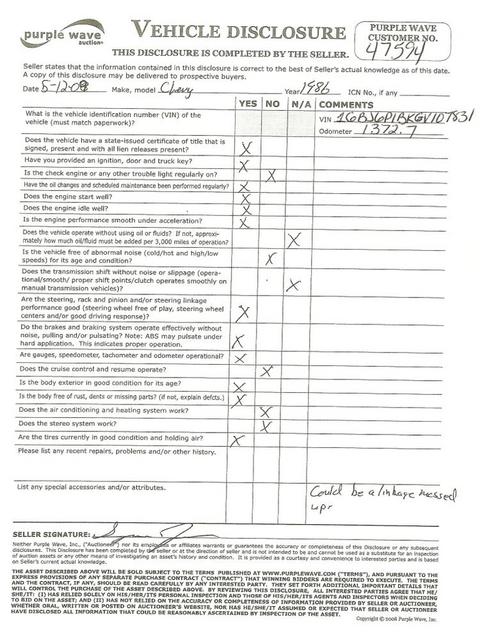 Looks pretty good, maybe some minor work that needs to be done; nothing that would suggest the vehicle couldn't be driven off the lot. I even called prior to the auction to confirm, and the woman answering the phone at the auction house's published number assured me that yes, the bus could be driven away.
A separate phone conversation yielded that it runs on gas (not diesel) and has hydraulic (not pneumatic) brakes.
Total spent so far:
| | |
| --- | --- |
| $825 | purchase price |
| $82.50 | 10% "buyer's premium" |
| $907.50 | total purchase |