Still waiting on brake repair but can't let the world pass by while doing so. Thanksgiving Day and my family takes the evening meal together. What better opportunity to clean the preowned carpet that I want to install in the bus?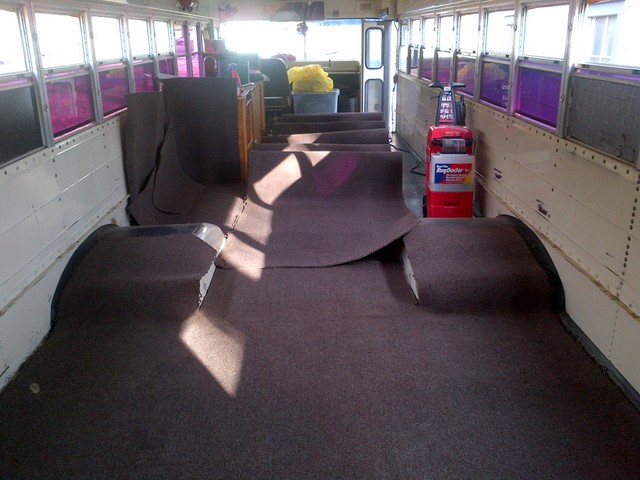 It was tricky running the Rug Doctor up and down those bumps up front, but well worth it.
I did three full passes over all of the large and small carpet scraps, got really tired of running in and out of the house to empty the extraction tank and mix more cleaning solution, and was still pouring fairly-dark grey water out of the tank after the third pass. But that's enough; I'm done. The carpet is now rid of obvious dusty and dirty spots and is a uniform color and texture. It's also further relaxing its bends from being rolled up in storage.
It's 50F outside somewhere near here; it feels like 60F outside here in the still air; and it has to be 70F inside the bus with a clear sky and the sun shining down. The front door, back hatch, and all the windows are open and a breeze is blowing through to dry the carpet.
$25 to rent the machine, $6 for a bottle of pre-treatment spray that I don't think really did anything over as large an area as I used it, and $13 for the jug of cleaning concentrate.
Now make a computer model of the floor of the bus and of all the carpet scraps so I can see how best to fit them in. And as soon as they're dry, borrow my brother's carpet seamer and start cutting them to fit and piecing them together.