Over the holiday weekend, Lawrence donated a gas cooktop from a popup camper he tore apart long ago, and did just about all of the work to hook it up in the bus for me.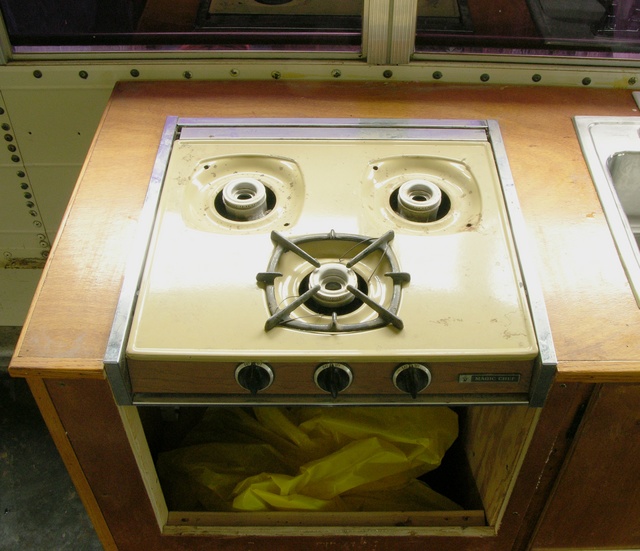 The cooktop fits the upper part of the counter opening perfectly. There's no oven and I'll want one eventually — but this is free and available right now.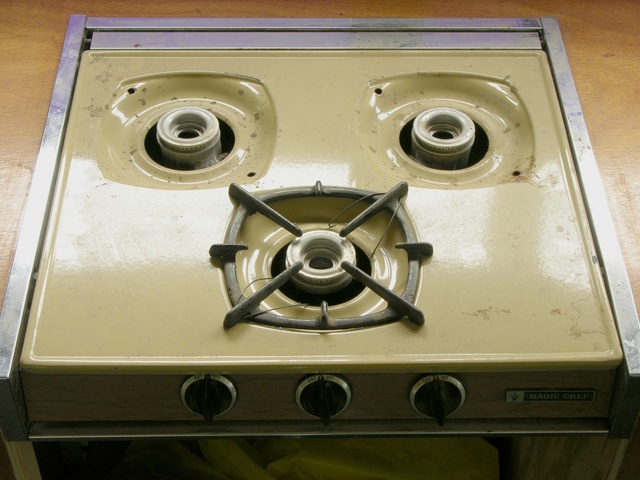 This is from early Saturday morning before I did lots of scrubbing.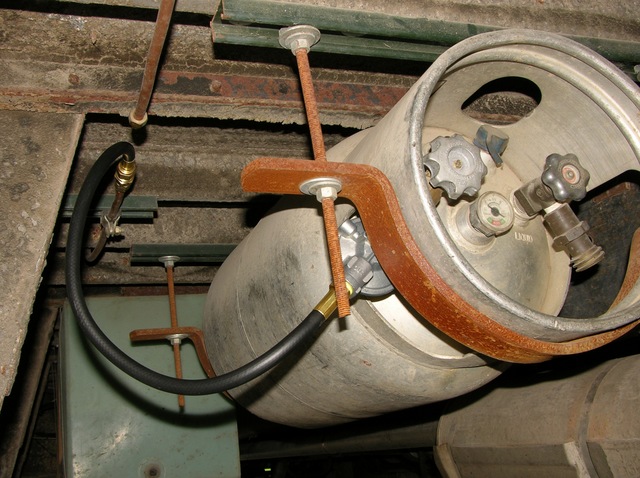 It took about five trips to Graber's Ace Hardware, buying and returning one regulator and buying another, and several conversations with a very knowledgeable and helpful employee to find the regulator with the right fitting for this tank and hoses and lots of brass adapters for every connection — two to three at every junction (converting between flare, compression, and pipe fittings; different sizes; and different genders).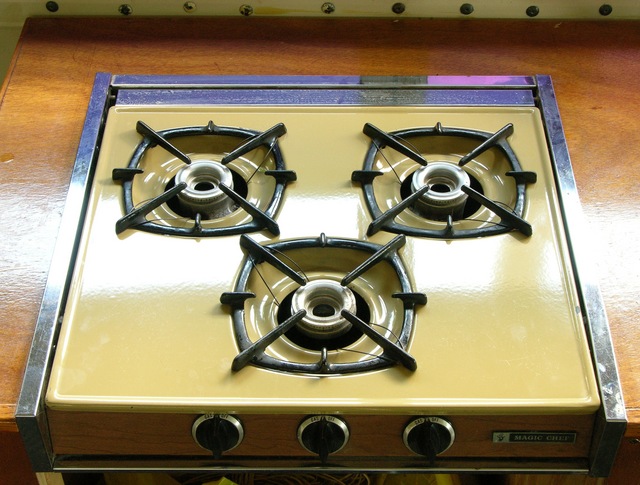 Late Saturday afternoon: installed, connected, and clean. The bus propane tank was (predictably) empty, but Lawrence hooked up one of his grill tanks long enough to do a leak test and light one burner.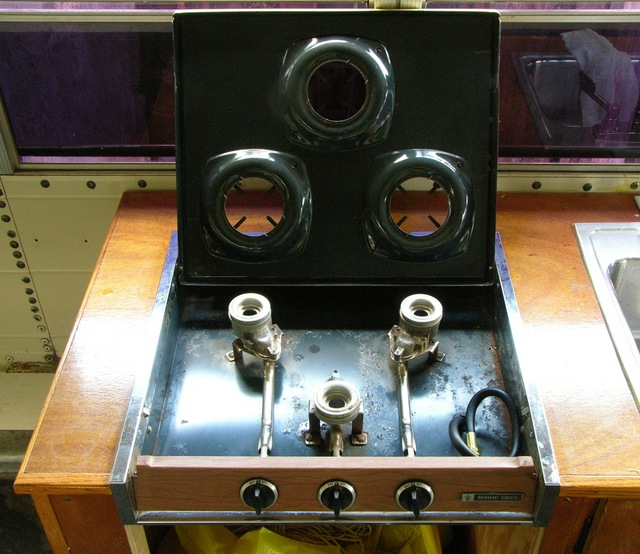 The inside isn't quite as clean, as the grungy bits are harder to reach. I'll come back with a long-handled scrub brush and do a little better on this.
Buying Propane
If you're passing through the Newton area and need propane, I can't say enough good things about Payne Oil. I took the bus out yesterday to get some propane and had a great conversation with Eric Payne. Like the Graber's employee, Eric is also incredibly knowledgeable, helpful, and friendly.
He educated me that my propane tank is from a forklift and is made to be set on the ground, filled in an upright position, and then remounted horizontally on the forklift. He couldn't completely fill it while it was horizontal because the overfill vent wouldn't work in that position, but he said it was about a seven-gallon tank and he could first test that it was empty and then put in five gallons. I bought only two gallons so I could retest for leaks before going whole hog and filling up.
He showed me the used RV propane tanks they have in the back from trade-ins. They mount horizontally, but the fittings are all on the front instead of on the end. They're made to go behind a door (no lock, in case of a need for emergency shutoff) and they look really easy to fill and access. He said he could sell me any of them for $1 / gallon capacity. Although some looked rusty and made me a little uncomfortable, I'm definitely considering a used one (after one of his techs certifies that it's okay) because because …
Today Eric looked up the cost of new tanks and emailed them to me. Granted these were much larger than the spares he had; but he found $750 for a 23-gallon and $1250 for a 20-gallon made as two smaller tanks hooked together. Even with the $50 trade-in he offered on my forklift tank, that doesn't seem like the best way to spend the next $1000 on my bus. I think we were both surprised by the cost.
Expenses
| | |
| --- | --- |
| free | gas cooktop |
| $86.51 | gas regulator, lines, and fittings (!) |
| $6 | 2 gallons LP |
| $92.51 | total for connecting gas stove |