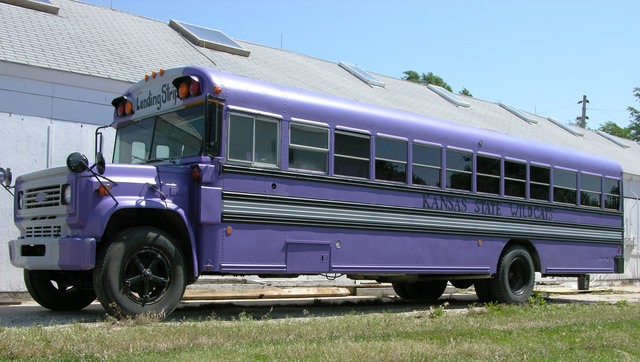 It's home!
"Neighbor Dan" and I left at 5:30 this morning to go up to Manhattan, rig the split shifter, and bring home the bus. Dan pulled the split shifter off the differential, decided the shifter motor was just old or gummed up, and got the shifter engaged into high with some electricity and some thumping. The drive back was pretty uneventful — in particular, the shifter did not drop back out of gear.
Dan thinks the split shifter motor may just need lubrication or new brushes. He described how easy it is to remove from the differential; so I'll start by taking it off, drilling out the three motor-mount screws off of which I broke the heads, and seeing what I can do with the motor. I don't want to do a short-term fix like lubricating it with a lightweight oil that will just burn off, so I don't know yet whether this will be a rebuild or a replace.
Turn Signals and Schoolbus Flashers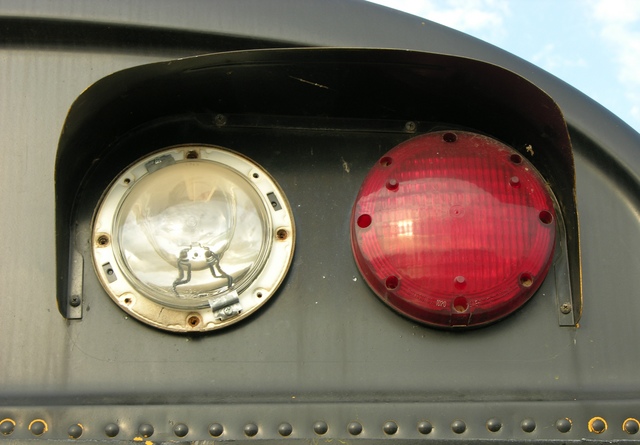 While Dan was working under the bus, I was looking for a bulb I could use to replace the burned-out rear right-turn signal light. Thought I might be able to pull one from the schoolbus flashers (which I don't need), but it turns out they're sealed-beam units.
Ended up borrowing one from the back-up lights, since I wasn't planning to do a lot of backing on the highway.
Fuel Economy
The fuel gauge started on empty and I put in a little over 40 gallons in Manhattan, so I know the tank is at least a 41-gallon.
I refilled in Newton, adding about 22.7 gallons after about 108 miles, so I got about 4.75 mpg, a little less than I was hoping for. Dan thinks a tune-up may get me a little more.
Parked By the Shed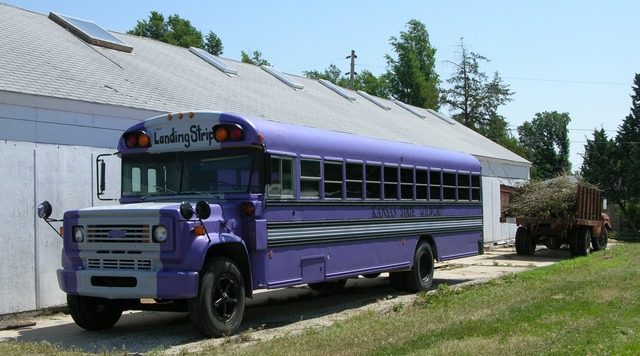 My brother is indulging me and letting me park the bus behind his shed by his stick-hauling grain truck, for now, anyway. He's already warned me not to get too comfortable with that — but I'm sure once he sees how charming the bus is, his heart will warm to the idea of keeping it nearby.
Today's Expenses
For five and a half hours of his time, plus 220 miles in his pickup, Dan only asked for $125. I gave him $149 — everything I had on me at the time. A bargain.
| | |
| --- | --- |
| $149 | Dan's travel and repair fee |
| $102 | 40.332 gallons gas at start of trip |
| $56.75 | 22.708 gallons gas at end of trip |
| $307.75 | total for second (and final!) retrieval attempt |