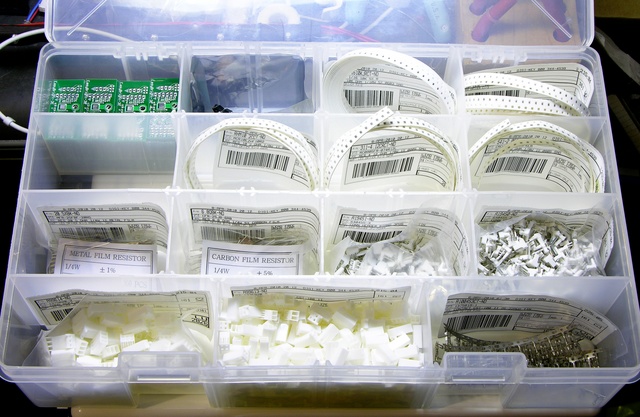 Last week while watching Mannequin (a very young and fresh Kim Cattrall, a goofy plot, and music by Starship — what could be better? okay, if it had John Cusack and were set in Shermer, Illinois, yes, that would be better) I split all the EasyBright components into a parts bin for easy access and portability.
Saturday afternoon I put together the first sample.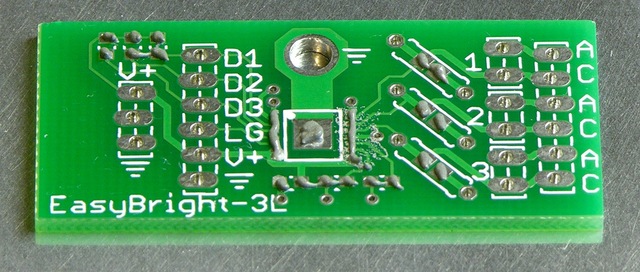 This is waaaaaay too much solder paste for 0603 parts and 1/40″ IC pin spacing. I had to remove several solder bridges from the IC, and the passives had solder mounds instead of fillets. I took the picture specifically to record how much paste I used so I could adjust on the second attempt.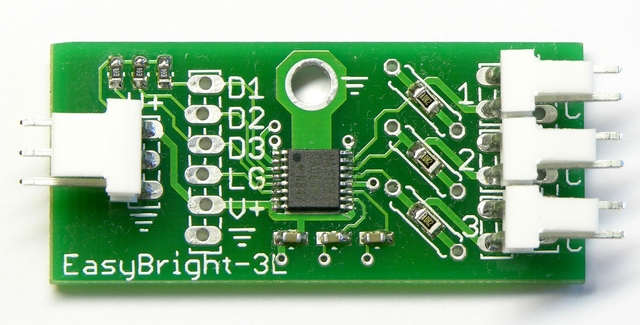 Here's the cleaned-up board, front side.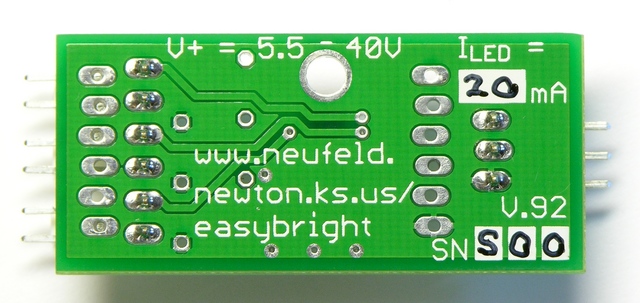 Back side, with hand-written labels for the current rating and the serial number (S00). The "permanent" marker comes off easily with rubbing alcohol — I need to get some clear nail polish to seal it in.
Changes
Even before assembly, I had made notes about (and started implementing) things to fix whenever I print the next boards:
Change the IC's ground connection from a via outside the IC footprint to a trace going straight in to the heatsink pad. I had routed that connection before I confirmed with Maxim that the pad is okay to connect to ground — it's just not okay to be the only ground — and then forgot to go back and change it. Removing that via gives me a little more room to route the bottom-side LED power traces cleanly, and also:
Increase the pad size on the optional through-hole current-sense resistors. This, believe it or not, is EAGLE's default pad size, and I think it'd be challenging to solder without a good, narrow-tipped iron.
Increase the trace isolation on the solder-side ground pour. There's no reason to have it that close to the pads.
More subtle, I spaced the 2-pin connector pads an extra .02″ apart to see whether I could get the connectors to friction-fit for ease while soldering. They don't quite. Either change the library footprint to space the pads a little further apart or just get used to pinching the leads together before stuffing the parts and soldering, which works better than I had expected.
I'm still delighted!