A reader recently asked me where he should stock up on miscellaneous electronic parts, and asked about buying grab-bags from various surplus stores. What follows is spurred by my reply to him.
I have so much stuff that I've taken apart and that's waiting to be taken apart that I hardly ever buy components, at least not common components for breadboarding and prototyping. I've never been that interested in buying grab-bags, because I can do just as well taking stuff apart for free.
Is it really economical to salvage parts for "free" that you can buy for pennies? It depends on your perspective, but for me there are two main factors:
Having a wider assortment of parts on hand, ready to grab when I'm in the middle of a project, than I would choose to order and stock up from a catalog
A sense of responsibility to save perfectly reusable components from going into the landfill
Criteria
So with the goal of getting through-hole parts that are easy to experiment with on a breadboard, let's look at a few common items and what you can salvage from them. All of this is stuff you should be able to get for free by letting friends and coworkers know that you're willing to haul it away for them. Everything here is completely salvageable even after it's broken, so there's no point in shopping even garage sales when you get can dead ones for nothing.
Other places will tell you how to salvage cassette players for motors, but I'll leave that for the BEAM electronics guys. I'm talking about stocking up on the basics that you'll use in every circuit you breadboard, particularly resistors, capacitors, and diodes.
Of course you can salvage anything you get your hands on — digital clocks, cordless telephones, car stereos — but this is what you specifically want to look for to stock your parts bin.
Whatever you salvage, please set out the metal frames and plastic cases for recycling, if your community has facilities available.
Good Stuff for Salvage
My best suggestion, based on how easy they are to come by, is dead CRT computer monitors. They have mostly through-hole components, including a lot of resistors and small-signal diodes, a fair number of capacitors, a few pots and pushbutton switches, and a handful of TO-92 transistors that you can use for basic switching if you have a transistor checker to identify the pins.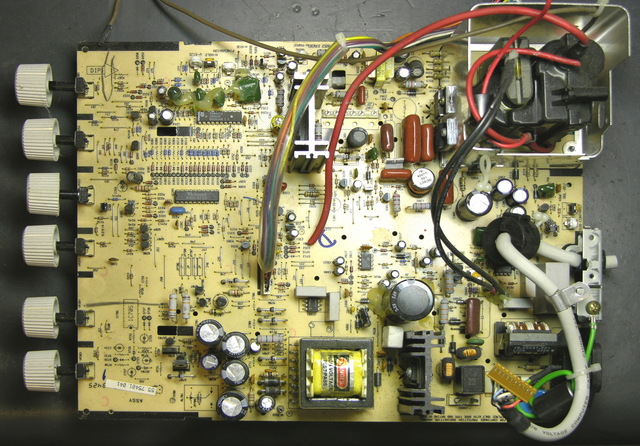 Be sure to discharge the anode cap to the frame at least twice with a couple of big screwdrivers before disconnecting it. Also short large capacitors in the power supply — whatever broke in the monitor may have left no path for the caps to drain.
Dot-matrix impact printers have lots of resistors, maybe a couple of stepper driver chips if you're lucky, and most likely a bunch of high-power (5A) FETs that ran the printhead, maybe with TTL-compatible FET driver chips. Also one or two large electrolytic capacitors in the power supply, if you're into that kind of thing.
The printhead carriage rods and slides are great for DIY CNC drill/mill machines . . .
Dead PC power supplies have a couple of good bridge rectifiers, some other rectifier diodes, a few medium-sized electrolytic capacitors, and a bunch of one-foot pieces of really nice 18-gauge stranded wire in a miscellany of colors.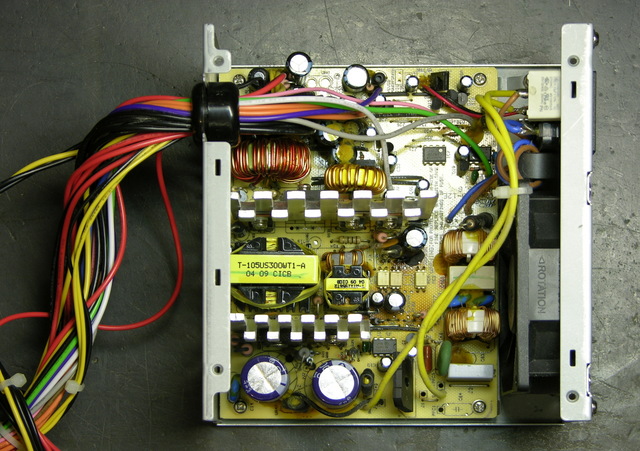 They also have power transistors that you won't be able to find datasheets for (but they have great heat sinks for TO-220 packages) and toroids that you won't let yourself throw away but will never actually use.
Live PC power supplies, particularly AT and older, make great bench power supplies, as has been noted many other places. Ignore the bit about soldering in a resistor as a dummy load and just strap an old hard drive on top (plugged in, of course).
If you can find external modems the size of a hardback book and kind of boxy, you'll get a bunch of resistors and capacitors, a handful of indicator LEDs, and a couple of RS-232 line driver/receiver pairs.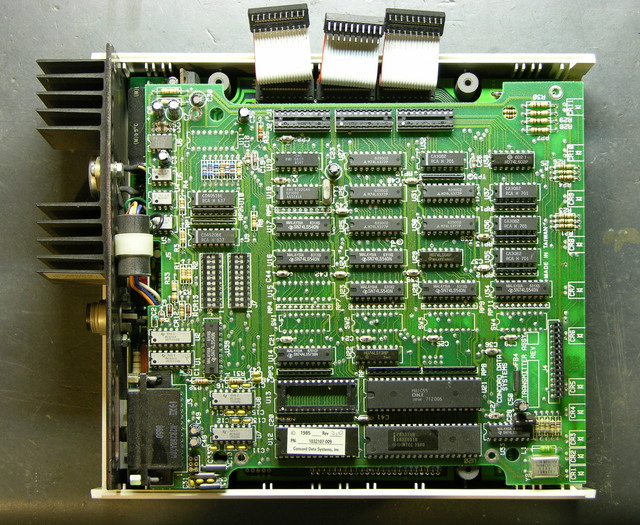 Save the RJ-45 jacks before throwing away dead network cards.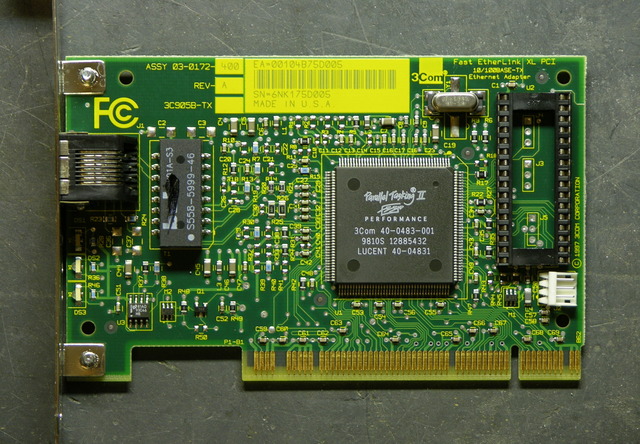 Old computer terminals have a bunch of discrete digital logic chips and probably some .1″ headers that are great for terminating fly-cables to plug sensors into your breadboard.
If you're interested in dabbling in surface-mount work, watch for rackmount network hubs, 10M switches, and 10M fiber media converters. They'll be old enough that the SMT components are large enough to see and the resistor values large enough to read. They may also have SMT discrete digital logic, PALs and GALs that can be reprogrammed, and SRAMs.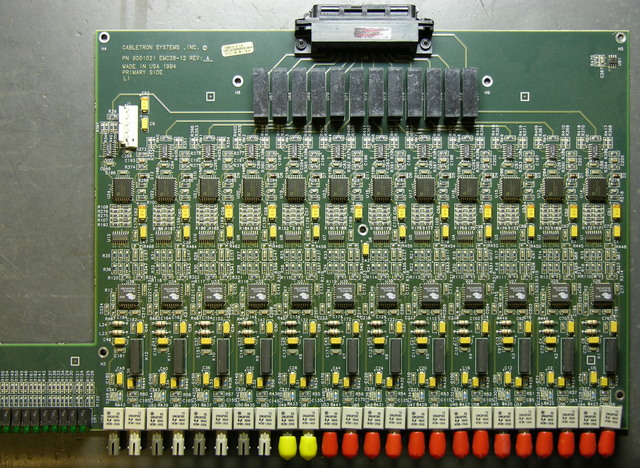 Bad Stuff for Salvage
TVs, VCRs, and stereos are going to disappoint you with monolithic ICs and surface-mount components. An old enough stereo may get you a handful of resistors and capacitors, and save the phono jacks if you're at all interested in tinkering with audio or video.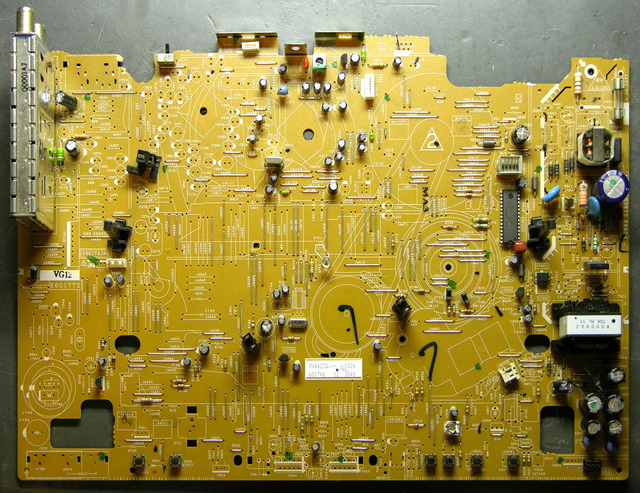 Inkjet printers have a couple of motors — maybe stepper, maybe DC — that are fairly strong for their size. All the electronics will be surface-mount, though. Save the wall wart and salvage the corresponding jack if it's easily removed.
Computer motherboards have been nearly all SMT for quite a while. The battery holder or supercap that preserves the BIOS settings is worth pulling out, and there may be headers/jumpers you can save. If you have a good magnifying glass and room to store the board, set it aside for when you need to find a particular value of SMT resistor.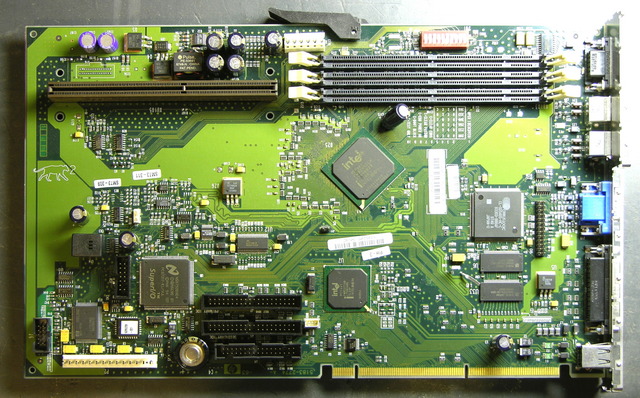 Dead CD-ROM and hard drives are full of fascinating things, but not that great for basic electronic parts, since they're all SMT. CD drives have nice geared/pulleyed DC motors for the tray and tiny limit switches nearby to detect when the tray is in or out, plus tiny DC or stepper motors to move the read head sled.