Friday night, I harvested the components from this board using the heat gun.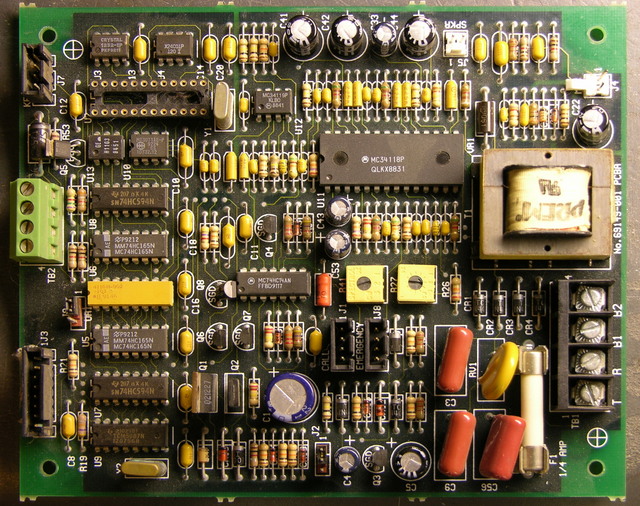 Time spent
straightening leads with a chisel: 10 minutes
heating and pulling components: 15 minutes
sorting and putting away components: half an hour
And the sorting time would have been spent anyway if I'd bought the parts in a grab bag.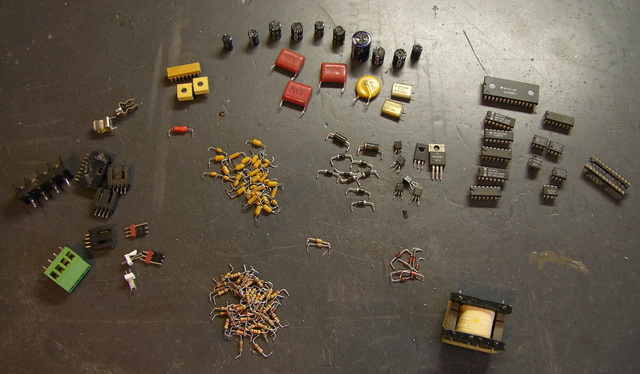 The take:
several nice terminal strips, connectors, and a fuse holder
a handful each of electrolytic and non-electrolytic capacitors
a handful of resistors
a handful of diodes, including two Zeners and some 1N4007 rectifiers
miscellaneous transistors
miscellaneous ICs, including a speakerphone IC (ah! so this was a dead board from a campus emergency call system), tone generator and detector, low-power audio amplifier, and serial EEPROM
the inevitable transformer
Not bad, to my way of thinking, for an hour's free entertainment.
Sorting and Storing
After salvage comes sorting and storing, which are mostly common sense. Here are some things I've found to minimize the tedium of sorting and to optimize storage.
My basic principle of sorting is to do so hierarchically. So I first group simmilar components, as shown above. Some components, like connectors and digital logic chips, go straight into bins without further sorting by type or value.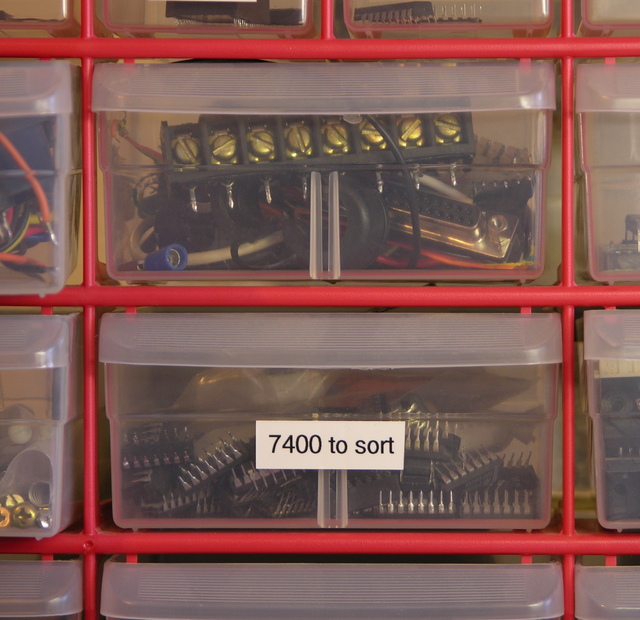 Resistors and capacitors I sort by decade (multiple of 10) immediately and by specific value later.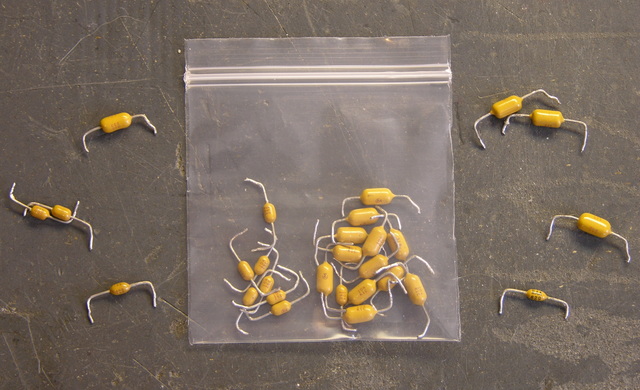 If I find a batch of several identical capacitors, I like to keep them together in a small bag. If I'm working on a project and want identical caps for aesthetic or technical reasons, it's easier to grab a bag than to pick through loose caps in a drawer.

Then the capacitors (and bags) go into drawers labeled (approximately) by decade — electrolytics above, others below. Common values of physically larger caps may get split up into their own drawers.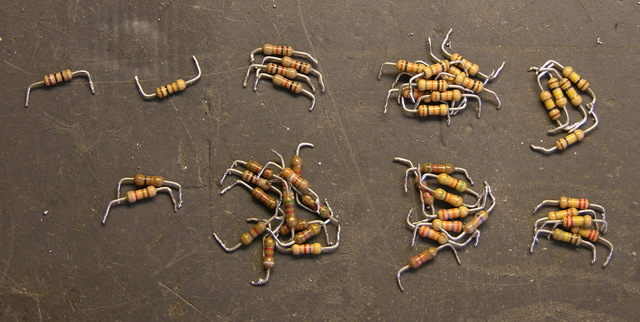 It's easy to pick out 10X-valued resistors while sorting by decade, so I do that up front (the upper row — 10Ω, 100Ω, 1KΩ, 10KΩ, and 100KΩ). The mixed resistors (lower row) go into a decade drawer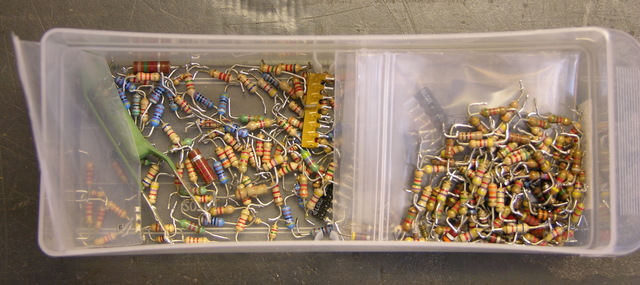 and get put into a row in the parts cabinet for now.

Then sometime later, I'll go through the decade drawers and sort by individual value.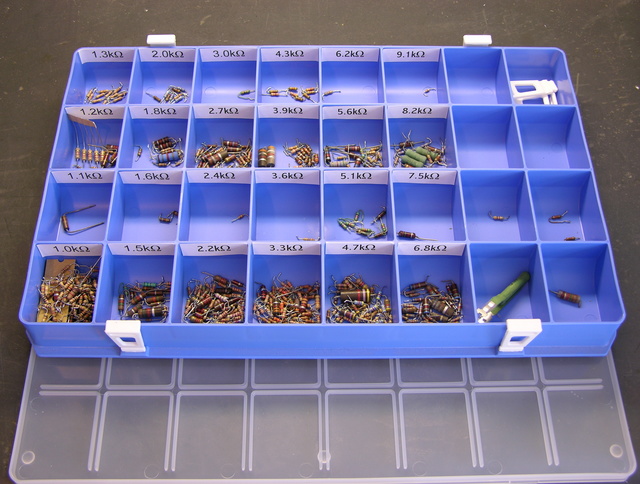 I've seen university EE stockrooms with enough parts bins to have every resistor value in a separate drawer, but most of us don't have that much money or room for storage. I suggest going to hobby/craft stores and looking for storage solutions designed for beads or for embroidery floss. Bead storage in particular is good about sealing each compartment when the lid is closed, to keep beads resistors from migrating about when the storage is moved or shaken.
I spent several evenings driving all around Wichita a few years ago and came up with these trays, I think for floss, which are perfect for salvaged resistors. (New resistors may need the leads bent a bit to fit in the drawers.) I bought a tray for each decade and have a stack of them sitting beside my workbench.
Most of the resistors I salvage are 5%, which has 24 standard values per decade. I made a spreadsheet of all such values to fit on adhesive return address labels, Avery number 5267, and stuck a label into each spot in the tray. I'd offer the spreadsheet for download, but for some reason I can't find it any more.