Knowing what kind of equipment to salvage for electronic components isn't enough; you have to know how to get the parts out, or you're just stockpiling junk. Through-hole ICs may be best stored on the original circuit boards to salvage when needed; but common components like resistors, capacitors, and diodes are much more economical to salvage in bulk, then sort, store, and have ready on demand.
I desolder with a heat gun and pull the components out with pliers. I destroy a few components on nearly every board I salvage; but it's incredibly fast compared to any other method I've tried. For me, the time savings I discovered when I switched to using a heat gun was what made it really worthwhile to salvage components in bulk and stock up my parts bins.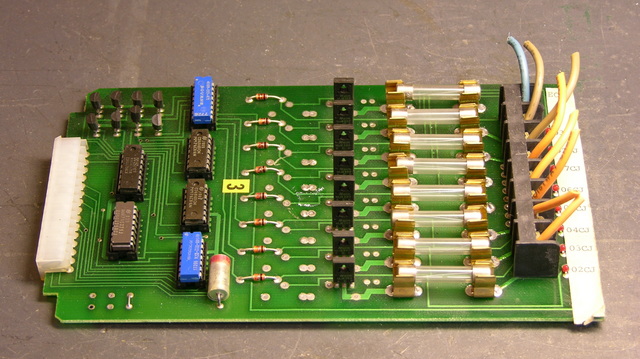 Here's a circuit board that one of the electricians at work brought me. I don't know what it does; but he works a lot with the elevators and it's probably something out of an elevator control system.
It's not representative of the resistor- and capacitor-laden boards I particularly advocate salvaging; but I had it on hand and it does serve to demonstrate my method.
Uncrimping Component Leads
Through-hole components on commercially-produced boards tend to have their pins crimped on the solder side, to hold the components in place during the time between stuffing and soldering. Even with the solder melted, you can't pull out a crimped component with pliers, so the first step is uncrimping the leads.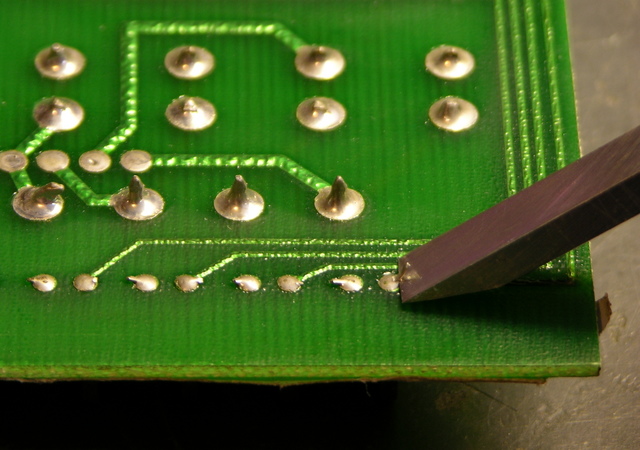 I use an cheap 1/4″-tip wood chisel from a dump bin at my local Ace Hardware store. (This is "my best $3 chisel" that I've referred to before — my real wood chisels never come anywhere near metal.) It doesn't need to be sharp, but the edge should be fairly straight. I use a similarly cheap diamond honing board to clean up the nicked edge from time to time.
I push the chisel into the solder under the lead and lever up to straighten it. It's important to get the chisel edge all the way to where the lead comes out of the hole, or you won't be straightening the lead; you'll be putting another zig in its zag.
Keep your other hand out of the path of the chisel. I've slipped the chisel off of leads, cut leads clean off, and tried to pry up solder pools that didn't have leads in them. All of these result in a narrow, sharp object moving forward at high speed with a fair bit of pressure behind it. Again, think about where the chisel is going to go when it slips and keep your fingers out of the way.
It took only a couple of minutes to uncrimp the few leads on this board. Larger boards may take five to ten minutes; CRT motherboards can take half an hour, and I tend to do them in sections because uncrimping leads is really tedious and boring.
Heating and Removing Components
Once the leads are uncrimped, I clamp an edge of the board into my bench vise and get ready to heat it up. You need a bench vise that's heavy or bolted down — you're going to be prying and wiggling on the components quite a bit to get them out.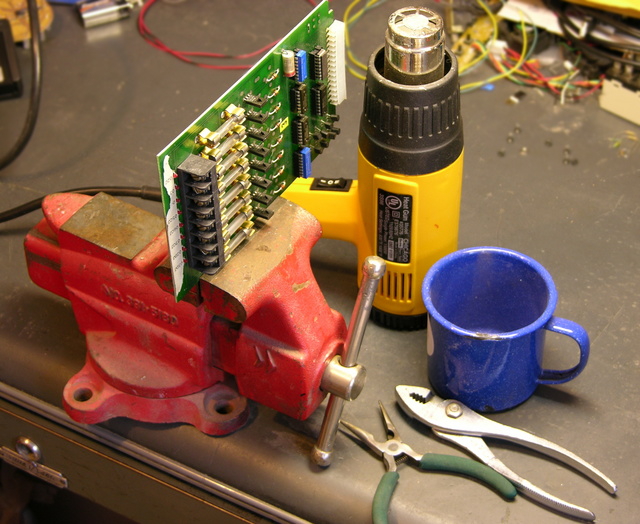 Now is a good time to remove fuses from holders, and optionally remove any socketed components from their sockets as well.
I use a cheap heat gun that I got for $15 at Harbor Freight. I regard it as a disposable item — I go through one in about a year (during which time I've salvaged far more than $15 of components) and go buy another.
Starting at the bottom edge of the board, I heat the solder side with the gun 1-2″ away until the solder melts, then pull out the components with a needlenose pliers and drop them in a cup. It's faster and easier for me to put them in a container and sort them later than to place them carefully on my workbench and have them get brushed around, but your mileage may vary.
Some notes about the actual desoldering and component removal process:
The first component is going to take a long time to heat up. Be patient; pulling before the solder is fully melted will just break the part.
You can see the solder melt. Watch for it.
Start at the bottom and work up a column, angling the heat gun in the direction you want to go. It'll start melting the next component's solder while you're removing the previous one. You can go quite fast on a stack of properly uncrimped resistors.
Get out the regular pliers for larger items, and particularly for DIP components. Rock them back and forth very gently until you can see that all the pins are loose, then slip them free.
Don't hang onto a resistor lead with the pliers while you're heating it — you're just making a heatsink and preventing the solder from melting. Heat the solder, then grab quickly with the pliers and pull. You may get both leads in one pull; or you may get one end loose, readjust your grip, and get the other end.
TO-220 parts may fit tightly enough that they don't want to come loose even after the solder melts. This can mean pulling the plating out of the through-holes, which then means cleaning the tubes off the leads later. A giant 3/8″ chisel-tip soldering iron laid across all three leads will pop a TO-220 free in an instant.
PC boards are flexible, especially when hot. Long strip connectors may require freeing one end and bending both connector and board as you work along the connector to free the remaining pins.
Larger heatsinks (PC power supplies and CRT motherboards) may have tabs that need to be untwisted, and their tabs or posts may fit tightly through barely large enough holes in the circuit board. If necessary, save them for last and force them out with large pliers.
This sounds obvious, but when you're done desoldering, the circuit board is still hot. I hold it with pliers while loosening the vise, then lay it on the concrete floor to suck the heat out.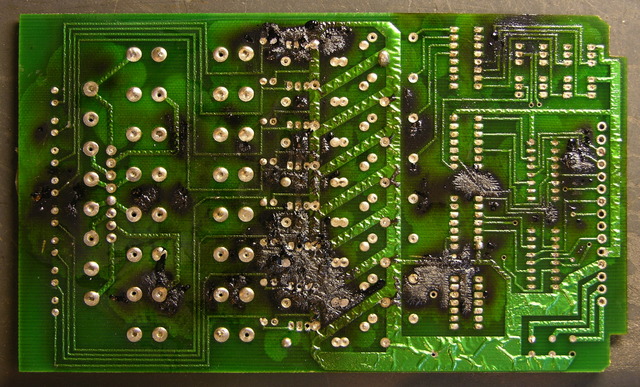 Make no mistake, this is a destructive process. The circuit board will be ruined, and the fumes from scorched fiberglass are probably not good for your health nor for your relationship with your significant other or housemates. It's best to do this as close to the outdoors as you can get and with windows open and forced air ventilation, if you have the option.
Finally, recycle the board if you can. We have a very thorough curbside recycling program here, and I've set out a large box of stripped circuit boards (with an appropriate note) for copper reclamation.
Sorting the Spoils
Here's the cup into which I dropped the parts as I was pulling them: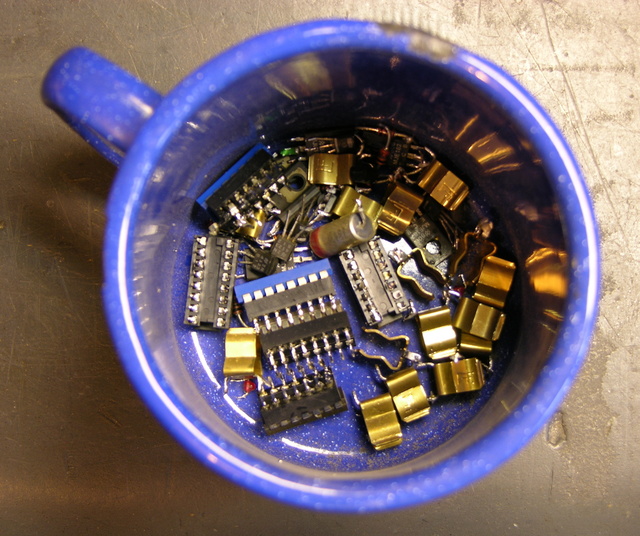 And the parts sorted on my workbench: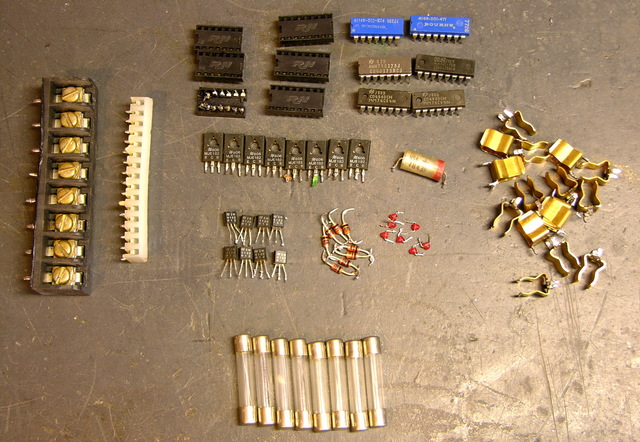 I got a couple of terminal strips, several DIP sockets (one irreparably damaged), four TTL ICs and two resistor packs, eight NPN transistors, diodes, LEDs, one capacitor, and fuses and fuse holders. Not great, but not bad for fifteen minutes' work.