At my first "real" job, among other things, I maintained a fleet of AMT Accel-500 wide-carriage printers. Thus it was that in 1990 I was introduced to my first "spinny wheel" user interface.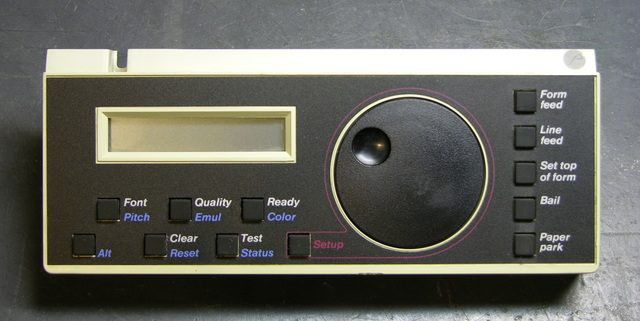 The printers had a wide range of configuration options, from serial port settings to fonts to paper-advance behavior. All were controlled through this panel, by entering configuration mode, spinning the wheel to select an option, entering change mode, and spinning the wheel to select the value.
As much as I hated certain things about the printers (particularly their declining paper-feed reliability as they aged), I was absolutely enamored of their user interface. For that and other reasons, when my employer finally converted all office printing to laser and retired all the Accel impact printers, I took them home. Thirty-plus of them. Stacked them in two tall stacks in storage, where they still sit.
It's from those printers that I got the stepper motors I'm using in my CNC project, and I've recently cannibalized one for other potential CNC parts. But for whatever reason, although I've dreamed over the years of using the spinny wheels in my own user interfaces (custom car MP3 player, etc.), I've never opened one to see what was inside. Until tonight.
I've received my smaller LCD screens and I'm back to work on the LED calculator, with everything pretty much settled except the means of selecting target circuit voltage. I'd really like to use a rotary encoder, and I've found a couple of choices that I can order from Digi-Key; but I really wanted to prototype one tonight. Thus at last I turned to my trusty printer's control panel, hoping to find a smooth-as-silk mechanical rotary encoder underneath that lovely, lovely wheel.
Feh.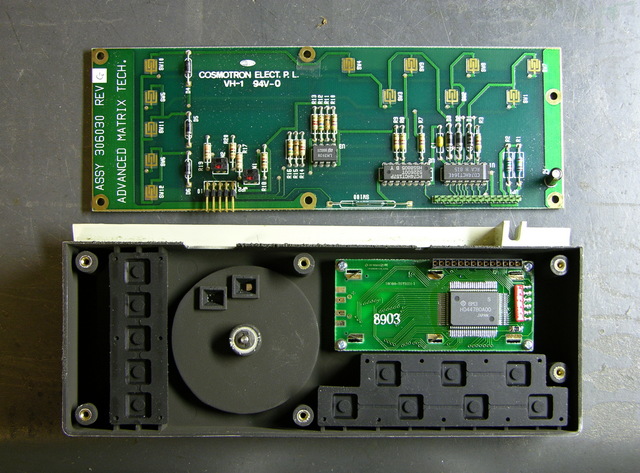 It's optical, with alternating silver and black sectors on the back side of the disk, and optoreflectors that tuck into recesses in the wheel's housing.
Bleah, bleah, bleah. I definitely don't want to deal with optoreflector interfacing tonight, and I really didn't want to in my hypothetical other projects either. Furthermore, the housing is pretty custom to the wheel and would have to be duplicated or Frankensteined into another enclosure ("Frankenclosure"?), rather than just popping the wheel onto a rotary encoder's shaft outside the case.
Dear me.