---
July 7, 2008
Welcome, MAKE: Blog readers!
Whoever posted this to the MAKE: Blog jumped the gun a bit — I haven't interfaced anything to a synthesizer yet. What I found in the Baldwin pedal isn't suitable for interfacing and is (in my opinion) worthy of preservation, so this post is just a teardown of the Baldwin pedal showing the intriguing mechanism inside.
I have since gathered all the parts I'm going to use to build the MIDI volume/expression pedal and expect to do that within a few days; so if you're interested, please check back!
---
I want to build a volume pedal for my synthesizer(s), and I figured it'd be easier to do if I started with . . a volume pedal. So last night I went to storage and pulled the swell pedal out of Jacob's most recently discarded electric organ, a Baldwin Model 5.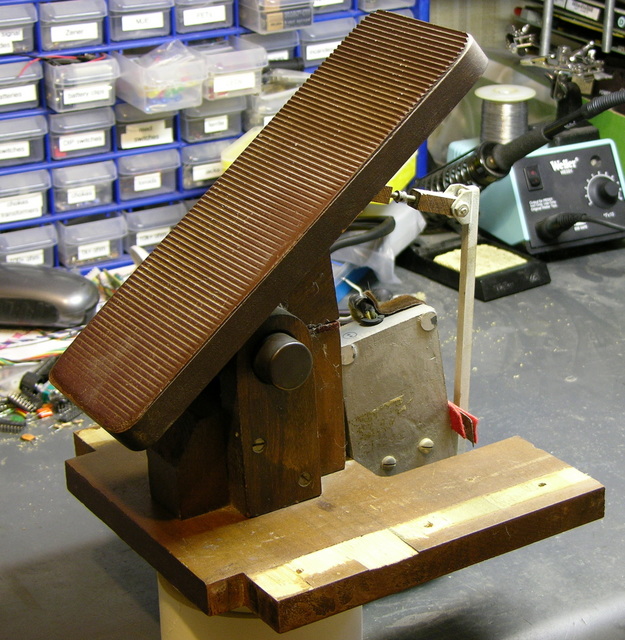 It's actually quite a bit higher off the floor and more steeply angled than would really suit me; but I had it on hand and figured I might as well start working with it. As it turns out, I'm not going to retrofit this, and I'll show you why in a little bit.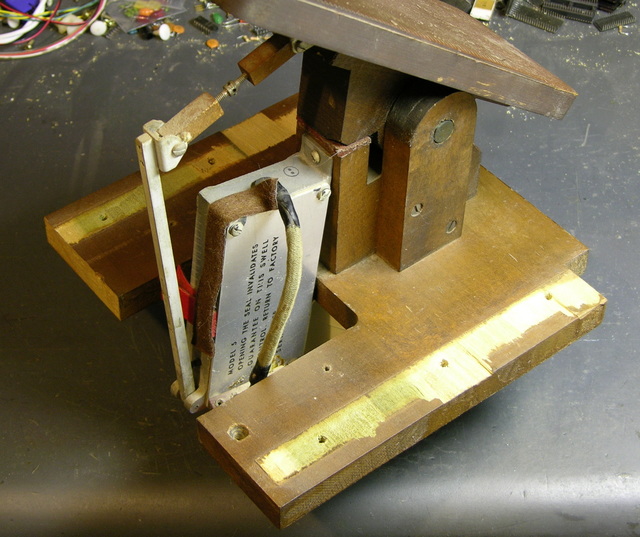 Rocking the pedal forward pushes the square lever away from the box, and rocking it back pushes the lever toward the box and presses a pin at the base of the lever into the box.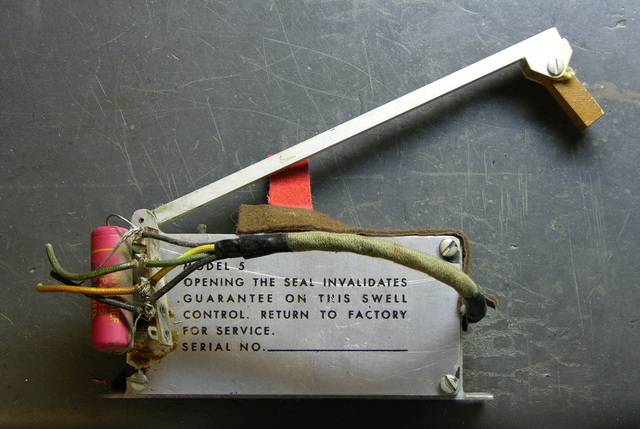 The lever and box assembly looks kind of like a giant microswitch. Or a bird with a long neck.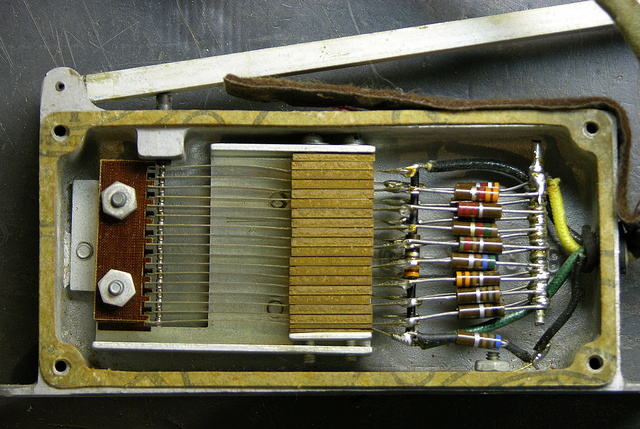 Here's the part that makes me say, "Wow." Apparently potentiometers hadn't been invented yet (I think I'm joking), or weren't available with a high enough power rating to use in this volume control circuit.
The volume pedal's lever presses against a ladder of leaf switches (it's hard to see, but all the contacts at the left end of the leaves are normally open, but only barely) wired to a resistor ladder. Pressing the pedal connects together increasing numbers of leaves and shorts across increasing numbers of resistors. Wow, wow, wow.
I just don't feel right about dismantling this to stick in a potentiometer (nor are the mechanics of it really built to make that easy).
So now I'm looking for another swell pedal (with a pot) to repurpose, ideally a twin swell pedal like what's on Jacob's current organ. I don't find much on eBay, and I'm not sure where else to look.