The project I've been working on lately is a power sequencer for my SAE A502 and A202 amplifiers. I bought my first A502 with summer job money when I was in college, and recently I've bought a few more on eBay. They're big and beefy and I love 'em.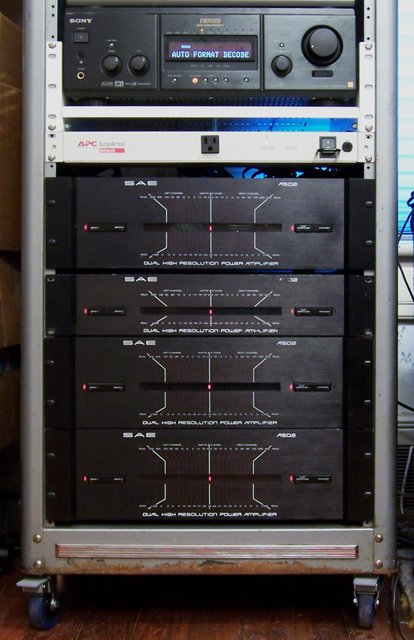 Their only drawback is that they have to be switched on and off manually — they're not tied to my preamp. This is particularly annoying to my wife who hates all things electronic — she just wants to watch TV or a movie, and she has to fiddle with all these buttons to get the sound to come on.
Well, not any more.
Standby Circuit
Many of the SAE amplifiers, particularly including the "02″ series, have standby inputs. The SAE preamplifier puts out a signal telling the amplifiers when to turn on and off, and the whole stack is controlled by the preamp.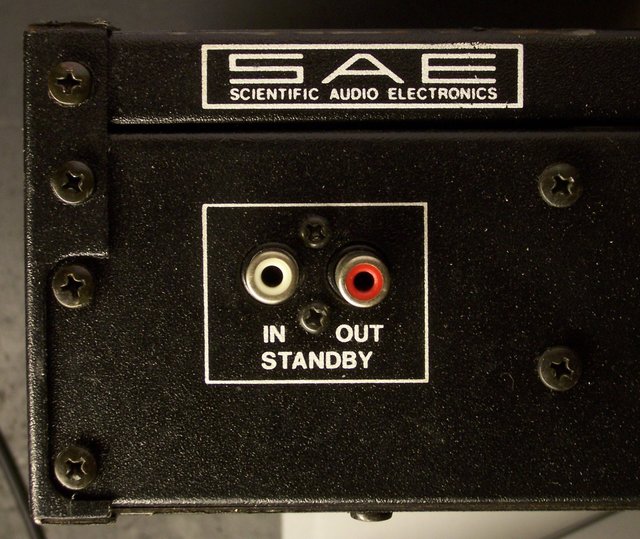 Which is great if you have an SAE preamp and you just want to listen to stereo audio — but SAE went out of business long before the advent of home theater surround sound, much less 5.1 surround. If you want surround, you're not using an SAE preamp; and if you're not using an SAE preamp, you're turning your amplifiers on and off by hand.
I've long dreamed of building a box to do that for me, and now I've done it.
The first step was determining how the standby signalling is done. The owner's manual isn't much help; it doesn't list the details of the protocol, but only describes (in rather roundabout language) that you need to manually turn the amp on and let the preamp turn it off.
So I opened an amplifier and looked at its standby board. The circuitry is very simple, and I've since confirmed my schematic against the amplifier's official schematic.
The "input" and "output" jacks are identical and tied directly together, with the tips feeding the base of an NPN transistor. Put a small amount of current through the tip and the transistor will shunt the red wire's voltage to ground.
Inside the amp, the red wire connects to the base of a Darlington pair that drives the main power relay. Steal its base current and the relay can't switch the main power on; hence the standby is an override to keep the amp off, as the manual described.
Knowing that, it's very simple to build a device to control the amplifiers.
Watching the Preamp
The question that remains is how to know when it's time to turn on. In my case, since I have an A/V preamp, I thought the preamp put out a video signal any time it was on (even if it was just a bluescreen when no inputs are active). It turns out I was wrong, but this was still a productive train of thought.
I used an LM1881 video sync separator chip to watch a video connection. The chip ends up generating sync signals if none are present, so I couldn't use its sync outputs to detect the presence of video; but it has a logic-level odd/even frame output that oscillates at 30Hz whenever an interlaced video signal is being received. Repeated rising (or falling) edges == video present.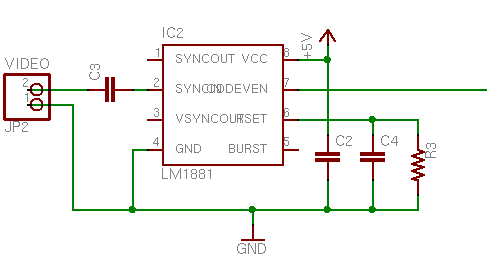 I had already built and tested the circuit before I discovered that my preamp most certainly does not output video when it's on, unless it actually has a video input on as well. That was very disappointing, since I don't want the system dependent on a third device that supplies video — it should work whether I'm watching a movie, listening to a CD, or listening to 8-track.
Skulking around for alternatives, the best I could come up with was the switched outlet on the back of my preamp. I bought a slim 5V wall wart to plug into the back of the preamp and added another detection circuit to rectify and regulate an arbitrary low-voltage input.
The preamp powers up, the switched recep comes on, 5V feeds into the bridge rectifier, and a logic high feeds out. The input would do just as well detecting a low-voltage AC wall wart . . . if I had remembered to put a capacitor between the diode bridge and R4. Duly noted for the next version.
Control Logic
Cort was saying that I should have built the whole circuit out of discrete TTL logic, and I could indeed have done so, for a little retro charm. However, I wanted additional control that would have raised my chip count too high, so I built the control with a PIC.
When the preamp comes on, the sequencer turns on all four amps, one at a time, to spread out the inrush current. (Could have used a clock and a shift register.) But all four amps are only needed when watching movies — listening to music requires only the front and sub channels, not the center and rear. I wanted manual override pushbuttons so I could turn off the unused amps. (Could have used S-R latches.)
Additionally, when Cort and I were discussing what should happen to manual selections when the preamp eventually turns off, he suggested having a fully manual mode that ignores the signal detector inputs and heeds only the front-panel pushbuttons. (Could have . . . naahhhhh.)
Ultimately, I ended up using every available I/O pin on my PIC18F232:
1 capture/compare input pin to watch the video signal
1 input pin to watch the switched power signal
2 output pins to run the bicolor power/mode LED
4 input pins to watch the front-panel pushbuttons
4 I/O pins to run bicolor amplifier status LEDs using the tristate trick
4 output pins to control the amplifier standby inputs
I wrote the code in LogoChip Logo, with subroutines to service the input modules and a state machine to control the different modes. All of the timing is done in software, including the delay between turning on consecutive amps, and a loss-of-video countdown timer to keep short glitches from bouncing the amps.
Sequencer in Action
The video detector wasn't a waste; I plugged a spare output of my DVD player into it, so the amps come on when the DVD player is turned on or the preamp is turned on, whichever comes first.
Here's a video of me turning on the DVD player and the sequencer (just above the amp stack) turning on the amps, then turning off the DVD player and the sequencer turns off the amps after a delay. If you have audio turned on, you can hear the amps' relays clicking in sync with the sequencer LEDs, then later clicks as the delayed speaker relays engage.
This is really slow to load; I'm working on migrating this to YouTube.
These are too slow to load and are causing problems with my browser. You're welcome to paste in the URL and try them if you like.

embed src="http://www2.neufeld.newton.ks.us/images/electronics/2007/08/06/100_3046.mov" controller="true" width="480″ height="656″ kioskmode="false" autoplay="false" pluginspage="http://www.apple.com/quicktime/download/">

There's one little snag — the standby circuit on my top amplifier isn't working, so I'm still turning it on and off manually. I just bought an SAE preamp on eBay and should receive it within a week or so, at which point I'll hook it up and see whether it has magic juju that my sequencer doesn't, or whether I need to troubleshoot my amp.
Here's a nearly identical video of me turning on the preamp and the sequencer turning on the amps.
embed src="http://www2.neufeld.newton.ks.us/images/electronics/2007/08/06/100_3047.mov" controller="true" width="480″ height="656″ kioskmode="false" autoplay="false" pluginspage="http://www.apple.com/quicktime/download/">

Kits for Sale
Well, not yet, but I'm interested in pursuing it. There's a pretty active community of SAE equipment owners, and I have to believe there'd be other folks in the same position, using SAE amps with non-SAE preamps. After I work through a few issues, I'd like to offer the power sequencer in both kit and appliance form and see if I can sell a few.
I want to split the main circuit board into a front-panel board and a control board, to make it easier for other folks to adapt the LED and button spacing to fit enclosures of their own choice. That also solves the problem with the RJ-45 jack, as it could then be on the component side of the control daughterboard. And I made some mistakes in the physical size and mounting of the board that I'd like to correct as well.
Once I touch up the circuit and board designs and clean up my code, I want to release the whole schmear under a Creative Commons license, probably Attribution Share Alike. Lady Ada's Creative-Commons-licensed kits are pretty inspiring to me, and I'd like to think there's a small but healthy market for kits and appliances that don't rely on keeping the design closed and secret.
Wish me luck!