I'm still interested in building a sunrise alarm clock, to gradually lighten the bedroom up to full daylight brightness when it's time for me to wake up. I'd enjoy making it with LEDs, and a blog reader suggested I check out some yellow LEDs from this eBay seller.
They had fifty 10mm 60,000 mcd yellow LEDs for $6.98 plus $8.98 shipping and $2.00 insurance, so $17.96 for the lot or 36¢ each. Seemed very reasonable, and I was the only bidder on that batch, so I won the auction.
The LEDs arrived, and they're the first 10mm LEDs I've bought, and they're huge. But I put them in my LED tester, and they don't seem that bright, even at 50 mA. So tonight I put them in a breadboard with 100Ω resistors and cranked up my variable bench power supply. They still don't seem that bright.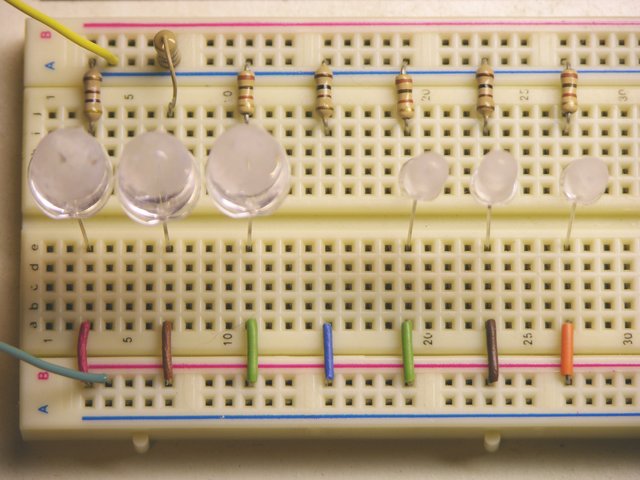 Here's the layout, so you can see I'm not lying and using different resistor values for different LEDs. The LEDs on the left are the 60,000 mcd yellows, and the ones on the right are the 5mm 10,000 mcd blues I'm using in the LED clock.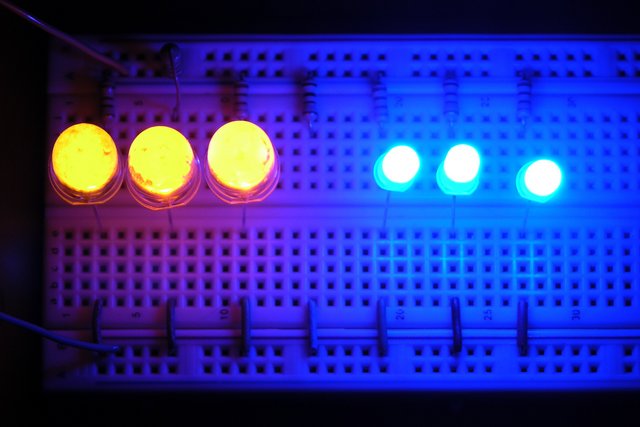 The yellows are a little more directional than the blues, which was making comparison difficult, so I scuff-sanded all of them to get a frosted, diffuse effect and level the playing field. The blues are pretty clearly brighter.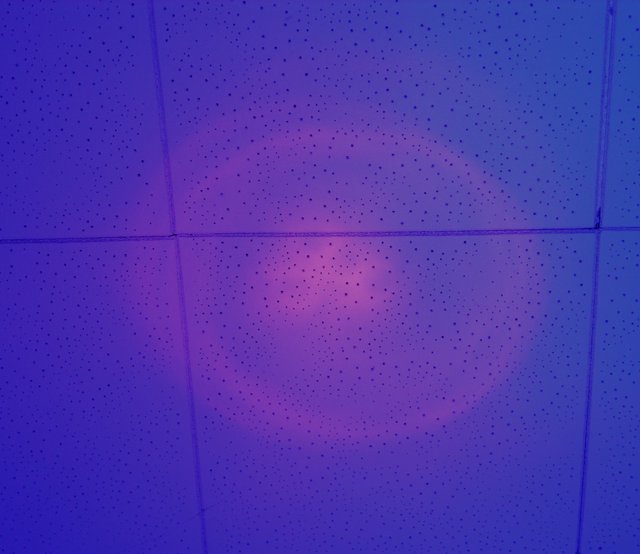 Here's the ceiling above the breadboard. The yellows are still more directional even after frosting — the whole ceiling is bathed in pleasing, blue light with only a small patch of slightly brighter yellow in the center.
I know that candelas are a measure of brightness within the coverage pattern of a directional light source, whereas lumens are a measure of total light output. Here's my favorite mcd and viewing angle to lumen calculator, which makes it easy to convert. The seller's information for the yellows says they have a 10° viewing angle, and I should have thought more carefully about its impact before buying.
At 3 lumen each, and with a 60W incandescent outputting about 800 lumen, I'm probably not going to be able to use these to simulate full daylight. I've been starting to consider using dimmable fluorescents instead, in spite of the hassle of having to build an enclosure to protect the bulbs.
I wonder what application only needs a 10° viewing angle.
Lesson: Always check viewing angle and lumen output of LEDs before buying.