I still use my Handspring Visor Prism PDA for my calendar, contacts, and some notes and lists. I like the Windows version of the Palm Desktop better than any other calendaring application I've seen (way better than iCal), which results in my having a low-end PC under my desk running Palm Desktop, and Synergy to use one keyboard and mouse across my two Mac monitors and one Windows monitor. And I like the color Visor Prism better than my original greyscale Visor because the white backlight makes the screen easier to read than black on grey-green.
The Prism was the first Handspring product to contain an internal, rechargeable Li-Ion battery; and my battery life has dropped over the last five years from weeks of standby / well over an hour of use to a couple of days of standby / a few minutes of use.
I found a replacement battery on eBay for $5.95 plus shipping from enessysales, whom I can heartily recommend. I bought and paid for my battery Thursday and received it tonight (Monday) via USPS. These folks are on the ball.
Battery Replacement
I have a tendency to open things to see what's inside; but strangely, I had never opened the Prism before. As it turns out, battery replacement was straightforward. Remove the six Phillips screws: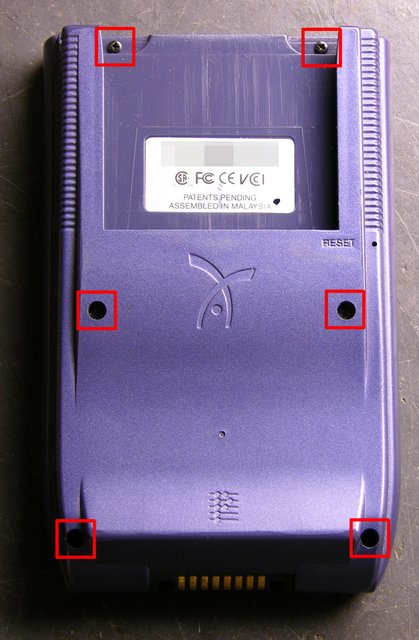 Then gently pry apart the sides with a thumbnail. With the screen facing down, fold the Visor open on the right, with the speaker and battery leads trailing across.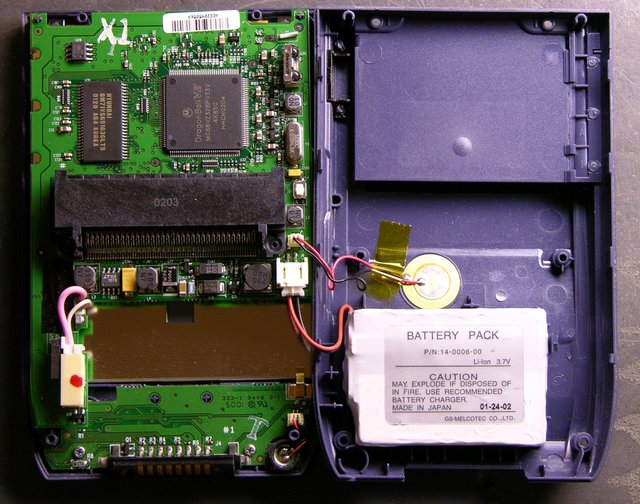 The battery is fastened to the back cover with double-stick foam; so pry it loose, then disconnect the plug.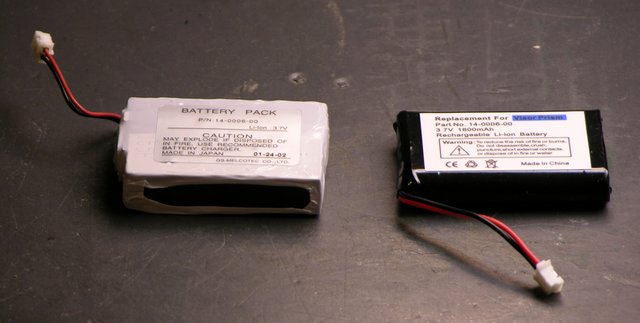 The replacement battery is smaller than the original, but at 1600 mAh, I believe higher capacity. The original battery is also now stuck to my desk with double-stick foam. Errrrr.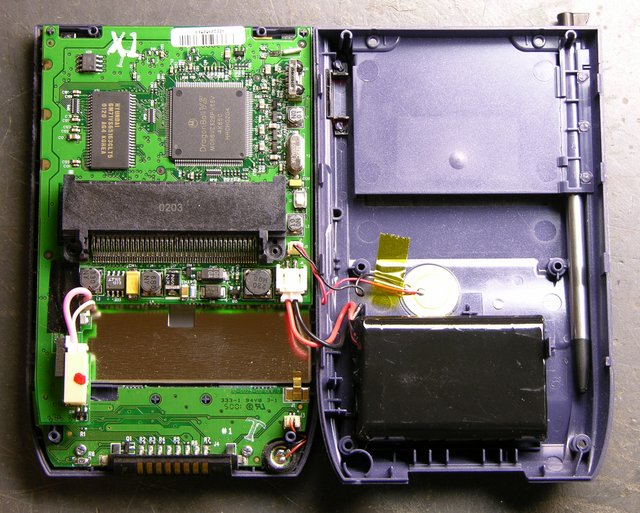 Being only slightly smaller, the replacement really doesn't have a lot of room to move, so a small bit of foam that stayed behind is plenty to hold it in place.
There's a small ridge of blue plastic just above the upper left corner of the battery. I had to poke the wires so they went to the left of it before I could close the case, after which reassembly was quite easy.
All Data Lost (As Expected)
The original Visor and Visor Deluxe had small batteries inside to retain memory while you were replacing their AAA cells. The Prism, having an internal rechargeable battery, apparently does not have a memory retention battery. After the replacement, it came up in touchscreen calibration mode, with date and other preferences unset and all my programs and data gone.
No matter; I'll resync at work tomorrow. It's a good opportunity to make sure I've backed up my few third-party programs correctly. (I use FileZ to twiddle the backup bits on various softwares, hopefully to make my backup strategy smarter than the default, but one never knows until one tries.)
And I'm looking forward to checking the new battery life.
Update: All applications and data restored as expected.