An Arduino "shield" is a PC board made to plug into the top of the Arduino, covering it (hence the name) and extending the Arduino signals to provide some extra functionality. Shields I know about are prototyping shields ("protoshields"), with a tiny breadboard on top; motor control, with H-bridge drivers to run motors, servos, and steppers; and ethernet, with a Lantronix Xport ethernet interface onboard. (I know there are shields from places other than Adafruit, but I really like supporting Lady Ada's open-source hardware lifestyle, so I tend to look there first.)
After getting my Arduino, I had thought about getting a protoshield, but dismissed it pretty quickly — it seemed to me that the tiny breadboard on it would be too small to be useful for anything complex enough to be worth using the Arduino for. But Friday the Arduinos arrived for class, I agreed to do a demo/intro on Monday, and I realized it'd be a lot easier to do on a protoshield than on a separate breadboard.
With no time to order one before Monday, I had to construct my own over the weekend. I started with Lady Ada's EAGLE schematic and board files (Creative Commons 2.5 Attribution Share Alike) and hacked them up for a single-sided board that I could etch quickly and easily. I took out her solder prototyping area, moved headers to align better with my tiny breadboard, changed up the LEDs and pushbuttons, and generally did enough work that I'm not sure I saved any time starting with an existing design.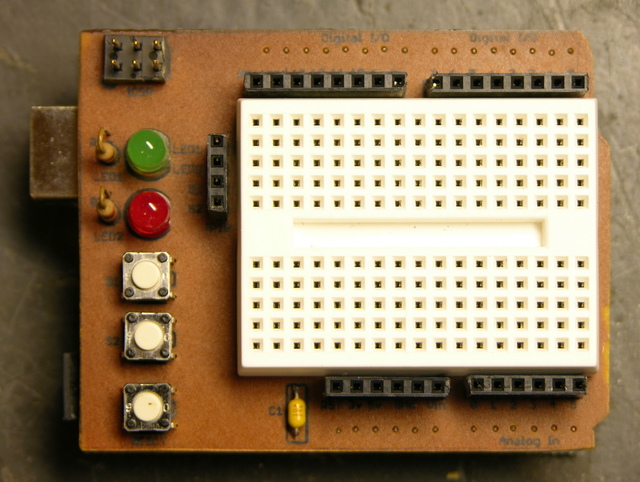 Here's the result — ugly but very functional. I generally use breadboard wires cut and bent to length, so it matters to me that the header sockets are aligned with the breadboard columns and spaced a multiple of .1″ away. It works out very nicely.
Silkscreen Toner Transfer
Worth noting is that I used Cort's idea of iron-on toner transfer for the silkscreen layer on the top side of the board.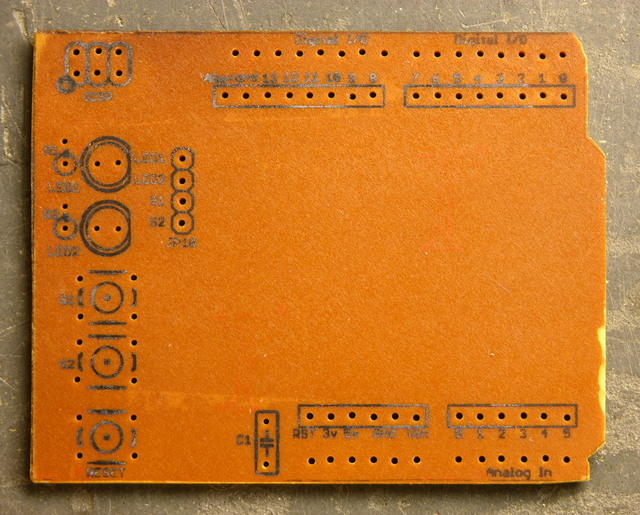 After the copper is etched, the etch resist cleaned, the board tinned if you're tinning, and the holes drilled, you print the silkscreen layer and do an iron-on toner transfer just like you would for etch resist. The main difference is that for appearance's sake, you really want to get all the paper fibers scrubbed off of the toner — I probably spent half an hour in the sink with the toothbrush getting it clean.
I think the method is great; it's just this instance that's less than perfect. For one, this PCB is very dark, and the black toner doesn't show up well; it's much more readable on lighter boards. For another, the font is really smaller than is advisable for a toner transfer — I'm surprised it actually worked as well as it did.
It's a very nice change to have labeled connections on a homebrew PCB.
Using It
I practiced my spiel tonight for class tomorrow, starting with the Arduino "Blink" sketch flashing the onboard LED, then:
plugging in the shield and jumpering in the green shield LED to blink as well
jumpering in the red LED and updating the sketch to alternate green-red-green, etc.
plugging a common-cathode RGB LED into digital pins 9-11 and updating the sketch to alternate red-green-blue-red, etc.
writing a pulse() function that uses analogWrite() (PWM output on pins 9-11) to fade an RGB color from dark to bright to dark and updating the sketch to pulse red-green-blue-red, etc.
wiring three more pushbuttons to digital pins 0, 3, and 6 (LOVE the ATmega's internal pull-up resistors!) and changing the sketch to pulse a color dark-bright-dark on demand
It's all pretty easy stuff, so the idea is that I'll be able to do it while maintaining a stream of patter. We'll see how that works out.

Still, it's a nice introduction to a few of the capabilities of the Arduino and to how easy it is to just try things when you have a breadboard and a nice microcontroller development system.
So Do I Like It?
Using the protoshield tonight has convinced me that it's great for a tiny demo, and too small to be useful for real work.

I'm not complaining, though; it'll be fun to have around.
One thing that would help is the addition of a ground bus at the bottom — I waste a lot of column space leapfrogging ground to everywhere I need it. There's room on my board that I'll add a ground row on V2.
Credits
Original shield design by Lady Ada
Tiny breadboards from terminalcity