Over the weekend I received the three missing electrolytics, and yesterday I built the other two stepper driver boards.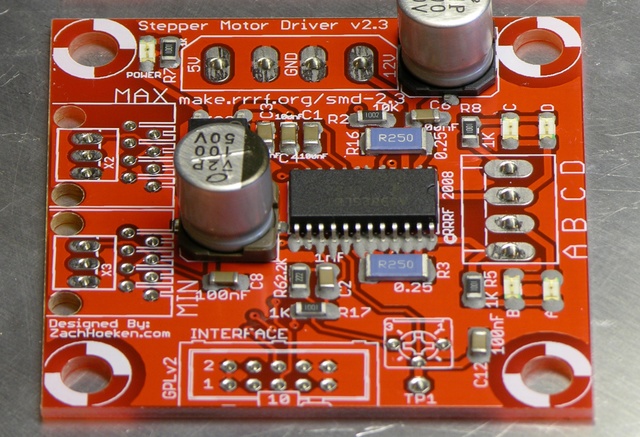 Just one noteworthy item — I meticulously lined solder paste on every IC pad, and then during the "soak" period of reflow (also known as "the time it takes my 500W heater to creep the plate up to 185°C") the paste all slumped together anyway. (Forgive the poor focus in the picture; my camera's not very good and that's the best I could get.)
When the solder paste reflowed, surface tension pulled it all into nice little fillets anyway.
Lesson: Don't bother tracing every IC pad with solder paste; just run a bead perpendicular to the leads and trust surface tension.
Also, I had one solder bridge during reflow. I took a small screwdriver and poked it between the leads, breaking the surface tension and the bridge. Nice trick, and a quicker (and cleaner!) fix than anything you can do after the solder cools.