The web is ablaze with projects for sous-vide (vacuum-sealed) and low-temperature / long-duration cooking. For those not familiar, the basic idea is that if a perfectly-cooked medium-rare steak is 120°F / 49°C in the center, by cooking traditionally on a grill, you overcook it everywhere but the center. Instead of cooking at a higher temperature and waiting exactly the right amount of time for the inside to warm up to the desired temperature, cook the entire piece in a water bath at the desired final temperature for a long time, then sear the outside to make it extra yummy.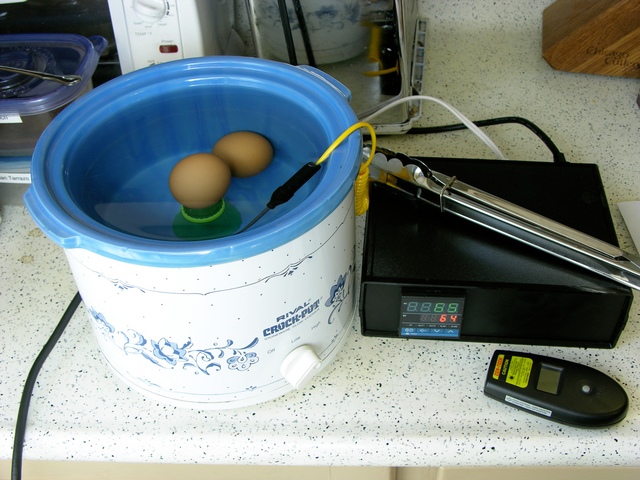 My project this weekend, rolling around in my head for way too long and finally kicked into motion by EMSL's omelette-in-the-shell post, is nothing new nor revolutionary; it's merely mine. Like many others before me, I plugged a crockpot into a PID controller to turn the crockpot's heating element on and off and maintain its temperature precisely over a long period of time.
PID Controller
Friday night I robbed the PID controller from my soldering hotplate, gathered the other pieces I was going to need, and prepared the back panel for my crockpot controller.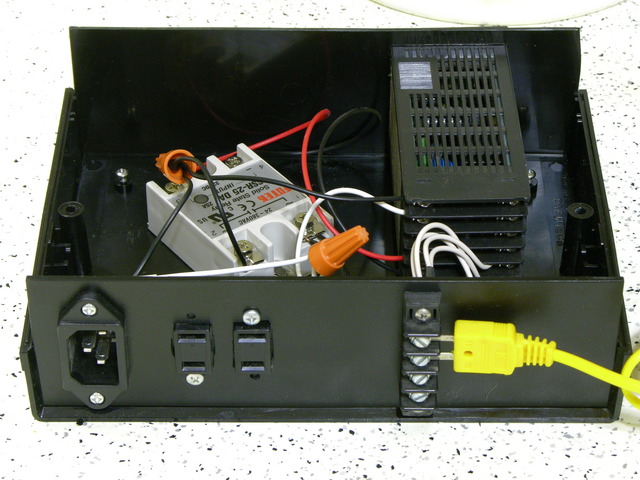 I used a C14 connector rather than a hard-wired power cord because I want this controller to be as modular as possible — easy to pack up and take to a friend's house. Being able to disconnect the power cord made it feel a little easier to take apart and pack nicely. I put NEMA 1 receptacles on the back rather than cut open an extension cord or rewire a crockpot for the same reason. For now, I just trapped the thermocouple's pins in the screw terminals that were already on the case.
Saturday morning I made the front panel and wired it up. The PID controller runs a solid-state relay that switches power to the receptacle where you plug in the crockpot.
PID controller from Sure Electronics ($37 with free shipping and screw-in thermocouple not used here; other controllers now available for less), SSR from modders_chn ($7 with free shipping), and dirt cheap probe-style K-type thermocouple from xiao2huan ($3 including shipping), all on eBay. PacTec case and terminal strip from an ancient (by definition, I guess) RS-232 multiplexer; new front panel plastic cut from some kind of van laptop tray thing. C14 socket and internal wire from a dead PC power supply; NEMA 1 receps from a dead stereo receiver. Reuse, reuse, reuse, baby.
Choosing a Crockpot
My next step was confirming that the crockpot I wanted to use would heat to the temperatures I needed. A small crockpot seemed less wasteful of water, so I tried our 1-quart: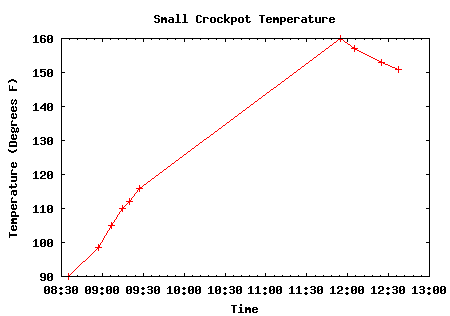 It took a long time to heat to its maximum temperature (during which time I left the house and came back); its maximum temperature is relatively low; and it had a much lower maximum temperature when I opened the lid just enough to stick the temperature probe into the water. Didn't feel like this would be a good choice to maintain temperatures in the 150°F range, especially after dropping in food at a lower temperature.
Okay, no problem. The water in a larger crockpot has a greater thermal mass and will drop less in temperature when adding food. (Hm, maybe this is sloppy thinking — what's really important is having an oversized heater to bring the temperature back up quickly?)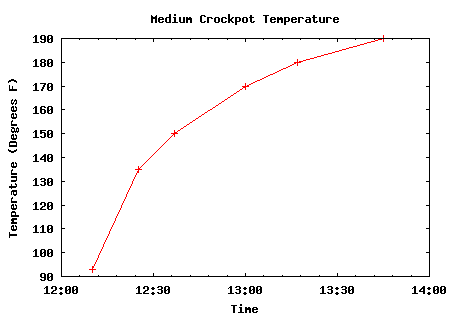 At any rate, the 4-quart crockpot heated to satisfactory temperatures in about an hour with the lid sitting partly open on the temperature probe the whole time, and reached even higher temperatures after another hour.
Lesson learned: Fill the crockpot with hot water to get a headstart.
Eggs
The French Culinary Institute's technology blog has charts showing the results of different cooking methods on common items (thanks for the link, EMSL!), which enticed me to try cooking a couple of eggs at 64°C / 147°F.
As seen in the very first picture, I set one egg directly on the bottom of the crockpot and put one on a pop bottle top to raise it and see whether the water temperature was significantly different in the middle than on the bottom.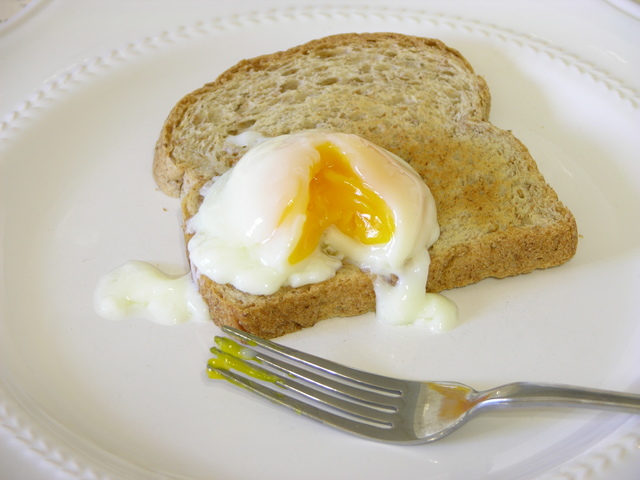 I removed the raised egg after 75 minutes at 64°C. The yolk was just beyond soft-boiled, but the white was also quite soft — something you don't get when the egg is cooked in boiling water and sets from the outside in.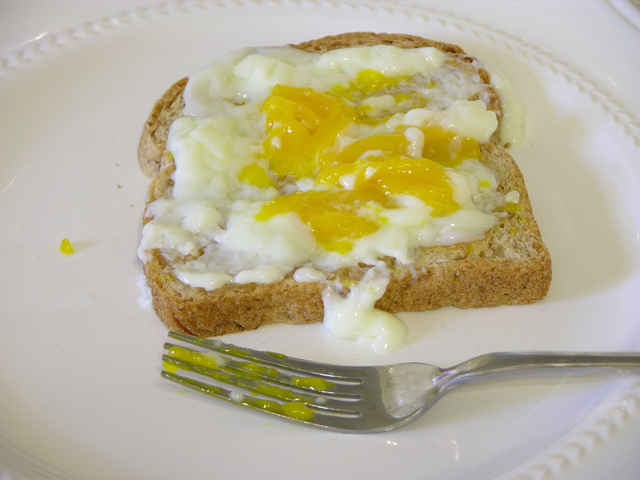 Mashed on toast, it had a consistency somewhere between jelly and preserves — quite soft, but with variation in firmness between the softer white and the slightly firmer yolk.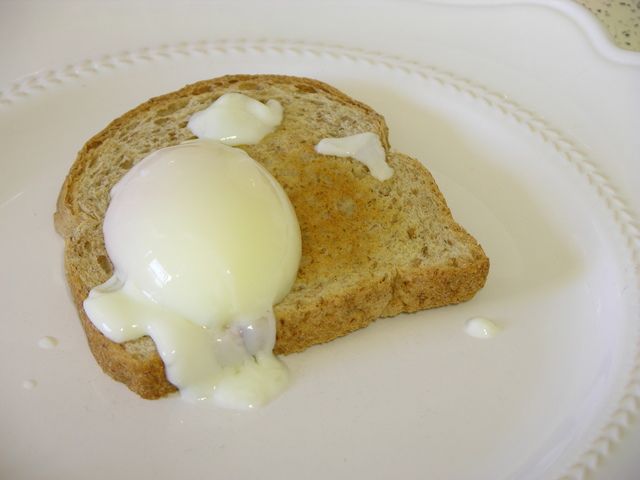 I removed the second egg from the bottom of the crockpot after 90 minutes at 64°C, and it was softer than the first. Not only was the white runnier,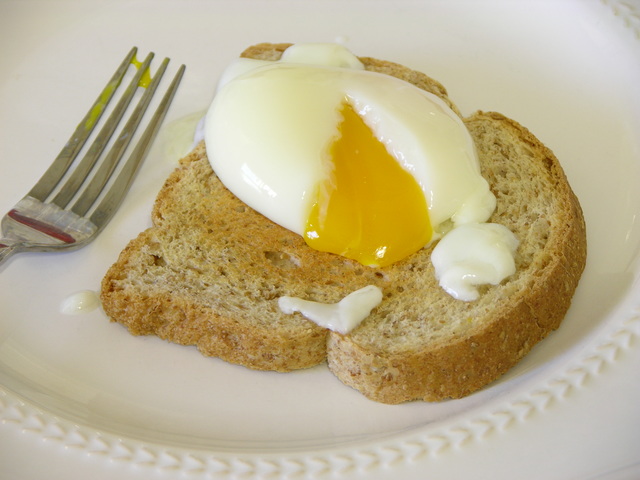 but the yolk was still (barely) liquid.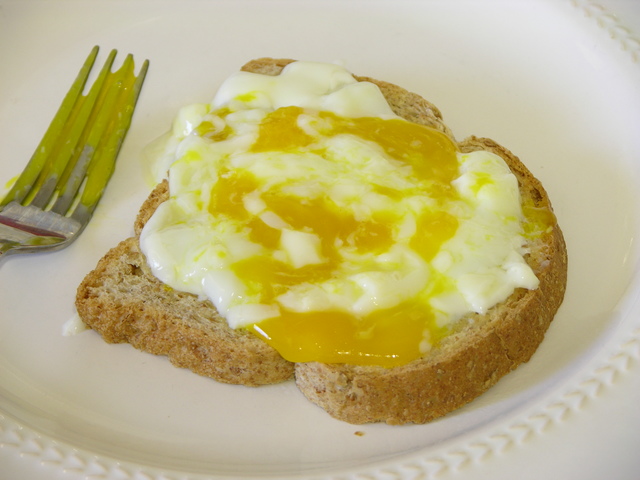 I find it interesting that either I had that much variation between two eggs of the same age from the same package, or that the bottom of the crockpot was that much cooler, that the egg sitting directly on the bottom was so much softer after 15 additional minutes of cooking.
And how were the eggs? In spite of appearances in the photographs, completely cooked. You're likely not used to eating eggs with the whites still liquid, but they weren't underdone.
They were incredibly mildly flavored. Part of my interest in cooking low-temp eggs was that I've had a lot of overcooked eggs in my life and I've grown to detest the sulfuric flavor of overcooked yolks and the greasy plastickiness of overfried whites. I make fast-cooked scrambled eggs that are constantly in motion in the pan and which don't develop a sulfuric taste at all, and I had hopes that low-temp cooking would also avoid the sulfuric taste altogether. Not only did they exceed my expectations for no sulfuric taste, but they surprised me by having so little taste at all that I could hardly tell they were on my toast.
So, not a huge win for my particular cuisine, but a significant proof of concept for the controller. It works!
Temperature Regulation
When heating up, the egg batch actually overshot the 64°C setpoint all the way up to 70°C, at which point I added some cool water to help bring it back down.
I was using the factory settings for the PID control, and of course it can regulate more effectively if tuned to the characteristics of the particular system being controlled. Saturday night I ran an autotune (not just for pop music) over the same temperature range, which generated the following changes from factory defaults and appeared to provide greater stability:
parameter
description
factory
tuned
P
proportional band
(whatever that means)
30
3
I
integral time (seconds)
240
592
D
derivative time (seconds)
60
148
Ar
reference value (0-100%)
"After AT, set automatical"
(whatever that means)
25
100
r
heat-reset proportioning cycle
(1-100 seconds)
(whatever that means)
20
2
Pc
cool-side proportional band
(1-1000% of heat-side proportional band)
(whatever that means)
100
1
Lesson learned: Autotune the PID controller at least every time I use a different crockpot, and might as well on every batch, while warming up the water bath before adding the food product.
Next Steps
I need to glue or bolt the solid-state relay in position. Right now it's an electrical short hazard loose inside the case. I really only put the case together to keep furry little paws from shocking themselves on the counter when this was running; but the closed case now presents the deceptive appearance of a finished, safe product.
I intend to try steak this weekend, sealed in a zip-lock baggie with all the air squeezed out.
I need to add an agitator to circulate the water in order to keep moving warm water next to the cooler food when first added and to avoid cold spots like I suspect the second egg inhabited. I'm thinking about a small propeller at the end of a long plastic shaft run for a few seconds every minute or so, but I'm open to other ideas.
I should really calibrate the thermocouple in freezing and ideally boiling water, especially given how cheap it was. I wonder whether its low cost makes its measurements less repeatable, off by an absolute amount, off of the expected response curve, or some combination of all of the above. Maybe it'll just fall apart sooner. Nothing about my experience makes me suspect it; it's just general leeriness of the low bid.
I want to add a proper thermocouple socket on the back of the case. The screw terminals on the barrier strip are okay, but they weren't made to hold the thermocouple's prongs and a proper socket would be more reliable.