Ultrasonic rangefinders detect objects and measure distance the same way as a bat: Emit a high-pitched "ping" and measure how long it takes the echo to return. The speed of sound in air is nearly constant (ignoring slight variations due to air pressure and humidity), so the time from ping to echo translates directly into the distance to the object.
I'm interested in ultrasonic rangefinders for both hobby robotics and our TechArt final project. They're available commercially, but $25 each adds up pretty fast if you need multiples to establish a view all around a bot or across the wide front of an art installation. All Electronics has transducer elements for $1 each in quantities of 10 or more, so I ordered a batch of them in hopes of building a rangefinder myself. At $2 each (two transducers, for send and receive), I can add a fair bit of supporting circuitry before hitting the $25 mark.
The Plan
I'm basing my circuit on a design by Gerald Coe at http://www.robot-electronics.co.uk/htm/srf1.shtml, and adapting it for different design goals. His circuit uses a dedicated PIC to provide the oscillator, a MAX232 to generate 16V to drive the transmitter, and 40kHz transducers. For now, I want to run my rangefinder from an existing LogoChip that's also doing other work, avoid the complexities the MAX232 adds, and use transducers with a different nominal frequency. Later, I might build separate modules intended to stand alone and run with very low power.
Initial Testing
According to a comment on the All Electronics page for the transducers I ordered, they run at 24kHz. The first order of business was confirming that operating frequency.
I hooked my function generator to my frequency counter and scope and dialed in 24kHz, to make sure I was in the neighborhood before connecting the transducer. I then connected one transducer to the function generator to serve as the transmitter (with the frequency counter still attached), and the other transducer to the scope to serve as the receiver.
When I pointed the transmitter at the receiver, a signal showed up on the scope; when I pointed it away, the signal abated. I could bounce it off my hand and receive it, but not off the ceiling. (I'm guessing the elements weren't aimed well enough and/or the amplitude wasn't high enough.) And changing the oscillator frequency confirmed that 24kHz is indeed optimal.
So the project is at least possible. That's a good start!
Connecting the LogoChip
I really didn't feel like disassembling my balance-bot project, so I'm sure glad I bought several PICs! I built up a breadboard with another LogoChip on it and verified operation. Then I took my motor-control PWM code and cleaned it up to generate a single frequency signal.
Testing with my frequency counter and scope hooked up, it looks like I need timer 2 with a prescalar of 1 and a period of 82 to get as close as possible to 24kHz. Hm, 82 * 24k ≅ 2M, which tells me that I really don't understand what timer 2 is using for an input clock. Wait–yes, I got it. The PIC has an internal 4x increase in oscillator speed, so the 2Mhz timer oscillator leads to the 10Mhz clocking.
Driving the Transmitter
I first tried powering the transmitter element with an NPN driver, for simplicity and to allow experimentation with the drive voltage: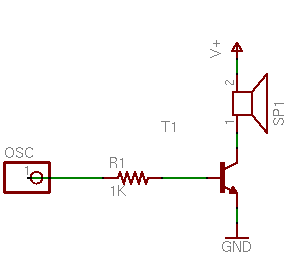 I connected the receiver element to my scope to detect the signal, and was surprised to detect nothing. I looked back at Coe's schematic and noticed that he drives his transmitter in a push-pull arrangement using the MAX232, so I scrounged around for something with totem-pole outputs that I could use to test. The quickest thing I could come up with was a 7404: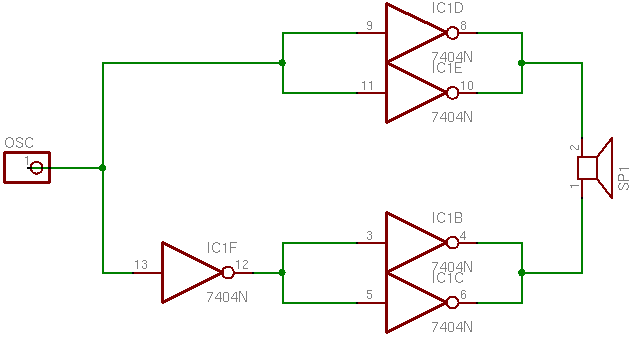 And this time, I did show a received signal on the scope, albeit a slightly weak one; so I guess the push-pull drive is necessary.
I'm not satisfied being restricted to a 5V drive, because Coe specifically mentions using 16V to get adequate detection at greater range. However, I'm not sure I have anything on hand that will do exactly the right job and which I'm happy using. None of the options quite work out:
The 74xx chips with "high-power output" and 754xx peripheral drivers run open-collector, and I don't see a good way to use that to provide push-pull.
The 754410 H-bridge driver adds about $2 to the cost–not bad, but I'd rather avoid it if I could.
The MAX232 adds about $1 plus numerous supporting components–and Coe mentioned that it generates enough noise that he shut it down after each ping to keep it from interfering with the echo detection circuitry.
I'll probably prototype with the 754410 since I have some on hand, and keep looking for other options.