Earlier this year I bought some PA speakers at auction. The auction company was cagey enough to list them all as "untested / condition unknown," but I suspect they had a pretty good idea of the condition.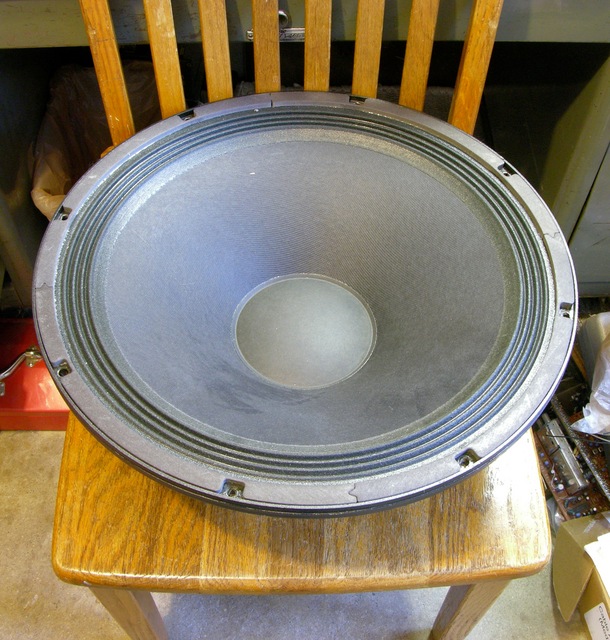 I ended up with a Yamaha SW1181VS 18″ 500W subwoofer, a Yamaha Yamaha CW218V dual 18″ 1220W subwoofer, and a spare Eminence JAY7010/7011 18″ driver. All four of the Eminence drivers were nonfunctional — some dead shorts, some open. This was a bit disappointing.
My four drivers all look the same, but are labeled JAY7010, J7010, and J7011. From what I can tell, Eminence OEMed these drivers for Yamaha and they don't seem to be available for direct sale. I found a speakerplans.com forum post with specs sent by Yamaha listing the drivers as 600W. I also found a Google listing summarizing an expired eBay auction claiming that these are the same as the Eminence Sigma Pro, which is a 650W driver widely available at around $160.
For the prices I paid for the Yamaha speakers, new drivers at $160 each would go a long ways toward the cost of entire new speakers — the CW218V (dual) is available from Musician's Friend for a little over $700 with free shipping.
I had never before heard of reconing drivers, but quickly ran across it in my Google searches for J(AY)7010/11s. The idea is that the basket and permanent magnet are still good, that a new voice coil and cone cost less than the whole thing, and that you can replace them yourself at home with a little time and care. Eminence offers recone kits for all their consumer drivers, but recone kits for custom and OEM drivers are available only to the OEM customer.
Although soundspeakerrepair.com has a great instructional video on the reconing process, I ended up getting my kit from reconekits.com for $69.23 + $13.95 USPS Priority Mail flat rate. Over the holiday break, I took the time to install the kit, and the results have been fantastic.
The Kit