A couple of years ago, I received this automotive USB-connector power adapter as a promotion at a conference. I use it to keep my iPod nano charged in the car, but I've noticed it doesn't charge my Blackberry well. To be precise, it doesn't charge my Blackberry. In fact, I've never been clear whether it even slows the rate of discharge, and sometimes it seems like it speeds it. The Blackberry shows the lightning bolt charging symbol (The charging symbol is a lightning bolt, srsly? Ben Franklin is personally charging my phone?) but nobody's home.
Note that I don't blame the vendor whose logo happens to be on it — I'm sure they didn't manufacture it.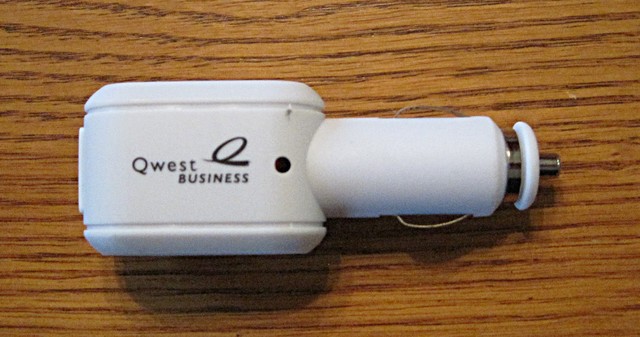 After driving two and a half hours a week ago starting with a half charge on my BlackBerry, plugging it in midway through the trip, and arriving to have the BlackBerry finally shut off its radio due to depleted charge; and due to being in the presence of Cort; I decided it was time to see why the adapter couldn't provide enough charge for the BlackBerry.
Inside the Power Adapter