In part 1, I described making a propeller out of foil to measure the airflow of my air conditioning system, building an optointerruptor from an LED and a CdS photocell, and amplifying the signal to a usable level.
Next, I needed to feed the signal into a digital input on the Arduino. Old-school digital inputs don't like having analog signals fed into them; but I knew from working with a PIC that some of the Arduino/ATmega pins would probably have Schmitt-trigger inputs, which have hysteresis.
A digital input with hysteresis turns on when the analog input becomes higher than an upper threshold but doesn't turn off until the signal falls below a lower threshold. The effect is that an analog signal wandering back and forth around the midpoint doesn't cause lots of twitching back and forth of the digital interpretation. Regular thermostats work this way — they turn on your AC when the temperature gets one-half to one degree above the thermostat set point, and turn off the AC when the temperature falls one-half to one degree below.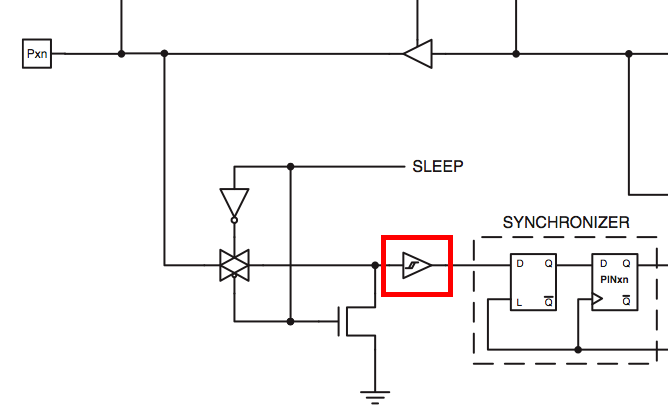 So imagine my delight to find that every ATmega8/168 input pin has Schmitt-triggering. Any pin would do! But I had two particular ones in mind . . .
External Interrupts
All I wanted the program to do was count how fast the propeller blade went by, activate a relay when it got above a higher speed, and deactivate the relay when it got below a lower speed (hysteresis again, at a different layer of the system). For a program that simple, I could write a loop to watch the input pin in software . . . but why, when the ATmega can do it in hardware?