Replacing My PowerBook Screen: Aftereffects
Quick Links
Background
Part 1: G4 500 Disassembly, Bottom Side
Part 2: G4 500 Disassembly, Top Side
Part 3: G4 500 Disassembly, Back Edge Screws
Part 4: G4 500 Disassembly, Removing the MB and Screen
Part 5: G4 550 Disassembly, Bottom Side
Part 6: G4 550 Disassembly, Top Side
Part 7: G4 550 Disassembly, Back Edge
Part 8: G4 550 Disassembly, Removing the MB and Screen
Part 9: G4 550 Reassembly, Screen
Part 10: G4 550 Reassembly, Motherboard
Part 11: G4 550 Reassembly, Top Side
Part 12: G4 550 Reassembly, Bottom Side
Aftereffects
Unhappy Consequences
I'd like to say that all is now well and good in PowerBook Land. After all, I completely disassembled two notebook computers and reassembled one. The screen now works (and it's amazing how long it takes on boot before the video and backlight come on–almost long enough to have a heart attack and think I was going to be taking the whole computer apart again), and I have my computer back. There's only one small hitch.
It doesn't go to sleep when I close the lid.
Joel, It's a Magnet
I haven't figured out which piece is the sensor–it's probably a tiny SMT Hall-effect sensor hidden amonst the other tiny SMT chips on the motherboard–but the computer uses magneticsm to know the lid is closed. There's a small but powerful magnet glued behind the middle of the screen, and a sensor inside the computer that detects when that magnet gets close.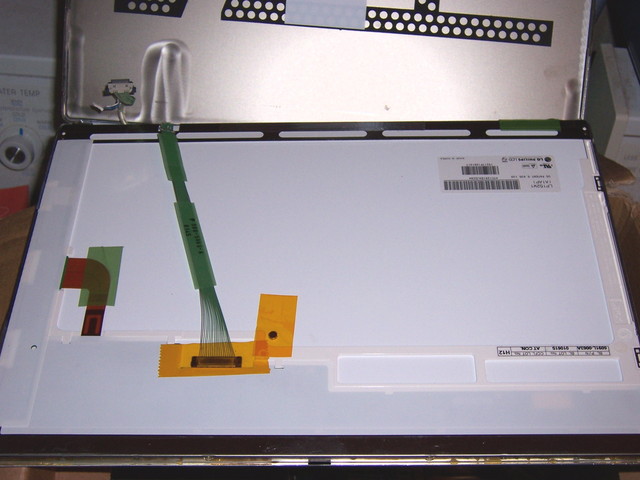 That magnet must be at a different place in the 500MHz and 550MHz PowerBook G4s.
Closing the lid does nothing to the computer. Setting the original screen on top of the closed computer causes it to go into hibernation.
Absolutely hilarious.
But I Can Live With It!
All it takes is a new strategy; I've reconfigured the Energy Saver to put the computer and display to sleep after one minute of inactivity. No, it's not ideal–but I got one faster working computer out of two unusable ones, and I get to keep using my 550MHz G4 instead of reverting to my 450MHz G3. The only other idea I'd come up with was a homemade stand for the original, detached screen–which would allow me to continue to use the computer at my workbench, but not to take it with me everywhere else I go.
This is a pretty good compromise.
Sections
Background
Part 1: G4 500 Disassembly, Bottom Side
Part 2: G4 500 Disassembly, Top Side
Part 3: G4 500 Disassembly, Back Edge Screws
Part 4: G4 500 Disassembly, Removing the MB and Screen
Part 5: G4 550 Disassembly, Bottom Side
Part 6: G4 550 Disassembly, Top Side
Part 7: G4 550 Disassembly, Back Edge
Part 8: G4 550 Disassembly, Removing the MB and Screen
Part 9: G4 550 Reassembly, Screen
Part 10: G4 550 Reassembly, Motherboard
Part 11: G4 550 Reassembly, Top Side
Part 12: G4 550 Reassembly, Bottom Side
Aftereffects